Making a Homemade Salad Dressing is so easy and takes just minutes. Made with simple real food ingredients, your salad dressing from scratch is not just better than store bought, it's better for you and oh so delicious too!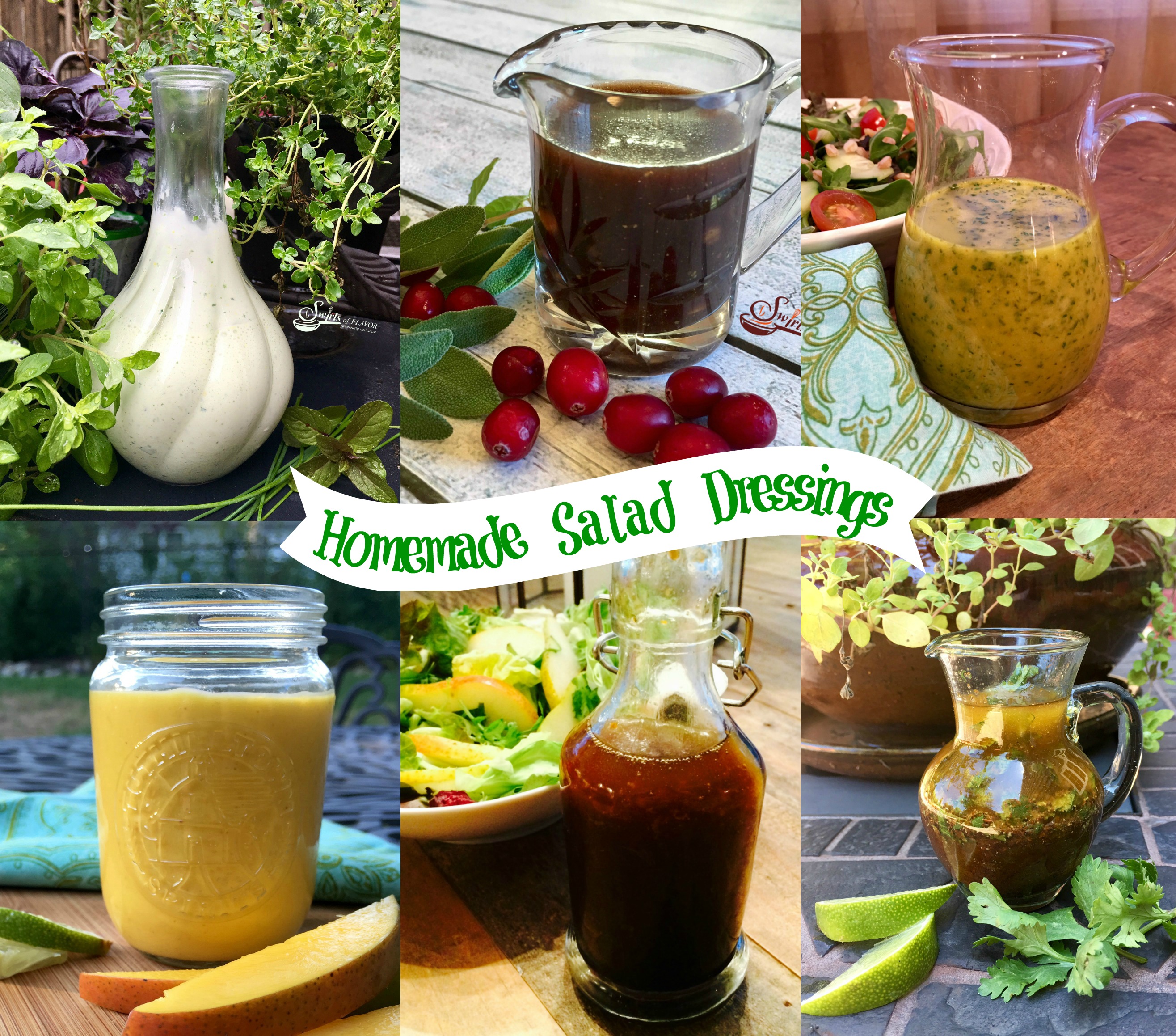 All About Homemade Salad Dressings
We're talking about Homemade Salad Dressings today folks!
Nothing but real ingredients......bursting with flavor!
No preservatives.
No chemicals.
Only pure food that's good for you!
Let me begin by saying, there's no doubt in my mind that making your own homemade salad dressing is the way to go because:
You'll know what is in your salad dressing
It hasn't been sitting on a grocery store shelf for months and months
There's no need to add preservatives with complicated names you can't even pronounce
They're made with simple real food ingredients
Trust me, homemade salad dressings won't last long in your kitchen because they are so fabulously delicious and good for you too. There's nothing quite like the great taste of a homemade salad dressing!
As you know, I'm a big fan of homemade salad dressings. Because really, why buy bottled processed salad dressings which typically contain high amounts of sugar and numerous preservatives, when you can easily make your own dressing with fresh, clean, unprocessed ingredients that you usually have on hand?
How to make salad dressing
And the best part? It literally takes only minutes to make your own healthier, and guaranteed, fabulously delicious, salad dressing from scratch. Your family will love you and thank you for it!
There are many homemade salad dressing recipes for you here at Swirls of Flavor. We have homemade vinaigrette recipes and homemade creamy salad dressing recipes.
We also have recipes for side dish salads, entrée salads and even fruit salads, all with flavorful dressings. You don't have to look any further because we've got it all right here.
Take a look around for all the links to delicious recipes! And be sure to check out all of the tips and tricks for making your own homemade salad dressing!
What are the types of salad dressings?
Salad dressings typically fall into two groups:
creamy salad dressings
vinaigrette salad dressings
Creamy Dressings
A creamy salad dressing contains an ingredient to give it it's cream texture and consistency such as:
buttermilk
sour cream
mayonnaise
Greek yogurt
a seed or nut butter
avocado
Many times you can omit or decrease the amount of oil if your creamy ingredient provides enough texture. Add in a vinegar or acid, fresh flavorings and you've got yourself a rich and creamy addition to any salad!
Vinaigrette Dressings
A vinaigrette typically consists of:
oil
vinegar
an emulsifier (thickener) such as mustard, honey or a nut butter
The amount of oil should be at least two or three times the amount of vinegar with a small amount of an emulsifier and fresh flavorings and your vinaigrette will be amazing!
As an Amazon Associate I earn from qualifying purchases.
How do you store homemade salad dressing?
Since there are no preservatives or chemicals in your homemade salad dressing to preserve their shelf life, it is best to store your vinaigrette or creamy dressing in the refrigerator in a glass jar with a sealed lid.
My favorite jars for storing dressings are mason jars. Mason jars come in a variety of sizes and all have screw on lids for airtight sealing.
When I want to get fancy, these hexagon shaped glass jars with gold lids, pretty vintage blue mason jars, beautiful glass bottles with swing top stoppers and cruets with tops are all good choices and each will make a pretty statement on your table.
I especially love using this elegant glass all-purpose cruet with spout when I'm having company.
How long is homemade salad dressing good for?
A good rule of thumb is to store homemade salad dressings for about 1 week in the refrigerator.
How to personalize your salad dressing
If you want to get adventurous and personalize your salad dressing yourself you can swap out different oils, vinegars, sweeteners and flavorings to suit your fancy! You can also replace the typical salad dressing with alternative foods.
Take a look at the multitude of choices available to you!
Oils for Homemade Salad Dressings

Oils are the base of vinaigrettes and, depending on the oil, can impart a flavor to your salad dressing. My favorite oils for salad dressings are:
Sesame Oil – Sesame oil comes in two types, toasted and light (not toasted). Toasted sesame oil is darker in color and bolder in flavor than light sesame oil. Both are rich in monounsaturated and polyunsaturated fatty acids, and linoleic acid, an omega-6. I love using toasted sesame oil in Asian flavored salad dressings since it imparts such a deep rich flavor.
Extra Virgin Olive Oil – Extra virgin olive oil is the highest quality of olive oil made by simply crushing the olives to extract their juices. It is the only oil made without the use of chemicals, solvents and industrial refining. Extra virgin olive oils can have fruity, peppery, buttery or floral notes, depending on the olive. It is high in antioxidants and healthy fats and is my very favorite oil to use.
Olive Oil – Olive oil is a lower quality oil than extra virgin and is typically lighter in color and milder in flavor.
Flaxseed Oil – Flaxseed oil is high in fiber and omega-3 fatty acids, both helpful in fighting heart disease, cancer, diabetes and stroke. Flaxseed oil also contains anti-inflammatory properties.
Canola Oil - Canola oil is extremely versatile because of it's neutral flavor and light texture. It contains omega-3s and omega-6s which may help with cardiovascular health.
Avocado Oil– Cold-pressed avocado oil contains more antioxidants that the refined version and is more flavorful and heart healthy. Made from the superfood, the avocado, avocado oil is high in monounsaturated fats, which are known to raise HDL, your good cholesterol and reduce triglycerides and LDL, your bad cholesterol.
Sunflower Oil - Sunflower oil (pressed from the seeds) has a delicate taste and a lighter texture and appearance making it a versatile oil. It is a great all-purpose oil to have in your kitchen." It is higher in antioxidant vitamin E than any other oil!
Grapeseed Oil – Grapeseed oil is light in flavor which makes it delicious in salad dressings. It is rich in vitamin C, vitamin E and beta-carotene.
Vinegars & Acids for Homemade Salad Dressings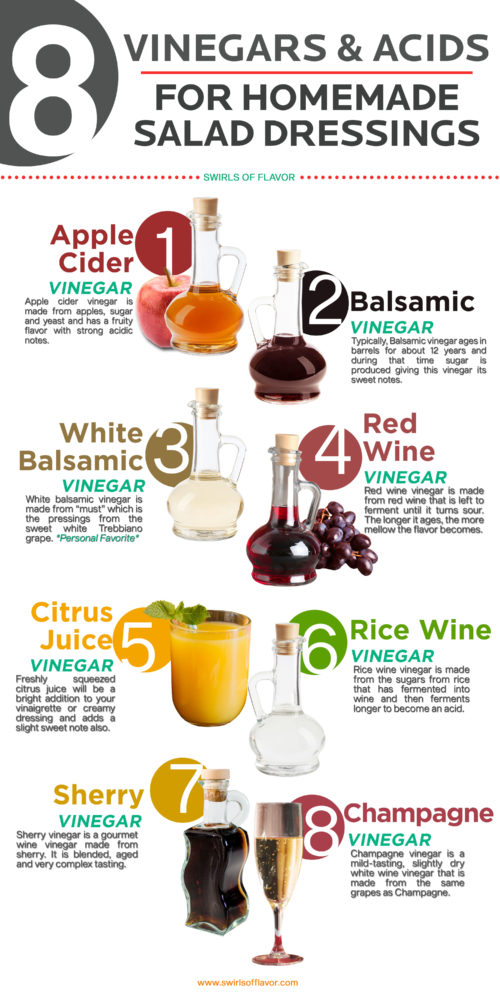 All salad dressings need an acid to balance out the oil. Select a vinegar that will impart the flavor that you want your vinaigrette or creamy dressing to have. Some vinegars are stronger than others.
Apple Cider Vinegar – Apple cider vinegar is made from apples, sugar and yeast and has a fruity flavor with strong acidic notes. It's a very popular vinegar in salad dressings and has many health benefits.
Balsamic Vinegar – Balsamic vinegar is intensely flavored, concentrated and dark in color. Typically this vinegar ages in barrels for about 12 years and during that time sugar is produced giving this vinegar it's sweet notes.
White Balsamic Vinegar – White balsamic vinegar is made from "must" which is the pressings from the sweet white Trebbiano grape. It is simmered for many hours until it turns thick and caramelized. Then this syrup is aged in wooden barrels no less than 12 years. This vinegar is actually my personal favorite because it has mild sweet notes and imparts a rich mellow flavor.
Red Wine Vinegar – Red wine vinegar is made from red wine that is left to ferment until it turns sour. The longer it ages, the more mellow the flavor becomes. This vinegar is popular when just tossing a salad with oil and vinegar and no other ingredients.
Citrus Juice – Freshly squeezed citrus juice (lemon, lime, grapefruit, tangerine, blood orange, orange) will be a bright addition to your vinaigrette or creamy dressing and adds a slight sweet note also. Freshly squeezed lemon juice makes a mildly acidic addition to a salad dressing. It's clean fresh taste combines well with extra virgin olive oil for a simple salad dressing. Many times I still need to add a bit of another vinegar to get enough acid to balance my homemade salad dressings. But I love the fruity brightness that citrus offers! Adding zest along with the juice also intensifies citrus notes.
Rice Wine Vinegar – Rice wine vinegar is made from the sugars from rice that has fermented into wine and then ferments longer to become an acid. It has a sharp clean taste and is a lovely addition to an Asian flavored salad dressing.
Sherry Vinegar – Sherry vinegar is a gourmet wine vinegar made from sherry. It is blended, aged and very complex tasting. It is slightly sweet with a rich and nutty flavor.
Champagne Vinegar – Champagne vinegar is milder in flavor and acidity than other types of vinegar It is a mild-tasting, slightly dry white wine vinegar that is made from the same grapes as Champagne.
Thickeners (Emulsifiers) for Homemade Vinaigrettes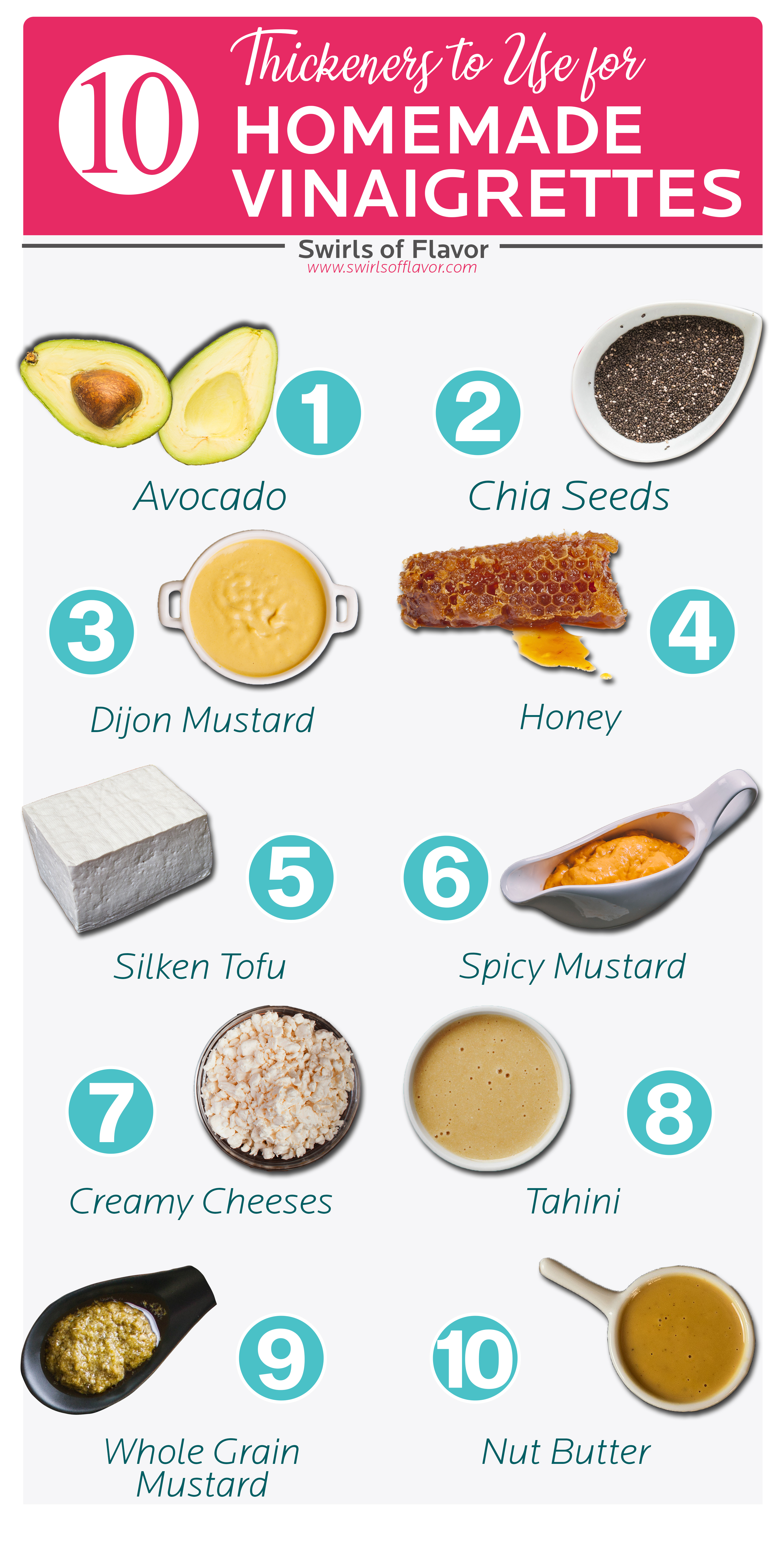 Typically you will want to add a thickener, or emulsifier, to your vinaigrette to give it body and hold the oil and vinegar together. Puree, stir or whisk in any of the following and your salad dressing will have a beautiful silky consistency. Just be mindful of the flavor they can impart to your homemade salad dressing when selecting your emulsifier.
Avocado - provides a smooth creamy texture
Chia seeds - use just a little because these seeds expand as they absorb liquid and become gelatinous
Dijon mustard - gives a balanced flavor with slight sharpness
Honey - imparts a sweetness and flavor
Silken tofu - provides a creaminess withut much additional flavor
Spicy mustard - pumps up the flavor with it's tangy peppery seasoning
Creamy cheeses - gives a smoothness to your dressing and depending on the cheese can impart a tanginess
Tahini - imparts the earthy, nutty flavor of sesame seeds
Whole grain mustard - gives texture to your salad dressing with it's mustard seeds
Nut butters - imparts a slight flavor depending on the nut butter you choose
Sweeteners for Homemade Salad Dressings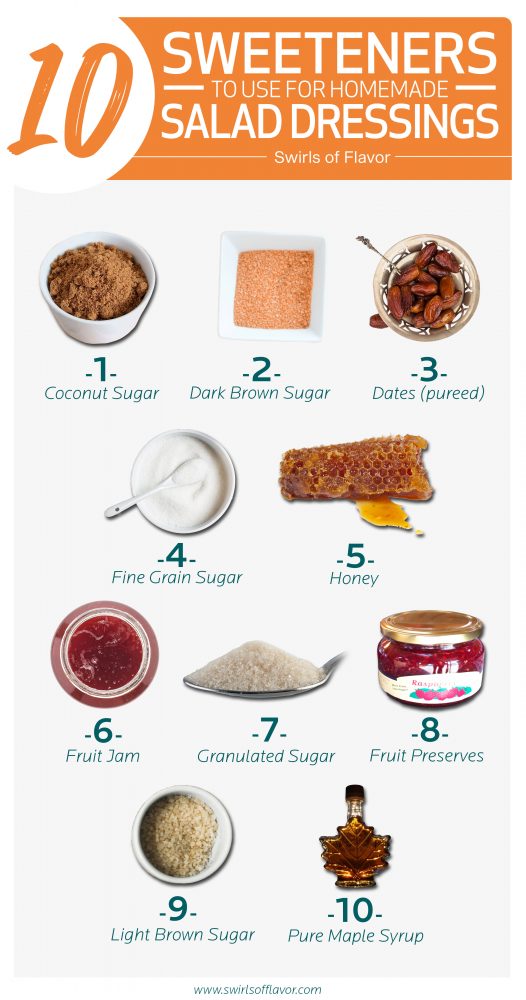 Many times you will want to add a bit of sweetness to round out the acidic notes from the vinegar and other flavorings. Here are some choices to consider:
Coconut sugar
Dark brown sugar
Dates (pureed)
Fine grain sugar
Honey
Fruit jams
Granulated sugar
Fruit preserves
Light brown sugar
Pure maple syrup
Bases for a Creamy Salad Dressing
As mentioned earlier, the base of a creamy salad dressing consists of an ingredient that will provide a thick texture. Many times the oil can then be omitted or at least reduced sometimes making your salad dressing a healthier version.
Here are some choices you will want to consider for the base of your creamy dressing:
Avocado
Buttermilk
Mayonnaise
Nut butter
Seed butter
Greek yogurt
Sour cream
Pureed mango
Flavoring Possibilities for Homemade Salad Dressings
Ok, so you have your base of oil, vinegar, a thickener and a sweetener. Now it's time to jazz it up with some added flavor. Check out these possibilities and personalize your salad dressing one of these or with your own favorite flavors!
Cheese - grated or shredded, mild or sharp, the choice is yours
Chutney - to add sweetness and lots of flavor
Fresh ginger - minced or grated will give an Asian flair
Flavored mustard - select from horseradish, sharp, yellow, Dijon and more
Cucumber - grated cucumber will give a light freshness
Garlic - minced or roasted
Poppy seeds - also give a bit of texture
Soy sauce - for a unami flavor
Fruit juice - add your favorite juice for sweetness and flavor
Shallots - a mild onion flavor
Honey - an undeniable sweet flavor
Spices - so many to choose from!
Fresh herbs - small leaves or chopped
Scallions - add a mild onion flavor
Tabasco - will spice it up with some heat
Citrus zest - lemon, lime, orange, tangerine, grapefruit and more add a burst of frresh tangy flavor
Horseradish - adds heat and a sharp edge
Worcestershire sauce- imparts garlic and spice flavors
Salad Dressing Alternatives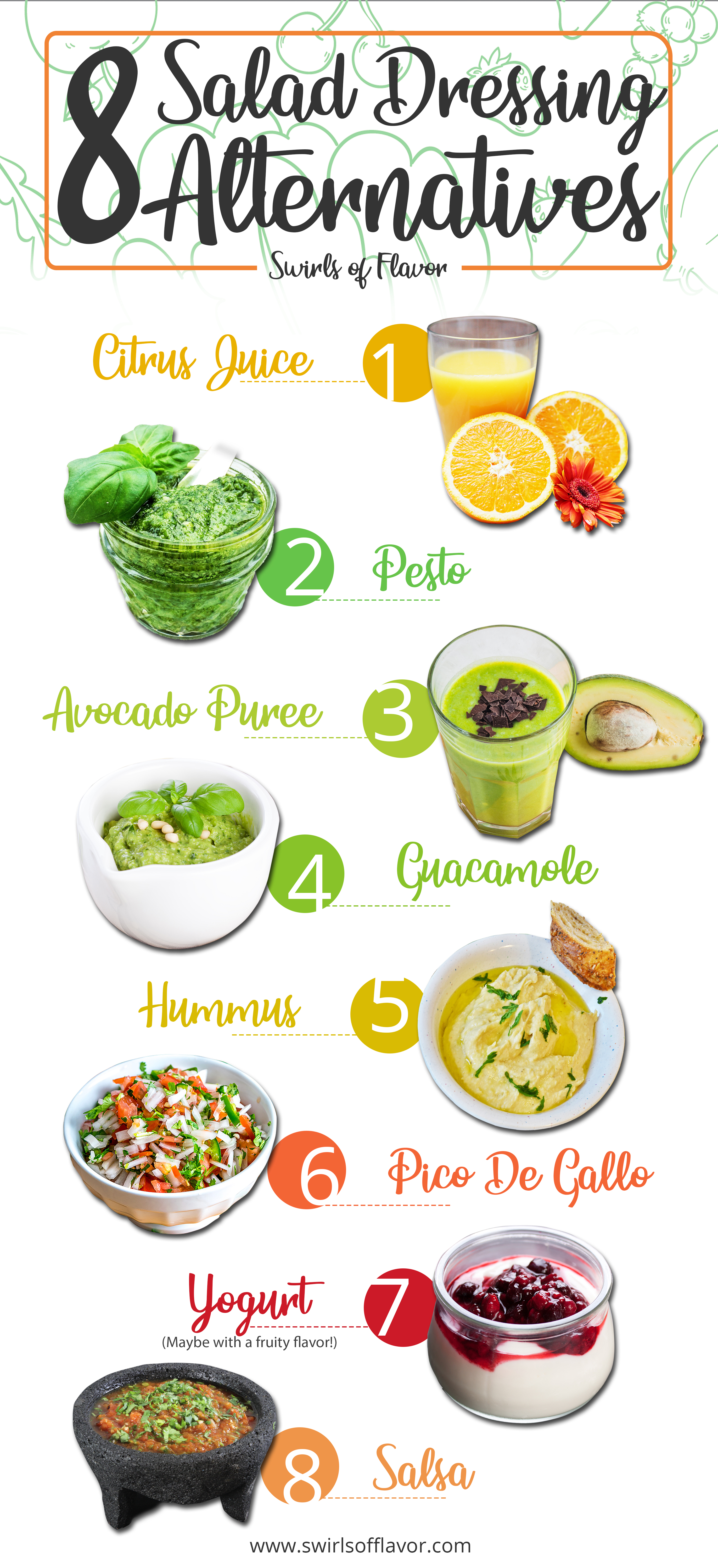 Looking for a change from the typical vinaigrette or creamy salad dressing? Just toss one of the ingredients below with your greens for a different take and call it a delicious day for a salad!
Citrus juice - a plash of fresh lemon juice is sometimes all you need!
Pesto - the flavors of garlic and nuts along with fresh herbs and olive oil lend themselves beautifully to a tossed salad
Avocado puree - creamy , indulgent and a good fat too!
Guacamole - the creaminess of pureed avocado with the seasonings of garlic, cilantro and lime
Hummus - a delicious plant based alternative
Pico de gallo - tomatoes with lots of seasoning
Yogurt (maybe with a fruity flavor!)
Salsa - so easy! Stir into sour cream or yogurt and make it creamy!
Salad Greens for Making A Salad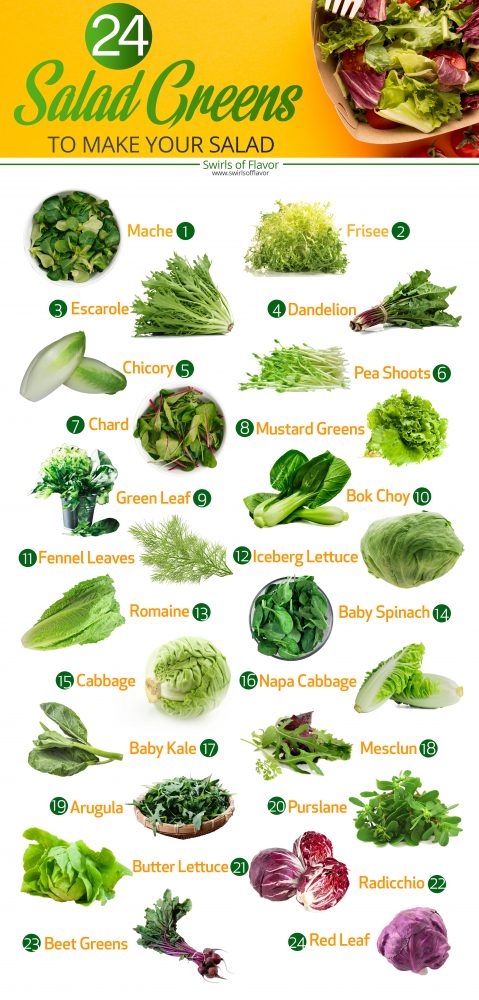 Now that you have your homemade salad dressing created, it's time to select the lettuces and/or greens to toss it with! When it comes to your salad greens, you can be as creative as you want!
The typical iceberg lettuce of yesteryear is no longer the gold standard. Choices of greens are abundant now and are available in combination packs also. Let your imagination run wild!
Check out this list of greens, each one or any combination of, that will make a delicious salad:
Mache
Frisee
Escarole
Dandelion greens
Chicory
Pea shoots
Chard
Mustard greens
Green leaf
Bok choy
Fennel leaves and the bulb and stalks too!
Iceberg lettuce
Romaine
Baby spinach and full grown spinach too!
Cabbage
Napa cabbage
Baby kale
Mesclun
Arugula
Purslane
Butter lettuce
Radicchio
Beet greens
Red leaf
Homemade Vinaigrettes
With just minutes of prep, these homemade vinaigrette dressing recipes will soon be in your go-to lineup!
Chili Lime Vinaigrette will have your taste buds dancing. The fresh tangy flavor of lime combines with a hint of chili spice in your soon-to-be favorite homemade vinaigrette!
Honey Orange Balsamic Vinaigrette is an easy vinaigrette from scratch that combines the perfect balance of sweetness with the crisp edginess of citrus notes.
Turmeric Cilantro Vinaigrette combines the flavors of the powerful and amazing turmeric along with cilantro and ginger making it a fabulous homemade salad dressing that's perfect on salads, chicken, fish, vegetables and pasta.
Cranberry Maple Vinaigrette combines your leftover cranberry sauce with maple syrup and balsamic vinegar for a sweet and tangy vinaigrette that compliments any salad!
White Balsamic Vinaigrette is sweet and tangy, easy to make and a bit milder than a traditional balsamic vinaigrette made with dark balsamic vinegar. It compliments most salads and will be a family favorite in no time!
Easy Creamy Salad Dressings
In the mood for a creamy salad dressing? Here you go!
Savor the taste of summer tonight with the light creaminess of a Green Goddess Salad Dressing kissed with the summertime flavors of fresh herbs and lemon.
Chipotle Mango Salad Dressing is a sweet yet tangy creamy salad dressing with just a hint of spice. Juicy sweet mango combines with key lime juice and honey for a fresh summery flavor combination that will dance on your taste buds.
Honey Mustard Salad Dressing is an easy to make homemade vinaigrette with just a few simple ingredients, honey, mustard, olive oil, apple cider vinegar, garlic and salt! This easy recipe is not just for salad but as a dipping sauce for vegetables, a marinade for chicken or fish or even as a dressing for your favorite pasta salad.
Turn our Tzatziki Sauce recipe into a creamy cucumber salad dressing! Cucumber, dill and red onion combine for a cool fresh tasting dressing. Toss as is or add a bit of olive oil or milk to thin it out.
Salads With Vinaigrettes
Peach Arugula Salad With Basil Mint Vinaigrette is an easy salad recipe bursting with the flavors of summer all in one bowl! Peppery arugula leaves combine with toasted almonds and sweet juicy peaches tossed in a fresh homemade Basil Mint Vinaigrette for a refreshing summer salad.
The crunch of the almonds, the sweet creaminess of the mango and the citrus notes of the vinaigrette all compliment the tenderness of the baby lettuce leaves in our Almond Mango Baby Romaine Salad With Citrus Vinaigrette. A delightful addition to any meal.
Your guests will definitely want seconds of this Pecan Pear Baby Kale Salad! The crunch of nutty pecans, the crisp sweetness of fresh pears and a baby kale blend of greens gently tossed with a perfectly blended vinaigrette will take center stage on your holiday table this year!
You can take your salad to a new level with Pomegranate Apple Mixed Greens With Walnut-Crusted Goat Cheese! Greens are lightly tossed in a perfectly balanced Pomegranate Vinaigrette and topped with apple slices, pomegranate arils and fancy goat cheese rounds.
Our Cucumber Salad recipe combines the crunch of fresh cucumbers with a light and tangy homemade vinaigrette and a hint of red onion. It's the perfect side dish recipe on a warm summer evening.
Mixed Greens with Raspberry Balsamic Vinaigrette is a tossed salad recipe that's bursting with sweet summer flavors. A blend of lettuces, toasted almonds and plump raspberries are tossed in a balsamic vinaigrette sweetened with a hint of raspberry jam.
The flavors of our Baby Kale Salad With Honey Lime Vinaigrette will brighten your summer dinner menu tonight! A baby kale lettuce mix combines with fresh radishes and heirloom tomatoes for a refreshing summer salad tossed in a sweet and tangy homemade vinaigrette.
Mexicali Chopped Salad with Cilantro Lime Vinaigrette is bursting with fresh vegetables and lightly coated in a delightful homemade tangy vinaigrette. Our south of the border salad can be a side dish or become a meal when topped with cooked chicken, shrimp or beef!
Our Chopped Salad With Arugula is filled with tomatoes, cucumbers and arugula tossed in a light red wine vinaigrette. Guaranteed to wake up your taste buds and compliment your dinner tonight!
Heirloom Tomato & Cucumber Summer Salad is an easy summer side dish bursting with tomatoes and cucumbers lightly coated in a tangy red wine vinaigrette.
Baby Greens Salad with Buttery Spiced Pecans & Strawberry Basil Balsamic Vinaigrette. A refreshing baby greens salad with pecans that lend just the right amount of spice and a strawberry basil balsamic vinaigrette that sweetly coats the delicate salad greens and fruit.
The crunch of fresh fennel, the juiciness of mandarin oranges and the crispness of radishes all come together in a lime-kissed vinaigrette to make Fresh Fennel & Mandarin Salad an amazing combination of flavors and textures.
Pistachio Blood Orange & Fennel Salad is an easy salad recipe that's both refreshing and seasonal with citrus ingredients. Blood oranges flavor the citrus vinaigrette and are a bright addition to the pistachios and fennel salad.
Zucchini Tomato Medley & Orange Mint Vinaigrette is a summer vegetable salad that's filled with he colors of the rainbow! Summer vegetables are grilled then tossed in a citrus and fresh mint vinaigrette for a burst of fresh flavors!
Salads With Creamy Dressings

The BLT Sandwich, an all-American classic, is transformed into a Chopped BLT Salad With Creamy Dill Dressing. All the flavors of a BLT, bacon, lettuce and tomatoes in my homemade mayonnaise salad dressing, are in every bite of this refreshing and easy chopped salad recipe.
Take a step back in time with an Iceberg Lettuce Wedge With Creamy Dressing that's been updated with heirloom tomatoes! With just a few basic ingredients you'll be enjoying this classic salad in no time.
Grilled Romaine With Creamy Roasted Garlic Salad Dressing will be a surprise addition to your dinner tonight. Leaves of lettuce are gently charred on the grill imparting an unexpected and fabulously delicious flavor. Creamy Roasted Garlic Herb Dressing has the sweet flavor of caramelized garlic, made stove top, combined with the fresh flavor of summer herbs. Combine both and you will fall in love with this grilled salad!
Main Dish Salads and Salads With Chicken
An Italian Chopped Salad will be a welcome addition to your dinner menu on warm summer evenings. Bursting with the flavors of antipasto, our classic chopped salad is filled with salami, provolone, tomatoes, olives, artichoke hearts, pepperoncini and red onion and drizzled with a homemade lemon oregano vinaigrette. this salad can be a main dish salad or serve as a hearty side dish salad. Ingredient amounts are given for both, the choice is yours!
Everyone needs a Cobb Salad Recipe in their summer menu lineup. Brimming with all the traditional ingredients, our chicken cobb salad is flavored with a homemade Dijon red wine vinaigrette with chives, a perfect main dish salad.
Apple Cheddar Chicken Salad with Maple Balsamic Vinaigrette will wow your taste buds with it's combination of flavors. Sweet apples. sharp cheddar cheese, pops of sweet cranberries are lightly tossed in a homemade Maple Balsamic Vinaigrette with chicken and romaine lettuce leaves for a hearty dinner salad.
Time to add our Chicken Milanese With Lemon & Fresh Basil Vinaigrette to your grilling menu! Chicken Milanese has been updated for summertime grilling. Chicken breasts are seasoned, grilled to perfection and topped with baby greens tossed in a homemade lemon vinaigrette then sprinkled with shredded Parmesan.
If you love the idea of lettuce wraps then be sure to give Curried Chicken Lettuce Wraps a try. A flavorful chicken salad is nestled in tender lettuce leaves. Just toss cooked chicken with chopped apple and raisins for bursts of sweetness, sliced almonds for a bit of crunch, and red onion for just the right amount of savory. Add a creamy mayonnaise flavored with curry powder and fresh lime and wrap it up in lettuce leaves.
Pasta Salads

Pesto Florentine Campanelle Pasta is the perfect seasonal pasta salad side dish. Toss pasta with pesto, tomatoes, bocconcini and Parmesan, just 5 ingredients, for a bowl full of fresh summertime flavors!
Heirloom tomatoes, fresh mozzarella, fragrant basil leaves and cheese-filled pasta tossed in a classic balsamic dressing……tis the season for a Balsamic Pasta Salad Caprese!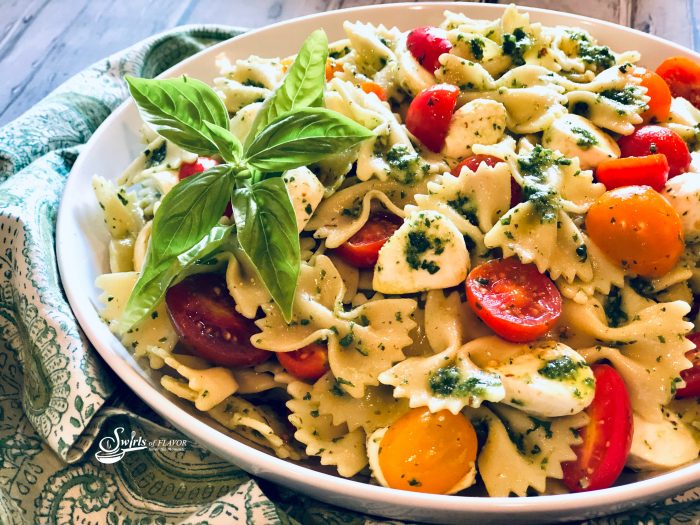 With just four ingredients, our Caprese Pasta Salad is a light and fresh tasting pasta salad that's easy to make too. Mozzarella, tomatoes and a basil pesto, the flavors of Caprese, combine with pasta for a true summer pasta salad that will become a staple at your summertime gatherings.
Potato Salads
Creamy Pesto Potato Salad is bursting with the flavor of a lemony pesto and sour cream mixture that gently coats buttery Yukon gold potatoes, tomatoes and fresh basil.
Serve up our Kickin' Good Buffalo Ranch Potato Salad for a change of pace at your next barbecue! Celery and scallion combine for crunch and pickled jalapenos give a spicy kick to this creamy potato salad tossed in a Buffalo Ranch salad dressing.
Fruit Salads
Jalapeno Lime Summer Fruit Salad , an easy fruit salad recipe that's bursting with sweet juicy berries and watermelon, fresh mint, zesty lime and a hint of jalapeno heat, is a refreshing addition to your summer menu!
Freshly squeezed lime juice and fragrant mint leaves lend a taste of summer to every spoonful of our Blueberry Cantaloupe Salad. Our minted fruit salad will be a refreshing addition to any meal.
Strawberry Pistachio Quinoa lightly coated in a lemon oregano vinaigrette is a great way to use those fragrant strawberries of summer. From the juicy fresh strawberries and crunchy pistachios to the delicate quinoa, this side dish recipe is packed with nutrition and flavor.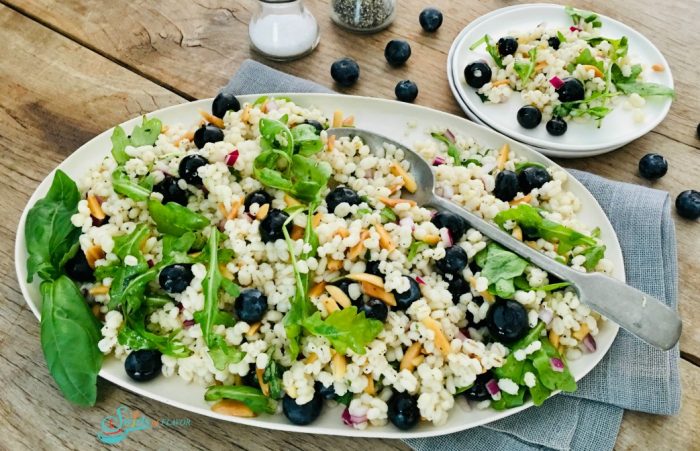 Our Summer Barley Salad is flavored with a homemade Basil Lime Vinaigrette. Juicy blueberries for sweetness, baby greens for texture and toasted almonds for a bit of crunch make every forkful of our cold grain salad a taste of summer.
Vegetable Salads
Caprese, fresh mozzarella, tomatoes and basil, the true flavors of summer! Combine them with quinoa, the oh-so popular super food, and you'll have Quinoa Caprese, your new favorite dish of the summer!
Fresh vegetables are tossed together with farro in a lime scented dressing making Zucchini & Corn Farro Salad both refreshing and nutritious.
You'll be right in style when you serve this raw Cranberry Brussels Sprouts Salad with Orange Marmalade Vinaigrette! So delicious and good for you at the same time…..and right on trend! The sprouts are thinly sliced and when tossed in the orange marmalade vinaigrette along with the cranberries, oranges and almonds, you get just the right amount of texture, crunch and bursts of flavor.
Panzanella, the classic Tuscan bread salad, is bursting with heirloom tomatoes, cucumber, mozzarella and fresh basil, the flavors and colors of summer! Our Panzanella is an easy recipe for a mouthwatering bread salad that's a perfect side dish.
Chili Lime Black Bean Corn Farro Salad will be the perfect addition to your alfresco table this summer! A chili lime vinaigrette with zesty lime and the slightest hint of chili powder heat flavors this farro salad with fresh corn and black beans.
Cucumber Tomato Cauliflower Rice Salad is a low carb side dish recipe that's bursting with fresh citrus flavor. Farm stand vegetables combine with a tangy lime dressing for this easy vegetable side dish.
Salad Pizza

Grilled Prosciutto, Parmesan and Arugula Salad Pizza is topped with a bed of baby arugula greens lightly tossed in a white balsamic vinaigrette dressing. Baby arugula, tomatoes and prosciutto combine to make each bite the perfect combination of summer flavors.
Croutons For Your Salad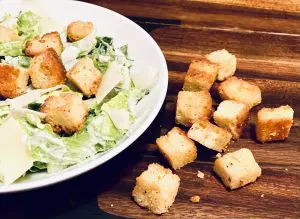 When you're salad dressing is homemade and filled with deliciousness, you'll want to top it with these easy homemade croutons for sure!
Homemade Salad Dressing
Making a Homemade Salad Dressing is so easy and takes just
minutes. Made with simple read food ingredients, your salad dressing
from scratch is not only better than store bought, it's better for you
and oh so delicious too!

As an Amazon Associate I earn from qualifying purchases.
Ingredients
1/2

cup

olive oil

1/4

cup

vinegar

*

1

Tbs.

thickener

1

tsp.

sweetener

your choice of flavorings
I earn a commission from Instacart from qualifying purchases.
Instructions
Whisk olive oil, vinegar, thickener, sweetener and your choice of flavorings until blended.

Store in refrigerator for up to one week.
Notes
I prefer using a 2:1 ratio of oil to vinegar for my salad dressing although the standard ratio is typically 3:1. You can add additional oil or less vinegar if you prefer!
Nutrition
Calories:
83
kcal
|
Carbohydrates:
1
g
|
Protein:
1
g
|
Fat:
9
g
|
Saturated Fat:
1
g
|
Sodium:
14
mg
|
Fiber:
1
g
|
Sugar:
1
g
|
Iron:
1
mg
First Published: June 14, 2019... Last Updated: June 14, 2021 for better readability and user experience