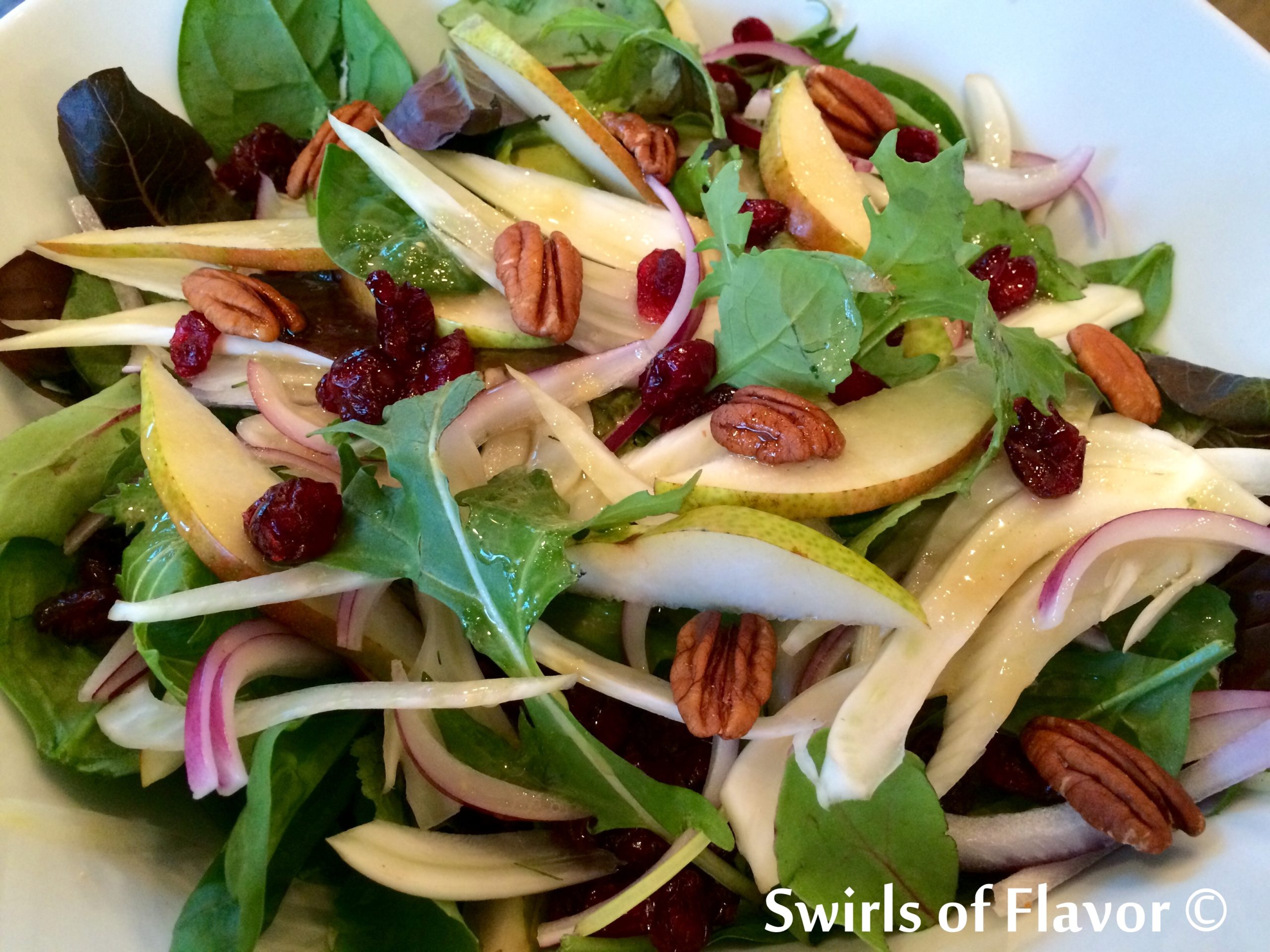 The crunch of nutty pecans, the crisp sweetness of fresh pears and a baby kale blend of greens gently tossed with a perfectly blended vinaigrette will take center stage on your holiday table this year! Your guests will definitely want seconds of this Pecan Pear Baby Kale Salad!
Have you checked out my Ultimate Guide To Making Homemade Salad Dressings? Making a Homemade Salad Dressing is so easy and takes just minutes. Made with simple real food ingredients, your salad dressing from scratch is not just better than store bought, it's better for you and oh so delicious too!
Pecan Pear Baby Kale Salad with White Balsamic Vinaigrette
Vinaigrette:
1/2 cup olive oil
1/4 cup white balsamic vinegar
1 Tbs. Dijon mustard
1 tsp. sugar
1/2 tsp. kosher salt
1/4 tsp. pepper
1/4 tsp. garlic powder
Salad:
8 ounces baby kale blend, 8 cups
2 pears, cored and thinly sliced
1 cup thinly sliced fresh fennel
1/2 cup thinly sliced red onion
1/2 cup dried cranberries
1/2 cup pecans, toasted
1. Vinaigrette: In small bowl whisk olive oil, vinegar, Dijon, sugar, kosher salt, pepper and garlic powder until blended.
2. Salad: In serving bowl combine baby kale blend, pears, fennel, onion, dried cranberries and pecans. Just before serving*, gently toss lettuce mixture with some of the vinaigrette until lightly coated. Serve with remaining vinaigrette on the side.
Makes 12 servings.
*Baby kale blend is a delicate mix of greens. Toss with some the vinaigrette immediately before serving so that salad does not wilt!