About Swirls of Flavor
Welcome to Swirls of Flavor. I'm Gwynn and I'm so happy you are here!
Ever wish you could cook simple recipes made with fresh ingredients that were delicious, quick and easy to make?
Being the mom of four hungry sons, I learned, out of necessity, how to get dinner on the table quickly over the years!
Here at Swirls I create easy, family friendly recipes made with fresh, simple ingredients that are perfect for your busy lifestyle.
My One Pot Recipes are especially popular here at Swirls and were created to quickly and easily feed the hungry mouths of 4 boys, their friends, and the revolving door that my house had.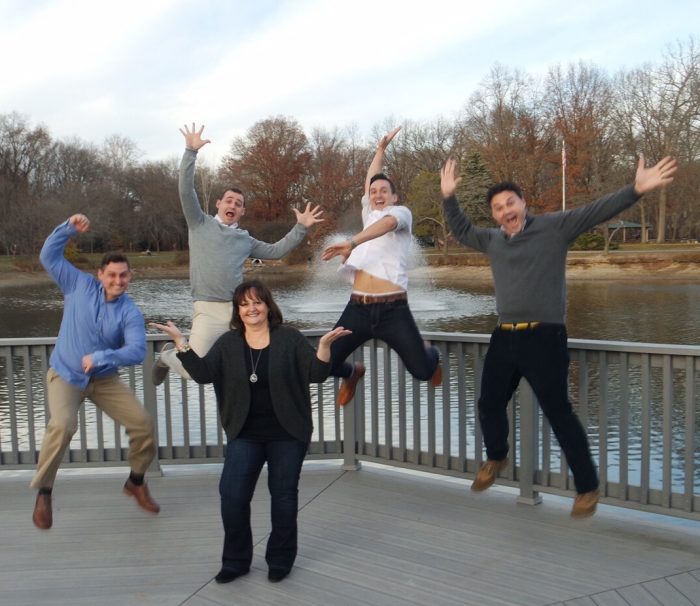 And now that I am the lucky grandma of my eight little loves, I enjoy creating recipes to help my sons and daughters-in-law get food on the table with their busy schedules too. And I share these recipes here to make life easier for you also.
And when our family gets together I still have a lot of hungry mouths to feed so I always find ways to make quick and easy recipes......for my sanity and now for yours too!
Trust me, I know firsthand how busy weeknights can get with homework, sports, dance, karate, gymnastics, school projects, rehearsals, and many after school activities and work commitments.
The list goes on and on and life can get overwhelming but getting a nourishing dinner on the table doesn't have to be. And there is nothing that can replace sharing a home cooked meal with family and friends.

Over time I have created many one pot recipes along with appetizers, side dishes, desserts and drinks and cocktails to provide a great variety of flavors for my boys, my grandchildren and now your family!
Adding a salad to round out a one pot recipe is all you will need to provide a wonderful dinner for everyone. Maybe you want to splurge with a dessert too, because why not end on a sweet note?
Be sure to stop by the Swirls of Flavor Amazon Storefront for GG's personal kitchen recommendations!
And follow Swirls of Flavor on Facebook, Instagram, Twitter and Pinterest so you don't miss any deliciousness!
My passion is bringing people together through delicious food.
So come on in to my kitchen and gather round the table.
It's time to Cook, Share and Savor the Moments together, one recipe at a time.
About Gwynn Galvin
An award-winning culinary professional with over twenty five years of recipe development, food styling, test kitchen management and culinary innovation experience, Gwynn Galvin, known to many as GG, is the creative and talented chef and nutritionist behind Swirls of Flavor.
Gwynn's passion is gathering people around the table with her simple real food recipes to savor the moments together. "Swirls of Flavor" is Gwynn's way of sharing her love of cooking and nutrition with you and filling your home with fabulously delicious "Swirls of Flavor" whenever you cook up one of her recipes.
Making Scalloped Potatoes while earning her Girl Scout Cooking Badge is the spark that ignited Gwynn's passion for all things culinary. Years later she would attend culinary school and turn her passion into her career.
Her fascination with food and nourishment didn't stop there. She went on to receive two nutritionist certifications and intertwines her culinary and nutritional knowledge when creating her recipes.
She has been featured as an expert recipe developer in the US Highbush Blueberry Council's article Baking Q&A: Tips, Tricks and Debunking Common Myths and interviewed on The Buzz Bin in Meet The Experts; Food Bloggers.
As an Amazon Associate I earn from qualifying purchases.
Gwynn is a contributor to the cookbook Simply Sweet ColorCakes: Wow-Worthy Desserts Anyone Can Make featuring over 100 recipes with photos for creating adorable, bakery-style desserts at home.
A Brand Ambassador and Influential Blogger, Gwynn has been Test Kitchen Director for a nationally published magazine for twelve years in addition to creating recipes and product prototypes and food styling for several major food corporations and culinary accounts.
Gwynn's recipes are featured in cookbooks, magazines, national ad campaigns, television commercials, on product packaging and online.
She has judged the Duncan Hines Bake-Off, the National Chicken Cooking Contest, and America's Best Blueberry Pie Contest.
In addition to working for major food corporations and publications as a Chef Nutritionist and Culinary Consultant, Gwynn was Chef and Partner of Sweet Indulgences, a family-owned premium baking company featured on the television show Cupcake Wars in the Rose Bowl episode . She developed the award-winning recipes offered at their shoppe and was always creating new flavors and concepts for their product line.
She is a member of the International Association of Culinary Professionals, and the New York Women's Culinary Alliance and served on the Alliance Board of Directors.
In 2016 Gwynn's Bourbon Peach Cheesecake Mousse In A Jar recipe was named the Grand Prize Winner of the Blog Life University Conference's Dixie Crystals Sweet and Southern Desserts Recipe Contest.
Gwynn's recognitions also include:
Cambridge's Who's Who Among Women Entrepreneurs, 2011
Best Tasting Cheesecake Award, 2010, NY Cake Convention
2011 Reader's Choice Award for Best Bakery, Bergen Health and Life Magazine
2011 Top Cupcakery in Bergen County, BergenMama.com
2012 Reader's Choice Award for Best Bakery, Bergen Health and Life Magazine
2012 Reader's Choice Award for Best Cupcakes, Bergen Health and Life Magazine
2013 Reader's Choice for Best Cupcakes and Bakery, Bergen Health and Life Magazine
Gwynn received her culinary training at The New School of Culinary Arts in NYC, The Institute of Culinary Education and has studied food styling under the direction of Delores Custer. She is a certified Nutrition Wellness Counsellor and Holistic Health Counsellor and the recipient of a Wilton Certificate in Cake Decorating and New Jersey Food Manager Certification.
Gwynn's recipes have been described as "decadent bites of brilliance" and she is thrilled to share them with you and fill your home with fabulously delicious "Swirls of Flavor"!
Make a Swirls recipe, share it with those you love and savor the moments together!
Cook. Share. Savor the Moments.
 You can contact Gwynn at [email protected]
Follow Swirls of Flavor on Facebook, Instagram, Twitter and Pinterest