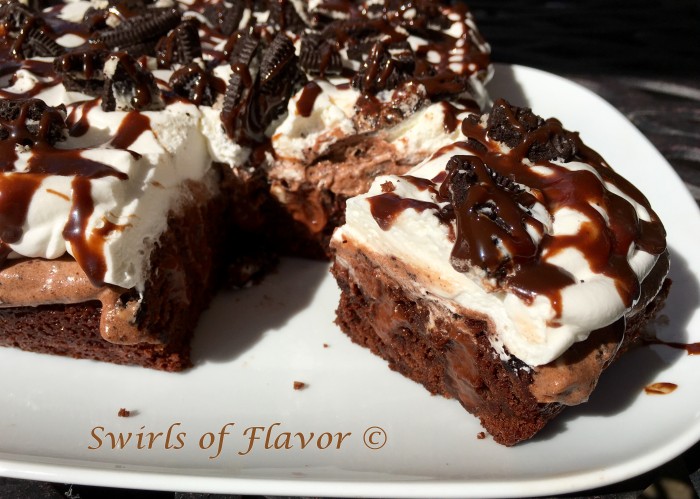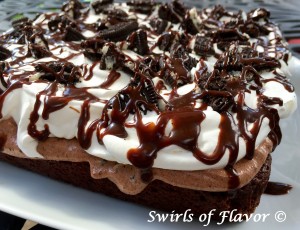 We all love a poke cake! But have you poked your cake with pudding? And has your cake been a brownie cake? Oh, and then did you top that brownie cake with a layer of pudding filled with crushed cookies? And don't forget that top layer of whipped topping, chopped cookies and fudge sauce! Oh yeah baby! Now we're talking poke cake!
Oreo Pudding Brownie Poke Cake
Brownie:
1 cup butter
4 ounces unsweetened chocolate
1 2/3 cups granulated sugar
4 large eggs
1 cup flour
1 tsp. vanilla extract
1/4 tsp. baking soda
1/4 tsp. salt
Pudding & Topping:
1 pkg. (2.02 oz.) instant chocolate pudding mix
1 1/2 cups milk
12 Oreo cookies, divided
3 cups frozen whipped topping, thawed, divided
1/4 cup hot fudge topping
1. Preheat oven to 350F. Line a 9-inch square baking pan with foil leaving a 2-inch overhang. Spray with nonstick cooking spray.
2. Brownie: Microwave butter and chocolate in microwave-safe bowl until melted, stirring occasionally.
3. Stir in sugar until dissolved.
4. Add eggs, flour, vanilla, baking soda and salt, stirring until smooth and blended.
5. Transfer batter to prepared pan and bake 40-45 minutes or until toothpick inserted in center comes out clean.
6. Cool 10 minutes in pan. Using foil overhang, lift brownies out of pan and cool completely on wire rack.
7. Using handle of wooden spoon, make holes in top of brownie about 1-inch apart.
8. Pudding & Topping: In bowl combine pudding mix and milk, whisking until smooth and blended. Let stand several minutes until pudding begins to thicken just slightly. Pour 3/4 cup of pudding into holes in top of brownie.
9. Finely chop 6 cookies and stir into remaining pudding. Fold 1/2 cup whipped topping into pudding mixture and spread over top of brownie.
10. Spread remaining 2 1/2 cups whipped topping over pudding mixture.
11. Chop remaining 6 cookies and arrange on top of whipped topping. Drizzle with fudge sauce. Refrigerate until ready to serve.
Makes 16 servings.