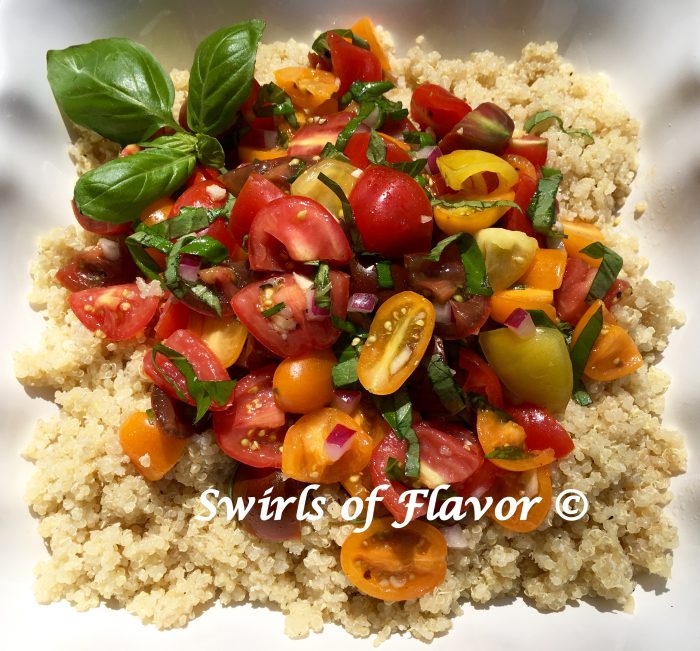 If it's summer it must be tomato season! And that means I'm putting tomatoes in another recipe! This time I'm mixing a bruschetta topping of heirloom tomatoes, red onion, fresh basil, olive oil and white balsamic vinegar and topping a bowl of the super grain quinoa. Actually you can top any super grain you prefer and the fabulous flavor of the bruschetta topping will infuse the grain and make your mouth water! You'll be so happy summer and tomato season are here!
Heirloom Tomato Bruschetta Quinoa
1 cup quinoa*
1/4 cup shredded Parmesan cheese
3 Tbs. olive oil, preferably extra virgin, divided
1 tsp. kosher salt, divided
1/4 tsp. freshly cracked black pepper, divided
2 cups chopped heirloom tomatoes
2 Tbs. chopped red onion
1/4 cup thinly sliced fresh basil leaves
1 clove garlic, finely minced
2 Tbs. white balsamic vinegar
In medium saucepot bring 2 cups water to a boil over medium-high heat. Add quinoa. Reduce heat and simmer, covered, until water has been absorbed, 12-15 minutes.
Remove from heat. Using a fork, fluff up quinoa. Let stand, covered, 5 minutes. Uncover and cool to room temperature.
In serving dish combine quinoa, shredded Parmesan, 1 Tablespoon olive oil, 1/2 teaspoon kosher salt and 1/8 teaspoon freshly cracked black pepper.
In another bowl combine tomatoes, red onion, basil, garlic, white balsamic vinegar and remaining 2 Tablespoons olive oil, 1/2 tsp. kosher salt and 1/8 tsp. freshly cracked black pepper. Arrange tomato mixture over quinoa. Toss just before serving.
Makes 5 cups.
*Prefer another grain? Heirloom Tomato Bruschetta will taste just as fabulous over farro, bulgur, brown rice, barley…..the list is endless! Just go with your favorite grain, prepare it according to package directions and then follow the recipe above beginning with Step 3!