It's the time of year when life gets busier and busier. End of school year activities, graduations, recitals, spring sports teams, first communions, exams…..the list goes on and on! The perfect time to make a dozen Grab 'N Go Quinoa Egg Muffins for those on the run, quick out the door mornings! This post contains affiliate links. (Disclosure policy)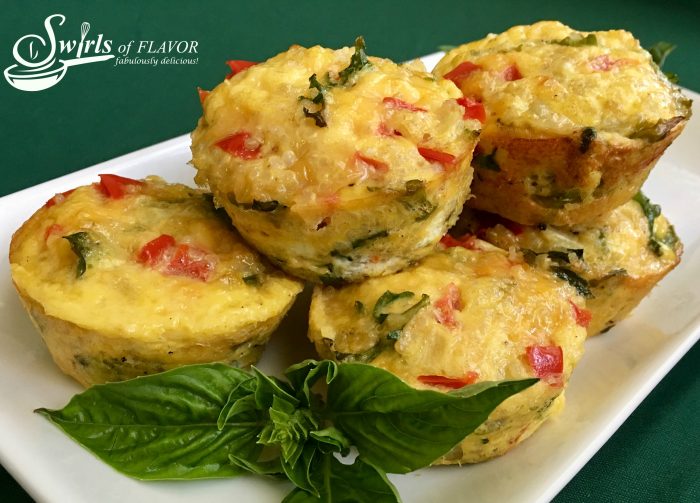 Filled with protein-packed quinoa and eggs and bursting with fresh vegetables, Quinoa Egg Muffins are the perfect start to any busy day. Make a muffin tin the beginning of the week and heat up in the microwave each morning. Crazy mornings just got a little more sane. You're welcome!
Grab 'N Go Quinoa Egg Muffins
10 large eggs
1 cup cooked quinoa
1 cup chopped red bell pepper
1 cup arugula
1 cup shredded cheddar cheese
1/2 cup chopped onion
1/4 cup chopped fresh basil leaves
1/2 tsp. kosher salt
1/4 tsp. pepper
Preheat oven to 350F. Coat 12-cup muffin tin with non-stick cooking spray.
In bowl combine eggs, quinoa, red bell pepper, arugula, cheddar cheese, onion, basil, kosher salt and pepper until blended.
Fill muffin tin with egg mixture and bake 25 minutes or until eggs have puffed and are cooked through. Eggs are done when a knife inserted in centers comes out clean.
Makes 12 egg muffins.