Grab N Go Quinoa Egg Muffins are the perfect solution for breakfast on a busy morning. Our homemade egg muffins are filled with protein-packed quinoa and eggs and bursting with red bell peppers and arugula, Add in cheddar cheese and fresh basil and Quinoa Muffins are an easy, delicious breakfast and the perfect start to any busy day.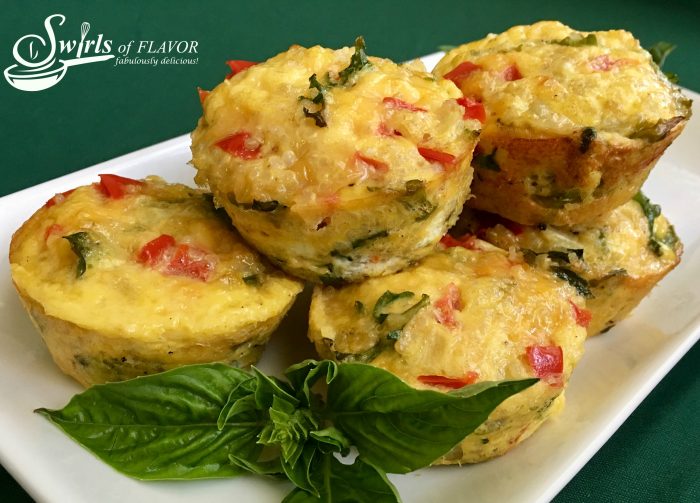 Quinoa Muffins Recipe
Filled with protein-packed quinoa and eggs and bursting with fresh vegetables, our quinoa breakfast muffins are the perfect start to any busy day.
Bursting with fresh vegetables, protein packed eggs and quinoa, our make ahead breakfast to go has all the fixings of a frittata in a handheld muffin. You could even call them frittata muffins! So much fun!
There are certain times of the year when life gets busier and busier. There's the beginning of the school year when the lazy days of summer end and schedules are packed with school, homework, sports and after school activities.
And then come the holidays with family get togethers, holiday shopping, festive parties and school holiday shows.
Or maybe it's the end of school year activities such as graduations, recitals, spring sports teams, first communions, exams.....the list goes on and on!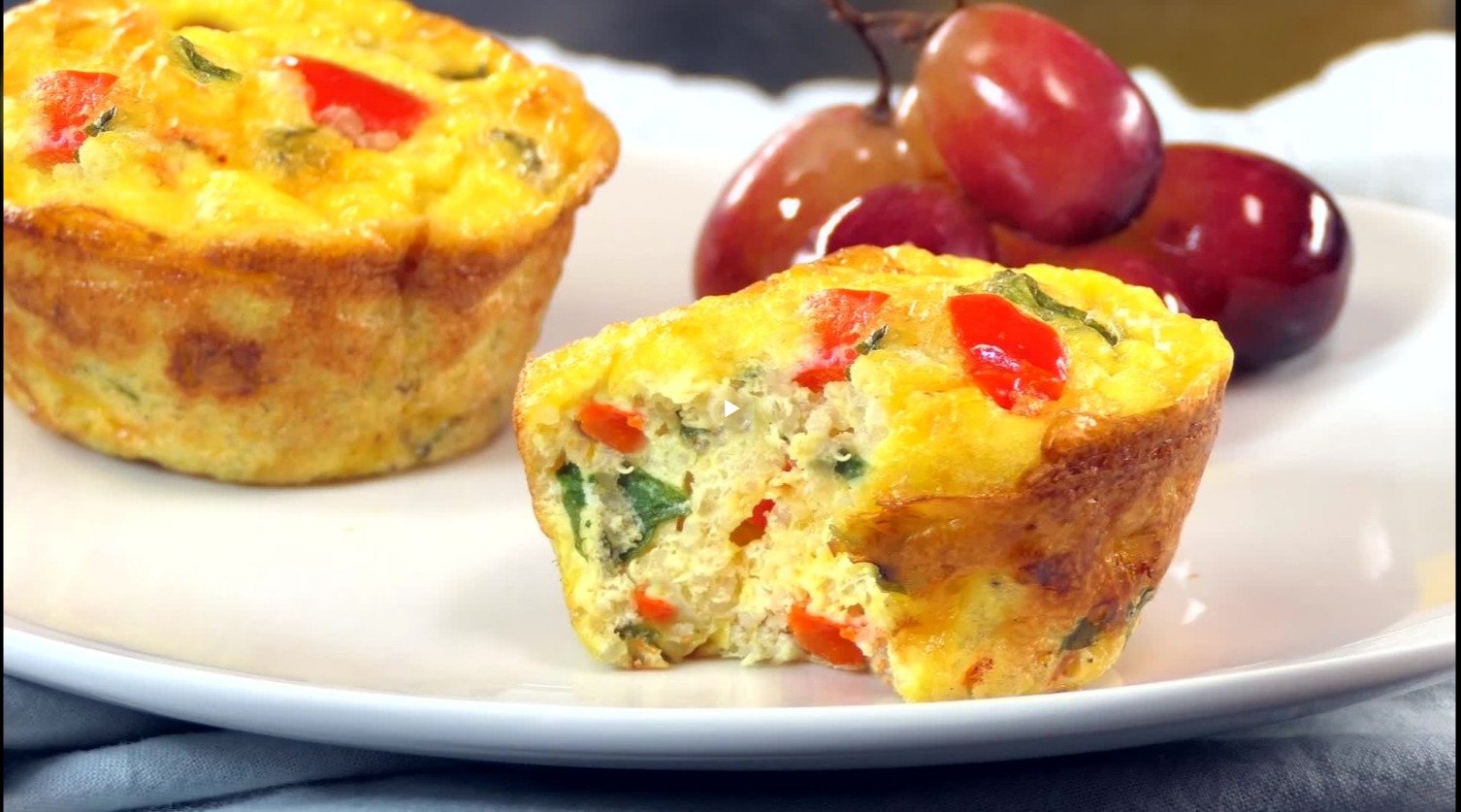 Basically anytime is the perfect time to make a dozen Grab 'N Go Quinoa Egg Muffins for those on-the-run, quick out-the-door mornings!
You'll be happy to have our savory quinoa muffins, filled with eggs, quinoa and fresh vegetables, on hand or in the freezer for those times when you need a delicious start to your busy day.
As an Amazon Associate I earn from qualifying purchases.
So, go ahead, make a muffin tin the beginning of the week and heat up in the microwave each morning. Crazy mornings just got a little more sane. You're welcome!
Granola With Yogurt Breakfast Parfaits is another delicious way to start your day!
Be sure to visit the Swirls of Flavor Amazon Storefront for GG's personal kitchen recommendations!

Swirls of Flavor Recipe Tips
Bake in mini muffin tins and make mini egg muffins
Substitutions
Substitute baby spinach for the arugula
Substitute shredded mozzarella cheese for the shredded cheddar cheese
Equipment
Ingredients for egg quinoa muffins
large eggs
cooked quinoa
red bell pepper
arugula
cheddar cheese
onion
fresh basil
kosher salt
pepper
Recipes With Quinoa
Quinoa is that power food that makes everything better! Gluten free, high in protein and filled with all nine essential amino acids, quinoa definitely qualifies as a power food. Time to get more quinoa in your life with these recipes made with quinoa!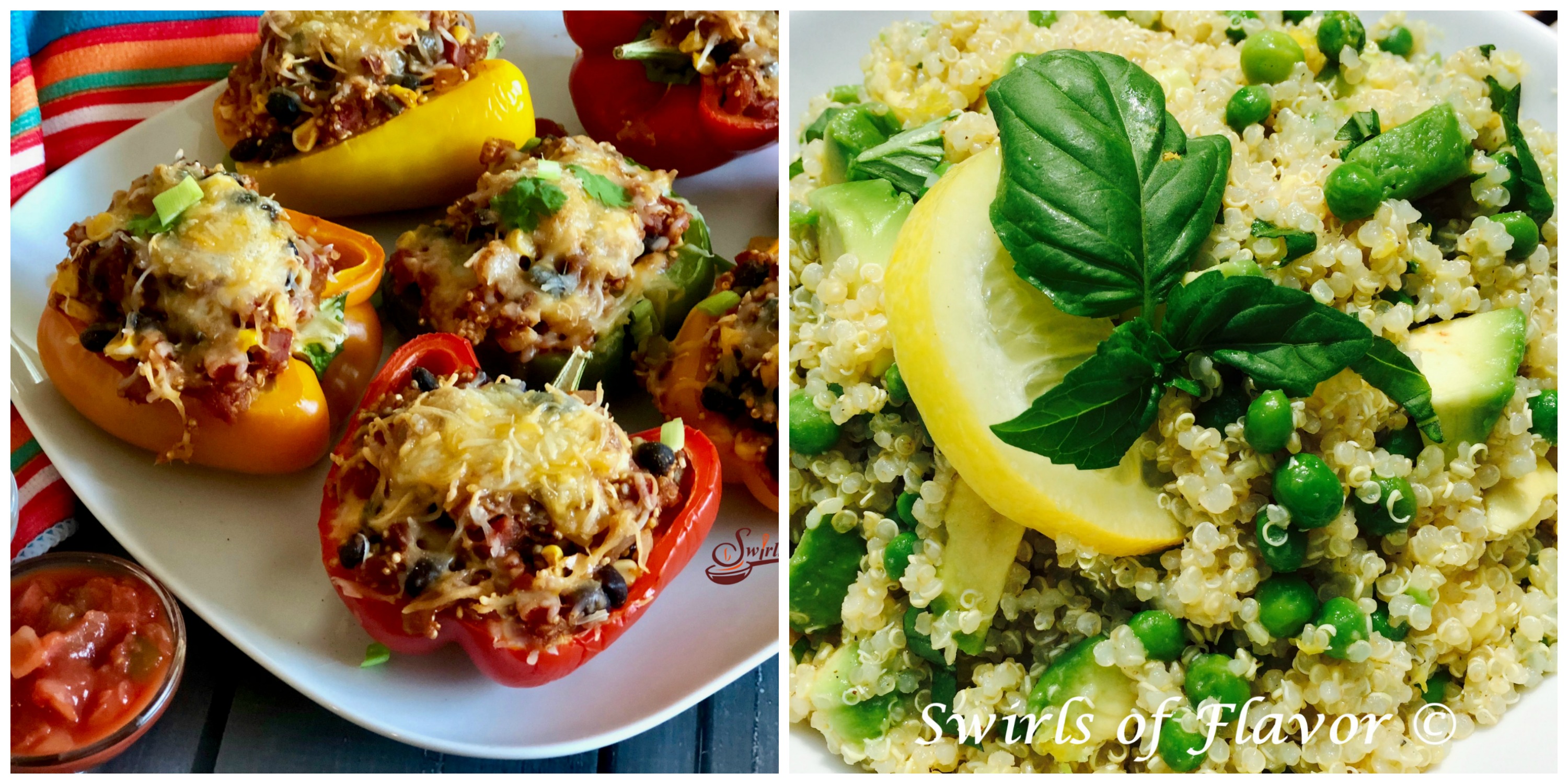 Mexican Quinoa Stuffed Peppers is an easy recipe that's perfect for a weeknight dinner and Meatless Monday. Quinoa stuffed peppers take on a Mexican flair, bursting with a filling of quinoa, black beans, corn, tomatoes and salsa.
Lemon Basil Avocado Quinoa with a light citrus dressing, fresh basil and the superfood avocado, is a light yet satisfying addition to any summer meal.
A bruschetta topping of heirloom tomatoes, red onion, fresh basil, olive oil and white balsamic vinegar top a bowl of the super grain quinoa for a colorful summer side dish when you make Heirloom Tomato Bruschetta Quinoa.
From the juicy fresh strawberries and crunchy pistachios to the delicate quinoa, Strawberry Pistachio Quinoa is packed with nutrition and flavor.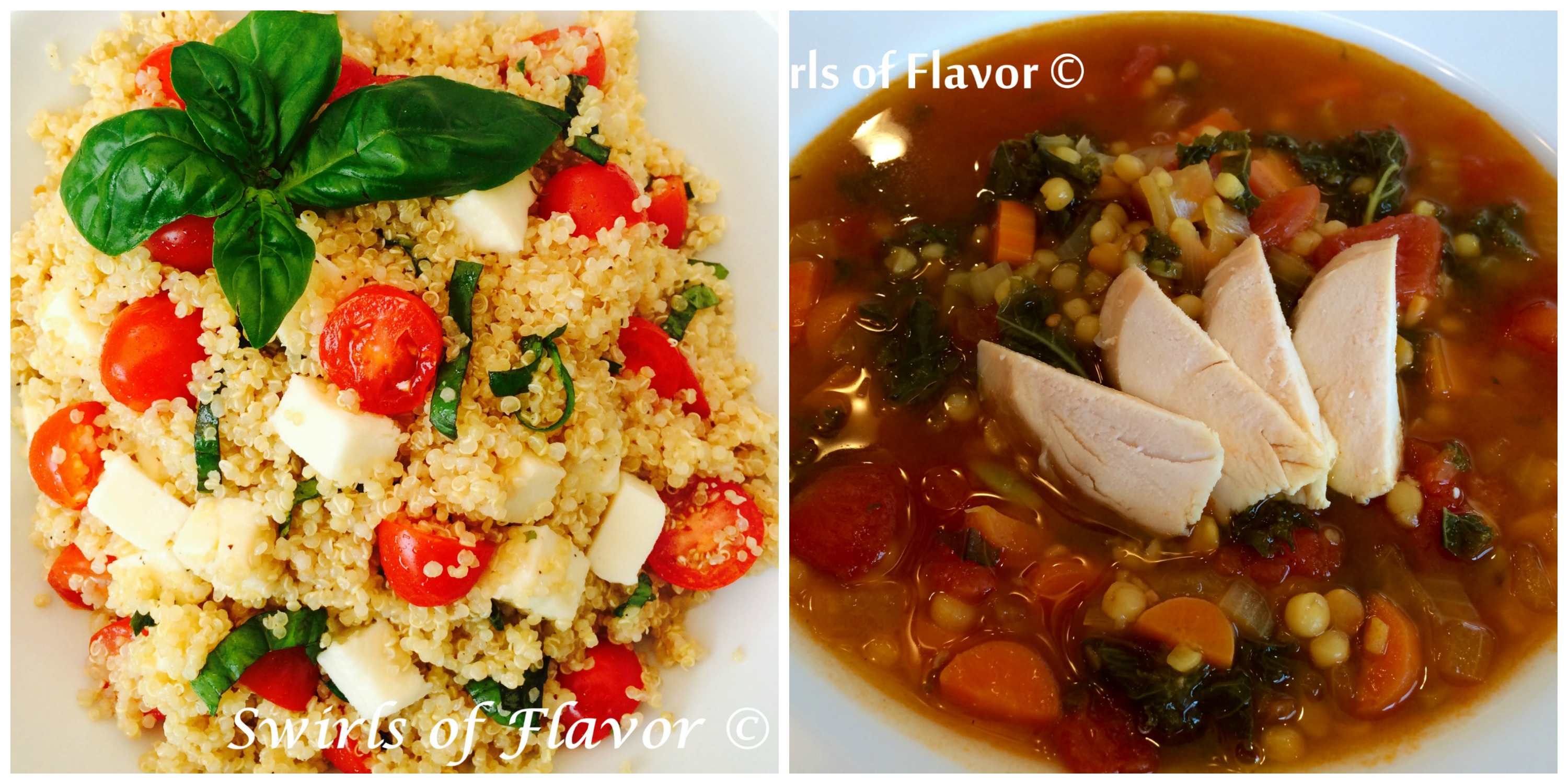 Fresh mozzarella, tomatoes and basil…..the true flavors of summer! Quinoa Caprese combines quinoa, the oh-so popular super food, and the flavors known as "Caprese" for your new favorite dish of the summer!
Filled with lentils and quinoa, carrots and kale, Quinoa Lentil Broth Bowl will be a perfect Meatless Monday dinner when you make it with vegetable broth and top it with an egg!
Print
Grab 'N Go Quinoa Egg Muffins
Filled with protein-packed quinoa and eggs and bursting with fresh vegetables, Quinoa Egg Muffins are the perfect start to any busy day.
As an Amazon Associate I earn from qualifying purchases.
Ingredients
10

large eggs

1

cup

cooked quinoa

1

cup

chopped red bell pepper

1

cup

arugula

1

cup

shredded cheddar cheese

1/2

cup

chopped onion

1/4

cup

chopped fresh basil leaves

1/2

tsp.

kosher salt

1/4

tsp.

pepper
I earn a commission from Instacart from qualifying purchases.
Instructions
In bowl whisk eggs until blended. Add quinoa, red bell pepper, arugula, cheddar cheese, onion, basil, kosher salt and pepper until combined.

Fill muffin tin with egg mixture and bake 25 minutes or until eggs have puffed and are cooked through. Eggs are done when a knife inserted in centers comes out clean.
Nutrition
Calories:
116
kcal
|
Carbohydrates:
5
g
|
Protein:
8
g
|
Fat:
7
g
|
Saturated Fat:
3
g
|
Cholesterol:
146
mg
|
Sodium:
192
mg
|
Potassium:
128
mg
|
Fiber:
1
g
|
Sugar:
1
g
|
Vitamin A:
747
IU
|
Vitamin C:
17
mg
|
Calcium:
97
mg
|
Iron:
1
mg
First Published: May 15, 2017... Last Updated: March 4, 2023, for better readability and user experience