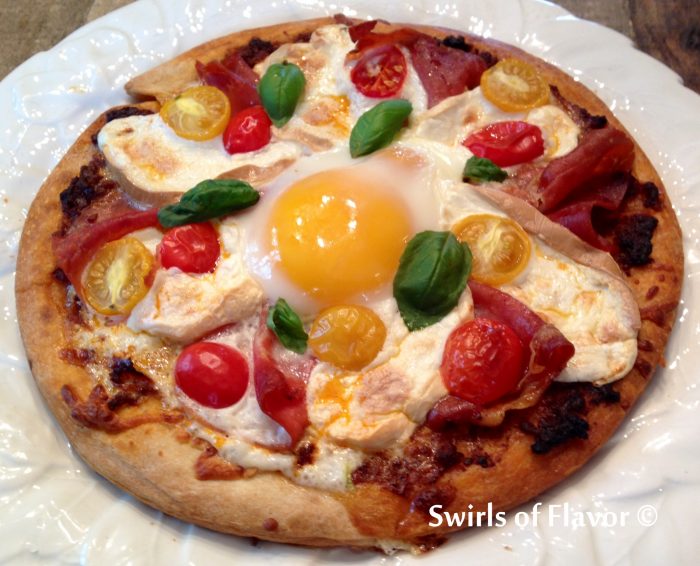 Breakfast Pizza
One of my favorite parts of Mother's Day is breakfast in bed and a Smoked Mozzarella & Prosciutto Breakfast Pizza is an easy way for dad and the kids to make you your special meal. So easy peasy, even dad can get this done with the kids! You'll be off to a great start on Mother's Day as you enjoy breakfast in bed!
I have fond memories of my four sons, who are all grown up and married now, as little boys running in to give me breakfast in bed on Mother's Day. Their excited smiling faces, filled with the anticipation of my reaction, are etched in my memory. I will always remember one Mother's Day in particular when they ran in with their adorable homemade cards. They had pasted beautiful cut-out hearts all over their cards professing their love. Unfortunately, they got a bit confused with all the hearts that they mistakenly wrote "Happy Valentine's Day" inside! Too funny….we still laugh about it to this day….well, actually I haven't let them forget it! But I know they love me on Mother's Day, Valentine's Day and every day! And now I am blessed to be the grandma of my five eight little loves and my Mother's Day is bursting with love and happiness!
Happy Mother's Day!
Pizza Recipes
Love pizza as much as I do? Be sure to try Grilled Prosciutto, Parmesan and Arugula Salad Pizza, a grilled pizza topped with a bed of baby arugula greens lightly tossed in a white balsamic vinaigrette dressing. Caprese, the beloved combination of mozzarella, tomato and basil with balsamic vinegar, becomes a Meatless Monday meal or fabulous appetizer as Grilled Pesto Caprese Naan Pizza! And if you're craving a taste of italy then Grilled Pesto Pizza with pesto, asiago cheese, sundried tomatoes, artichoke hearts, fresh tomatoes and bacon is definitely for you! And did you know that you can have your spaghetti and meatballs and eat your pizza too with Deep Dish Spaghetti & Meatball Pizza? And I would be remiss if I didn't mention Buffalo Ranch Chicken Pizza! Combining the flavors of Ranch and Buffalo, this pizza will certainly become a go-to favorite. So many pizzas, so little time!
Smoked Mozzarella & Proscuitto Breakfast Pizza
Smoked Mozzarella & Prosciutto Breakfast Pizzas are made with store bought pizza crusts topped with pesto, prosciutto, smoked mozzarella and tomatoes, then with an egg. and baked in the oven!
Course:
Breakfast, Main Course
Ingredients
1

pkg. (10 oz. )

store bought mini pizza crusts, such as Boboli

1/4

cup 

tomato pesto

6

prosciutto slices,

about 3 ounces

4

ounces

smoked mozzarella,

cut into 6 thin slices and then halved to make 12 half moon slices

1/2

cup 

yellow and/0r red grape tomatoes,

halved lengthwise

2 

large 

eggs

fresh basil leaves for garnish
Instructions
Preheat oven to 425F.

Place pizza crusts on baking sheet. Top with pesto, prosciutto, mozzarella and tomatoes.

Bake 10 minutes. Remove from oven.

Crack each egg and carefully place on top of pizzas.

Bake additional 10 minutes or until eggs are cooked to desired doneness.

Sprinkle with fresh basil leaves.
Recipe Notes
Makes 2 individual pizzas.