Caprese Skewers With Pesto is an easy recipe for a homemade pesto dipping sauce served with skewers of fresh basil, mozzarella and tomatoes. A well deserved indulgence when you unwind after a busy week and perfect for entertaining.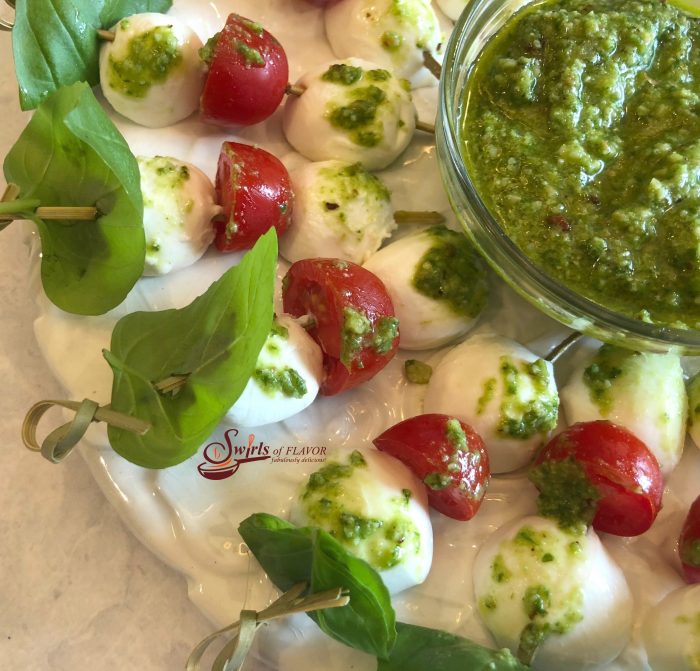 Tomato Mozzarella Basil Skewers
You don't need an excuse of company coming over to serve caprese sticks because you're worth it!
A simple homemade pesto dipping sauce with skewers of fresh basil, mozzarella and tomatoes, is the perfect indulgence when you unwind after a busy week.
Pour yourself a glass of rose, kick up your feet, breathe in that warm summer air and indulge on our caprese salad skewers dipped into homemade pesto sauce and savor all the flavors of summer in every bite.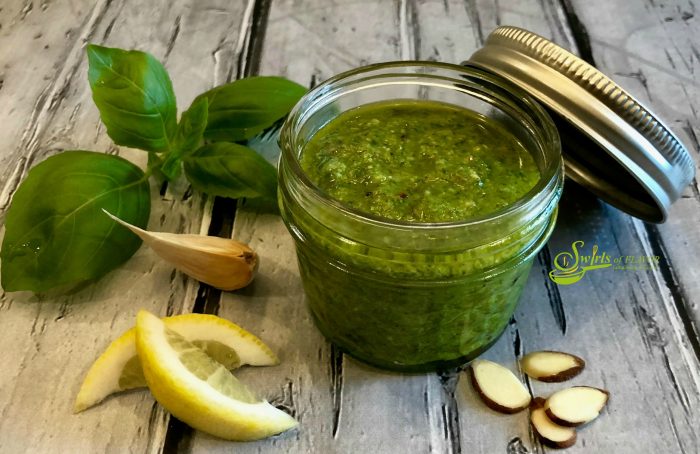 A homemade pesto made with toasted almonds will delight your taste buds especially when you dip fresh mozzarella, tomatoes and basil leaves in that pesto. Oh my!
Our Basil Pesto is bursting with the flavors of extra virgin olive oil, fresh basil leaves from my garden, Parmesan cheese for texture and saltiness, lemon juice and zest for a bright note and, yes, the unexpected nuttiness of toasted almonds.
Now that's an explosion of flavors for sure. In just minutes you can treat yourself to this homemade pesto dipping sauce. Whirl it up in the blender and you're all set.
I make commissions for purchases made through links in this post.
Be sure to visit the Swirls of Flavor Amazon Storefront for GG's personal kitchen recommendations!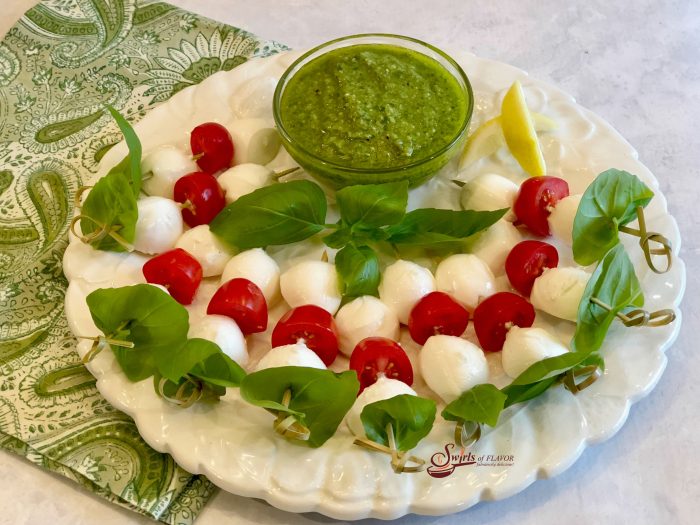 What is Pesto?
Pesto is a sauce that originated in Italy. To be more specific, it originated in Genoa, the capital city of Liguria, a region of northern Italy.
Pesto has always been prepared with basil, garlic and pine nuts blended with Parmesan cheese and olive oil.
Traditionally, these ingredients are blended in a mortar with a pestle until a paste forms. When basil wasn't in season marjoram and parsley were suggested as alternatives.
The Ligurian people are so proud of their Basil Pesto that in 2007 they organized an International World Championship to declare the best Pesto of the year.
Even though pesto dates back to ancient times, the first time that a pesto recipe was actually published wasn't until 1863 by Chef Giovanni Battista Ratto in his La Vera Cuciniero Genovese cookbook.
Learn all about pesto, what does pesto taste like, how to make it, store it and even freeze it, along with lots more easy pesto recipes!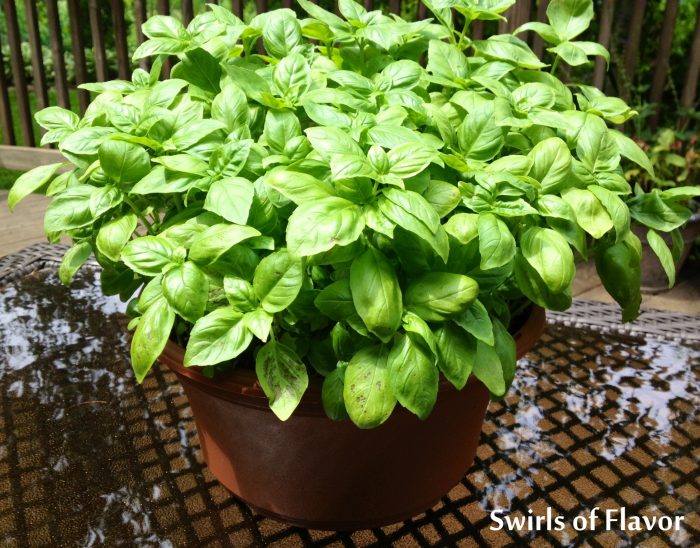 Swirls of Flavor Recipe Tips
Make with colorful heirloom grape tomatoes
Add cooked tortellini pasta and make caprese tortellini kabobs
Substitutions
Save time and make this appetizer with a store-bought pesto in place of the homemade pesto. I love the pesto products that are available in the refrigerated section of your grocery store.
Purchase a block of mozzarella and cut into bite size pieces instead of using bocconcini
Ingredients for bocconcini skewers
extra virgin olive oil
lemon juice
fresh basil
sliced almonds
Parmesan cheese
garlic
lemon zest
kosher salt
bocconcini (mozzarella balls)
grape tomatoes
Homemade Pesto Recipes
Pesto doesn't have to be made with basil. I've created several pesto recipes using other greens and they are divine! Toss any of these fabulous pesto recipes with your favorite pasta for Meatless Monday, top chicken or fish, serve with vegetables......the possibilities are endless!
Fresh Mint Spring Pea Pesto bursting with fresh springtime flavors of spring peas and fresh mint will brighten up any pasta dish.
Kale Pesto is one of my all time favorite recipes. Kale Pesto combines the trendy super food kale with toasted almonds and a hint of lemon to make an amazingly delicious, healthy, easy pesto recipe!
Pesto Florentine, made from tender baby spinach leaves and toasted almonds, is a fabulous twist on the old time favorite.
Print
Caprese Skewers With Pesto
Caprese Skewers With Pesto, a simple homemade pesto dipping sauce served with skewers of fresh basil, mozzarella and tomatoes, is the perfect indulgence when you unwind after a busy week. 
As an Amazon Associate I earn from qualifying purchases.
Ingredients
Caprese Skewers:
16

basil leaves

16

bocconcini,

halved

8

grape tomatoes,

halved crosswise

4-

inch

wooden skewers
I earn a commission from Instacart from qualifying purchases.
Instructions
Basil Pesto:
Place olive oil, lemon juice, basil leaves, almonds, Parmesan, garlic, lemon zest and kosher salt in blender or food processor. If using a blender, be sure to put the olive oil and lemon juice in first for easy blending. Puree or process until blended.
Caprese Skewers:
Arrange basil leaf, half bocconcini, half tomato and half bocconcini on each skewer. Repeat to make 16 skewers.

Serve skewers with pesto dipping sauce or brush some of the pesto on skewers and serve with remaining dipping sauce.
Notes
Makes 8 servings. 2 skewers per serving.
Nutrition
Calories:
313
kcal
|
Carbohydrates:
3
g
|
Protein:
12
g
|
Fat:
30
g
|
Saturated Fat:
6
g
|
Cholesterol:
21
mg
|
Sodium:
120
mg
|
Potassium:
110
mg
|
Fiber:
1
g
|
Sugar:
1
g
|
Vitamin A:
511
IU
|
Vitamin C:
5
mg
|
Calcium:
247
mg
|
Iron:
1
mg
First Published: June 15, 2019... Last Updated: December 23, 2022 for better readability and user experience