Ever just wonder, what does pesto taste like? Let's explore the delicious and complex flavors of pesto and so much more about this fresh green sauce, including how to make, store and even freeze pesto, along with lots of delicious recipes too!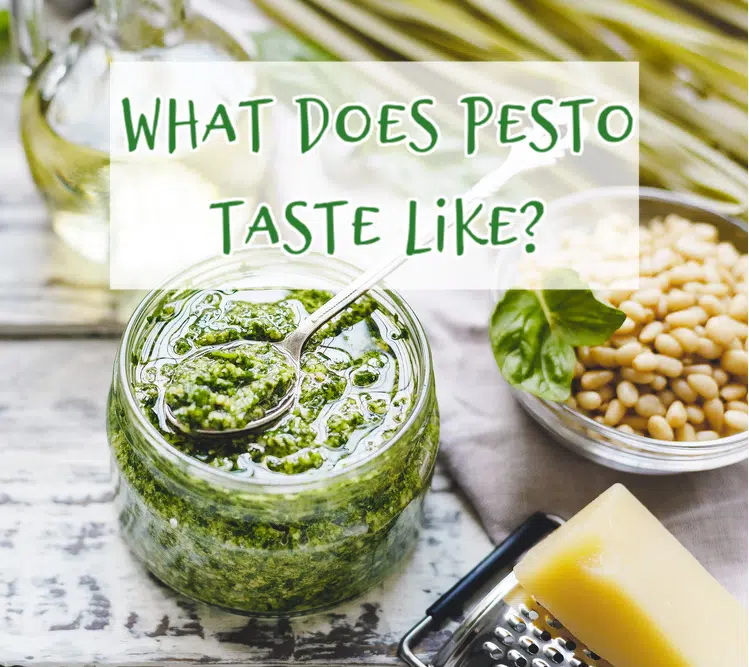 What does pesto taste like?
Ever wonder, what does pesto taste like? Pesto is a uniquely delicious and richly green sauce made from a combination of fresh herbs, nuts, oil, garlic and cheese.
This marriage of ingredients creates a fresh, delicious and delightful sauce.
The pesto flavor is an intriguing mix of fresh basil leaves, olive oil, cheese, pine nuts and garlic and it tastes absolutely delicious!
It tastes so good because each ingredient of the sauce has its own natural fresh flavor.
When these ingredients are all combined, it creates a rich and amazingly fresh flavor combination.
It might seem tricky to describe the flavor of pesto as an overall taste. The flavor is nutty and garlicky. Herbal flavors are balanced with a hint of saltiness from the cheese.
Pesto gives that savory, rich and earthy umami flavor to pasta dishes.
The flavors are so rich and satisfying. A good pesto is a real treat.
Origins of pesto
Pesto, the king of sauces, originated in Italy and has been around for centuries. It originated way back in the 16th century.
Pesto is typical of a region in the northwest of Italy known as Liguria and has its roots in ancient Rome. It is one of the most popular pasta toppings in all of Italy.
However, the modern version of pesto was first mentioned by Giovanni Battista Ratto in 1870 in Cucina Genovese.
Offering many flavors and health benefits, this spreadable Italian sauce is made with fresh ingredients and has the freshest taste.
As you toss this richly green sauce on your pasta, your tastebuds will delight in the flavor of pesto.
Typically made with basil, pine nuts, Parmesan cheese, garlic, and olive oil, there are pesto recipes made with many variations of these ingredients.
You can make pesto with greens, such as kale, spinach and arugula. Or you can use fresh herbs such as parsley and cilantro.
Pine nuts tend to be expensive so you can substitute your favorite nut, such as almonds, walnuts and pistachios.
Homemade pesto is loved not just for its flavor but also for its health benefits.
So versatile, this green herb sauce can be tossed with pasta or vegetables, dolloped over cooked chicken, beef or pork, and even stirred into mashed potatoes or scrambled eggs.
What is pesto?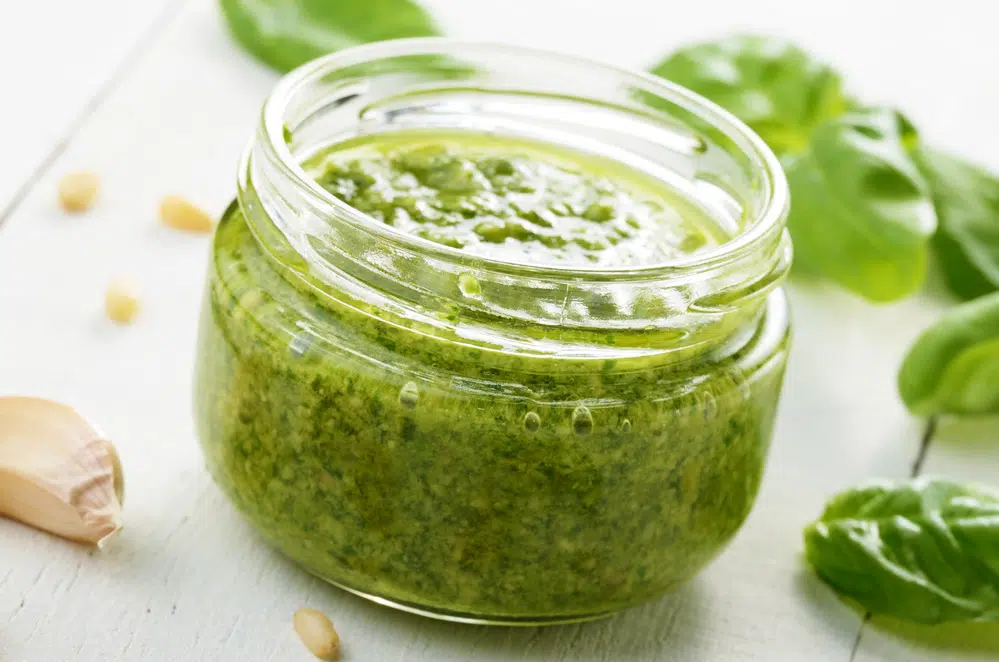 Pesto is an Italian sauce characterized by its bright green color. It is made of basil, pine nuts, Parmesan cheese, olive oil, salt and garlic. It is traditionally used as a condiment on pasta.
Basil is the main ingredient in pesto. Other herbs like oregano, thyme, parsley, rosemary, and sage can be added to give the dish its unique taste.
The result is a thick, creamy, and savory sauce that is traditionally used as a fresh sauce on pasta.
It is most commonly served with gnocchi and other pastas or as a spread on bread in Italy.
Pesto is also delicious as a:
sandwich spread
topping for potatoes
dip for vegetables
flavoring on pizza
topping for grilled meats and fish
Is pesto healthy?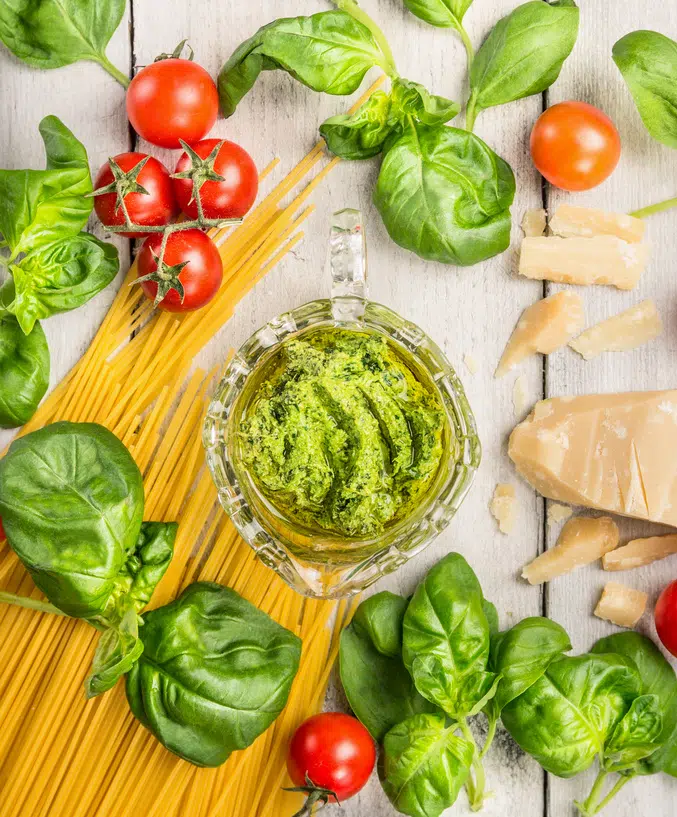 The first thing to know about pesto is that it contains no dairy or meat products and very little fat – just a few grams of olive oil.
Adding salt to a homemade pesto makes all of the flavors pop and you can add as much or as little salt as you want. You may not even want or need to add salt since the Parmesan cheese will add salty notes which may be enough for your liking.
Typically used in pasta, pesto can be used in almost any dish.
Now let's break down its health benefits ingredient-by-ingredient.
Basil – Fresh basil, the main ingredient in pesto, is nutrient rich and a potent source of antioxidants. The antioxidants and essential oils in basil leaves are known to lower blood sugar levels and prevent pathogens from growing in food.
Garlic – Garlic is healthy too. It helps with cholesterol, improves brain function, and acts as a natural anti-viral.
Extra Virgin Olive Oil – Olive oil contains antioxidants. Some studies have shown that it can reduce the chances of cancers. Olive oil is considered to be a healthy fat.
Pine Nuts –Pine nuts look like tiny pinecones harvested from the pinyon pine tree and the stone pine tree. Pine nuts are an easy way to add protein, iron, magnesium, and vitamin E to your diet. Pine nuts have about 191 calories per ounce.
How to make pesto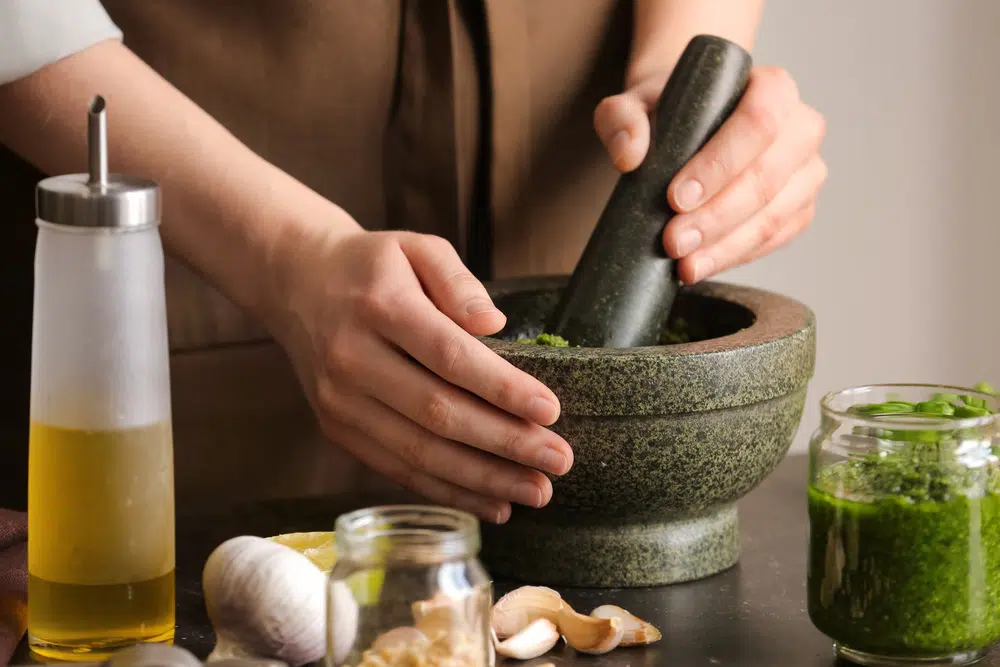 Trust me when I tell you that making pesto is so easy.
I make commissions for purchases made through links in this post.
You need fresh basil, pine nuts, olive oil, garlic, and some cheese. Using a food processor or blender, process all pesto ingredients until well blended.
If you want to make pesto the old fashioned way you can use a mortar and pestle but that will take some muscle on your part.
You can then taste and adjust the flavor with salt as needed. Amounts of salt will vary depending on which cheese you use. For example, Parmesan cheese contains less salt than mozzarella.
As I mentioned earlier, you can substitute other ingredients for the basil, pine nuts and typical Parmesan cheese.
How to make pesto without pine nuts
Although pine nuts are the traditional nut to use when making pesto, I love to change things up and use different nuts, both for a change of flavor and because pine nuts can be very costly.
To make pesto without pine nuts, simply substitute your favorite nut in place of the pine nuts.
I love toasting the nuts before adding them to the other ingredients because this gives the nuts a delicious and intense flavor.
Of course, toasting the nuts isn't necessary but it's just something that I recommend doing for an added depth of flavor.
The best substitute for pine nuts include:
Almonds
Cashews
Hazelnuts
Macadamia nuts
Pecans
Pistachios
Walnuts
You can also substitute sunflower seeds and pumpkin seeds for the pine nuts in your pesto.
Homemade pesto recipes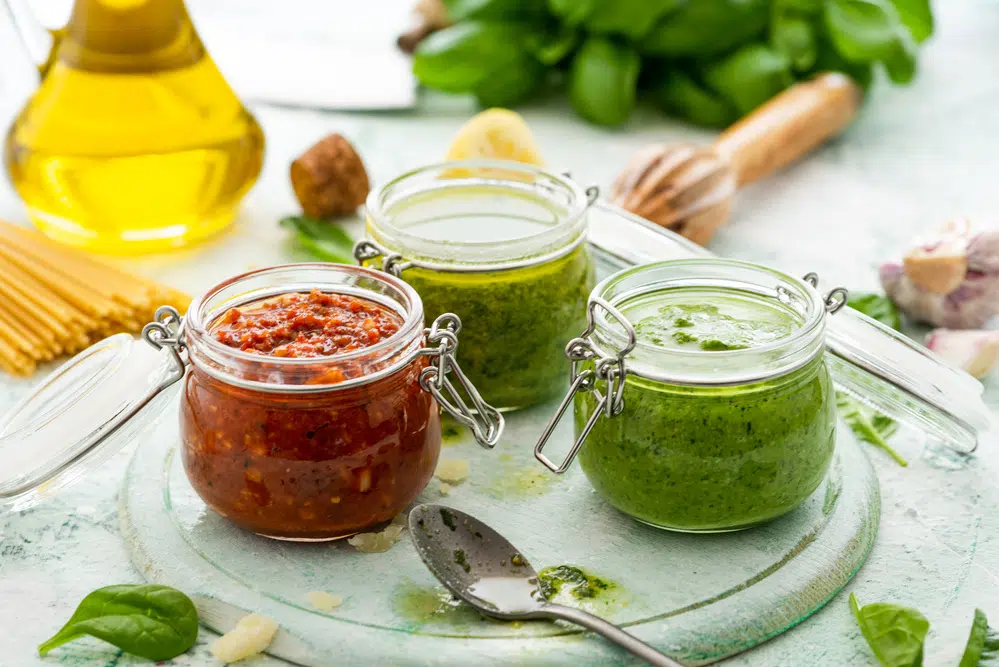 How to store pesto
Pesto, a classic sauce used in Italian dishes, is simple to make and can be stored in a refrigerator for a few days in an airtight container.
However, pesto is best made fresh and served immediately.
But you can store the pesto in the refrigerator in a tightly closed jar. You can either drizzle a little extra virgin olive oil on the top or place plastic wrap directly on the surface of the pesto, seal the jar and it will stay green longer.
Just make sure you keep checking to ensure that it's green and not turning brown.
How long does pesto last?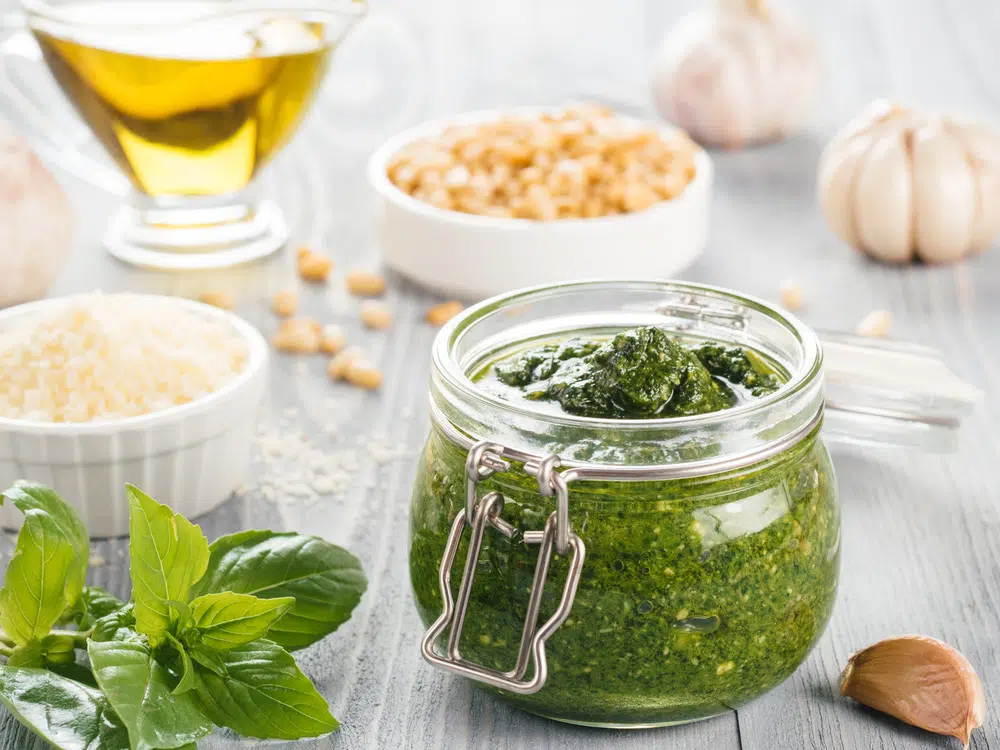 How long pesto will last depends on several factors. Pesto is fresh and tasty when it's made from fresh ingredients. The flavors are most robust when the ingredients are at their freshest, and pesto will taste less fresh the longer it is left standing.
A fresh pesto, made from fresh and whole ingredients, is best consumed within a few days.
However, pesto can be stored for up to five days in the refrigerator in an airtight container.
As always, I find it helpful to visit the FDA website for food storage guidelines
What to do with pesto
You can add pesto to pasta dishes, and it can also be used as a dip for breadsticks.
Pesto adds a burst of flavor when added to soups or drizzled on top of grilled meats.
Pesto is great on pasta, pizza, chicken, fish, vegetables, eggs, sandwiches (especially grilled cheese), and wraps.
You can also spread it on fish or use it as a salad dressing.
Be sure to give pesto a try on grilled meats, steamed veggies and roasted potatoes.
You can even make a pesto mayo or pesto butter. Both are so easy to make!
There are no limits to what you can do with pesto!
Can I use dried basil leaves in pesto?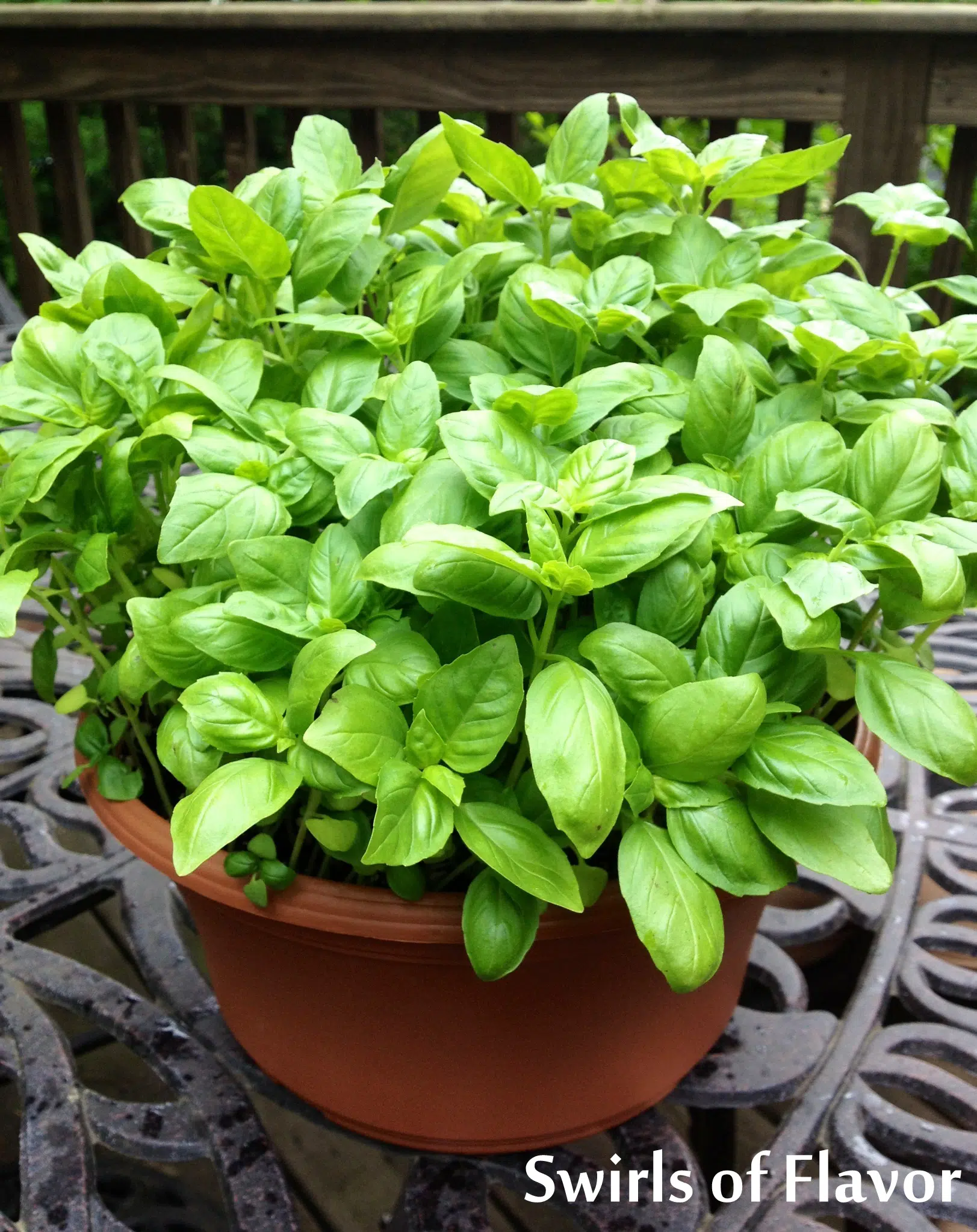 The simple answer is no. Fresh basil leaves should always be used when making this Italian herb sauce. After all, pesto is a fresh herb sauce so using fresh herbs is key to a delicious green sauce.
However, as I mentioned earlier, you can use parsley, cilantro or another green instead of, or in addition to, fresh basil.
You can also use other fresh herbs and/or greens in addition to the fresh basil for more depth of flavor.
I'm not saying that you can't ever add a half teaspoon or so of dried basil into your pesto, along with fresh basil, but you must not use dried basil in place of fresh basil.
Can I freeze pesto?
Yes, you can definitely freeze pesto.
Simply place it in an airtight container and store it in the freezer.
I love to freeze pesto in an ice cube tray or large silicone ice trays. Once the pesto is frozen into cubes you can then remove them from the trays and store the cubes in freezer bags.
Then just take out a cube or two for your next recipe!
Once frozen, pesto will keep well for at least six months. As always, I find it helpful to visit the FDA website for food storage guidelines.
Recipes with pesto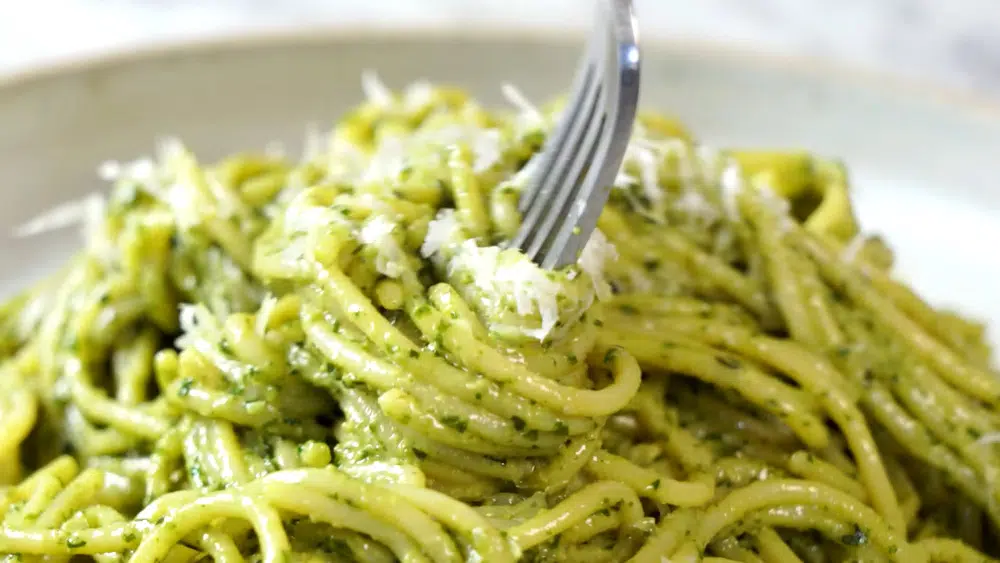 Final Thoughts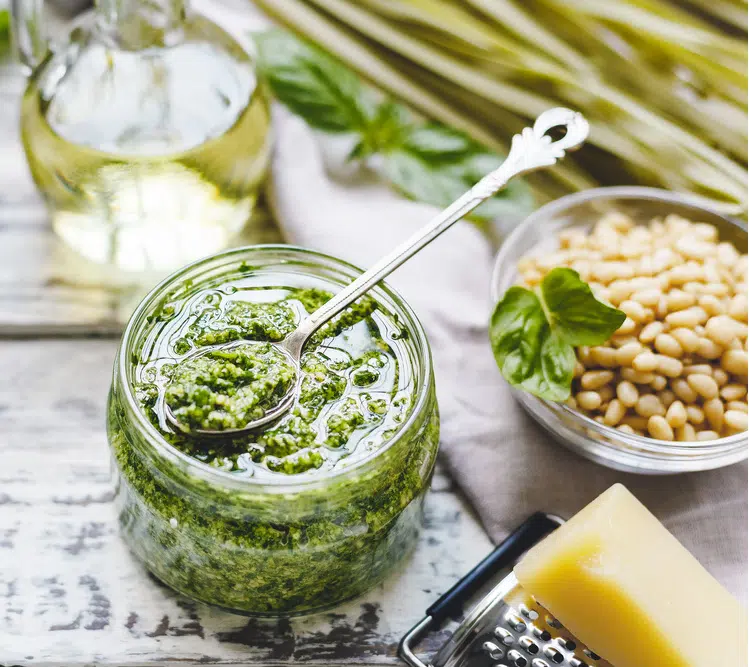 In my opinion, homemade pesto is one of the most delicious sauces you will ever taste.
Pesto is fresh, herbal and cheesy, with nutty notes and delicious savory garlic undertones.
You'll want to serve pesto with pasta, soup, vegetables, meats and seafood, and even as a dip, every chance you get!
It's hard to resist a meal prepared with pesto sauce. Mangia!
Be sure to visit the Swirls of Flavor Amazon Storefront for GG's personal kitchen recommendations!