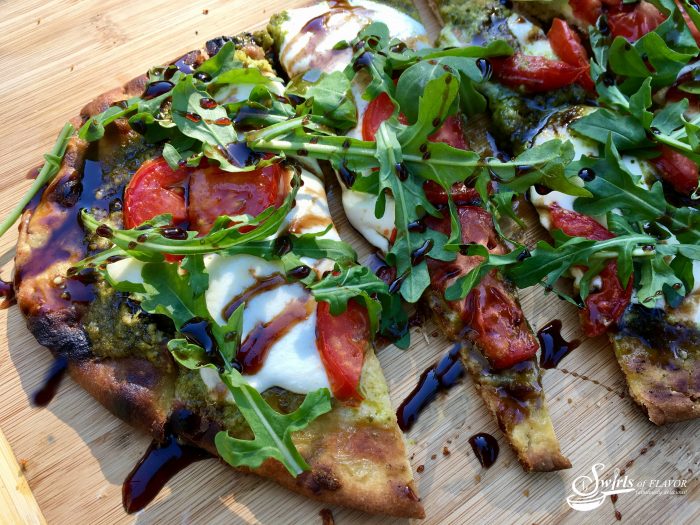 When you only have a few minutes to get dinner ready or need a last minute appetizer that's quick, easy to make and impressive to serve, that's when you fire up the grill for Grilled Pesto Caprese Naan Pizza! Literally, this can be on your table in a matter of minutes.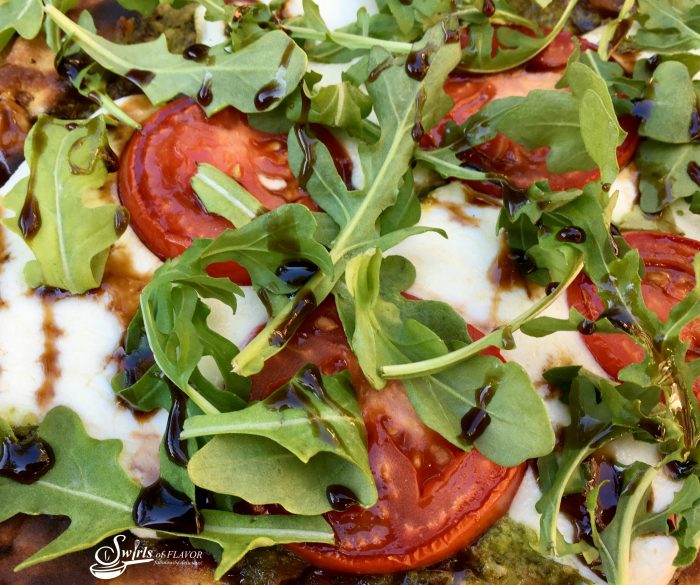 If you have some homemade Kale Pesto or Pesto Florentine in your refrigerator this will pizza be ah-mazing! But store bought pesto, especially a refrigerated one, will also be a fine addition to this recipe. Caprese, the beloved combination of mozzarella, tomato and basil with balsamic vinegar, becomes a Meatless Monday meal or fabulous appetizer as Grilled Pesto Caprese Naan Pizza!
Grilled Pesto Caprese Naan Pizza
1 pkg. ( 8.8 ounces) whole wheat naan
2 Tbs. olive oil
2/3 cup Kale Pesto, Pesto Florentine or store bought pesto
8 slices fresh mozzarella, about 12 ounces
2 plum tomatoes, sliced crosswise, 10-12 slices
1/2 cup baby arugula
2 Tbs. balsamic glaze
Preheat grill* for direct heat grilling.
Brush top sides of naan breads with 1 Tbs. olive oil. Place, oil side down, on grill. Grill until hot and just beginning to blacken, 1-2 minutes. Meanwhile, brush remaining olive oil on pizza crust that is facing up (this will be the bottom of your pizza once you turn it).
Turn pizza crust so top of pizza is now facing up. Top with pesto, mozzarella and tomato slices. Grill until cheese is melted and pizza is heated through, 3-4 minutes.
Transfer to serving board or platter. Top with arugula and drizzle with balsamic glaze.
Makes 2 dinner servings or 12 appetizer servings.
*Prefer to bake Pesto Caprese Naan Pizza in your oven? Just preheat oven to 425F. No need to brush the crust with olive oil. Just top with the pesto and the toppings and bake on a baking sheet until the cheese is melted and the pizza is heated through, about 8 minutes. Then top with arugula and drizzle with balsamic glaze.