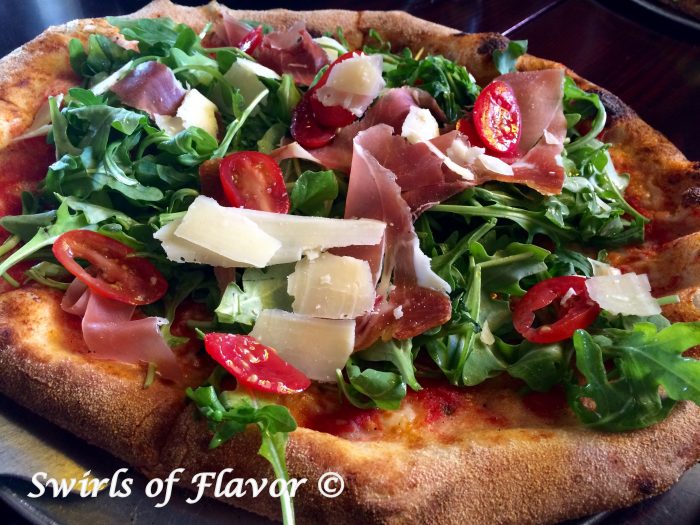 Grilled pizza! The only way to eat pizza in the summer! Grilled pizza topped with a bed of baby arugula greens lightly tossed in a white balsamic vinaigrette dressing. Perfection! The warmth of the grilled pizza crust wilts the baby arugula, tomatoes and prosciutto ever so slightly making each bite the perfect combination of summer flavors and textures. Fire up the grill, it's time for a Grilled Proscuitto Parmesan & Arugula Salad Pizza!
Grilled Proscuitto Parmesan & Arugula Salad Pizza
4 Tbs. olive oil, preferably extra virgin, divided
1 (10 ounces) thin pizza crust
1/2 cup pizza sauce
1 cup shredded mozzarella cheese
4 cups (4 ounces) baby arugula
1 cup grape tomatoes, halved lengthwise
4 ounces thinly sliced prosciutto, cut in pieces
1/3 cup shaved Parmesan cheese
1 Tbs. fresh basil leaves
2 Tbs. white balsamic vinegar
1/2 tsp. kosher salt
1. Preheat grill for direct-heat grilling*.
2. Brush top of pizza crust with 1 Tbs. olive oil. Place, oiled side down, on grill. Grill until hot and just beginning to blacken, 2-3 minutes. Meanwhile, brush 1 Tbs. olive oil on pizza crust that is facing up (this will be the bottom of your pizza once you turn it).
3. Turn pizza crust so top of pizza is now facing up. Top with pizza sauce and shredded mozzarella and grill until pizza is heated through and cheese is melted. Remove from grill.
4. Meanwhile, in bowl combine arugula, tomatoes, prosciutto, Parmesan, basil leaves, remaining 2 Tbs. olive oil, white balsamic vinegar and kosher salt until greens are lightly coated. Arrange salad mixture on grilled pizza crust.
Makes 4 servings.
*Prefer to bake your pizza in the oven? Just preheat oven to 425F. No need to brush the crust with olive oil. Just top with the pizza sauce and mozzarella cheese and bake until the cheese is melted and the pizza is heated through, about 8 minutes. Then proceed to Step 4 and top pizza with salad mixture.