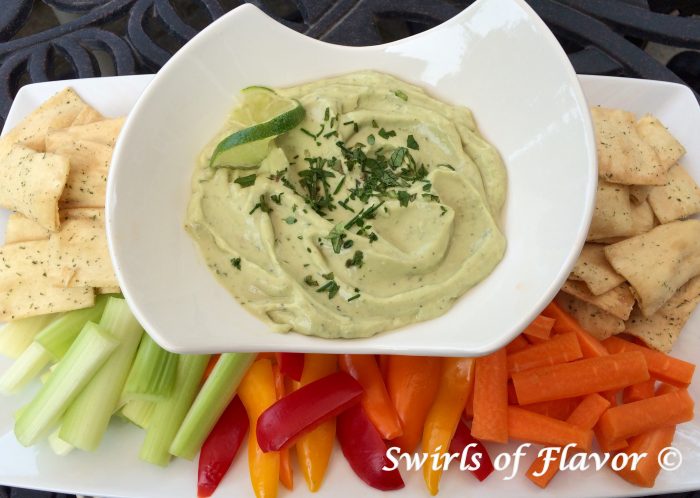 A creamy dip bursting with the summertime flavors of fresh herbs and made with healthy-for-you avocado and Greek yogurt, Creamy Fresh Herb & Avocado Dip will be the hit at your next get together! Nutrient dense, high in healthy fats, creamy and flavorful, the avocado is also loaded with fiber and antioxidants. Eating avocados can lower cholesterol and triglyceride levels, help you absorb nutrients from plant foods, and may help prevent cancer. Yes, the avocado is a super food for sure! No need to feel guilty about indulging in dip and chips when the dip is avocado and the chips are pita!
This post contains affiliate links. If you make a purchase through one of these links, I make a small commission at no extra cost to you. (Privacy Policy)
Creamy Fresh Herb & Avocado Dip
1 cup chopped avocado
1 cup Greek yogurt
1/4 cup chopped assorted fresh herbs, such as parsley, chives, cilantro, thyme and oregano
3 Tbs. lime juice
2 cloves garlic
1/2 tsp. kosher salt
1/4 tsp. pepper
pita chips, carrots, peppers or your favorite dippers, serving suggestion
Combine avocado, Greek yogurt, herbs, lime juice, garlic, kosher salt and pepper in blender and puree until smooth and blended.
Garnish with additional chopped fresh herbs, if desired and serve with pita chips and/or your favorite dippers.
Makes 2 cups.