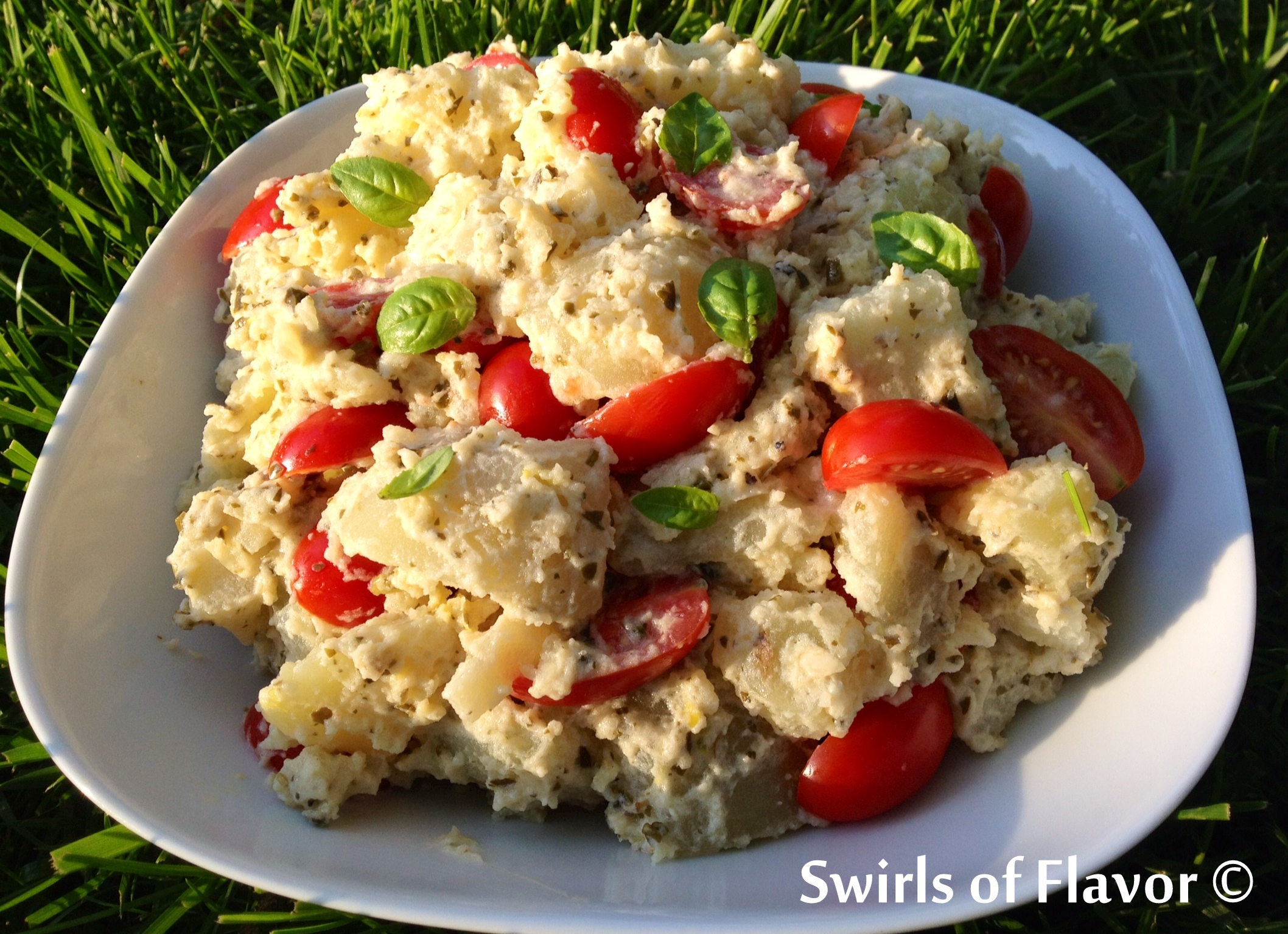 The kick-off to summer is quickly approaching this weekend. I always love having a Memorial Day barbecue with family, friends and fabulously delicious food to celebrate the months of sunshine and warm weather ahead! So it's time to start planning my menu. This year I'll definitely be serving Creamy Pesto Potato Salad. With just a few ingredients it doesn't get much easier, or more delicious, than this!
Learn all about pesto, what does pesto taste like, how to make it, store it and even freeze it, along with lots more pesto recipes!
Creamy Pesto Potato Salad
2 lbs. Yukon gold potatoes, peeled, cut in 1-inch pieces, 6 cups
1/3 cup sour cream
1/4 cup store bought pesto, Pesto Florentine OR Kale Pesto
2 tsp lemon juice
1/2 tsp. lemon zest
3/4 tsp. kosher salt
1/4 tsp. cracked black pepper
1 cup grape tomatoes, halved lengthwise
small fresh basil leaves, optional garnish
1. Place potatoes in pot of cold water. Bring to boil over medium-high heat. Boil 15 minutes or until potatoes are tender. Drain; run under cold water until potatoes are cool.
2. In serving dish combine sour cream, pesto, lemon juice, lemon zest, kosher salt and cracked black pepper until blended. Add potatoes and tomatoes, tossing until evenly coated. Top with fresh basil leaves, if desired. Chill until ready to serve.
Makes 6 cups.
Have you checked out my Ultimate Guide To Making Homemade Salad Dressings? Making a Homemade Salad Dressing is so easy and takes just minutes. Made with simple real food ingredients, your salad dressing from scratch is not just better than store bought, it's better for you and oh so delicious too!