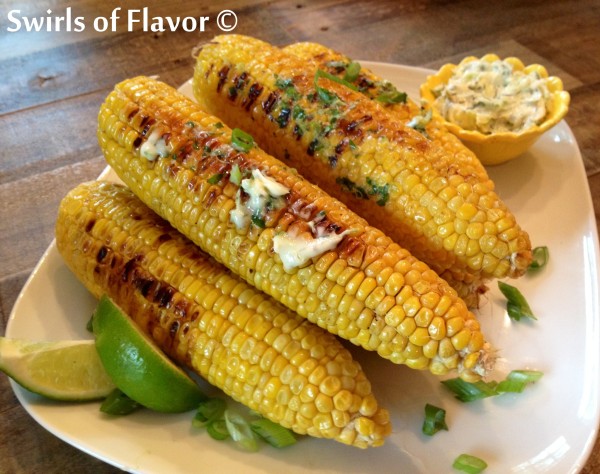 It's that time of year again! Summer is just around the corner and that makes me so happy! Warm sunny days, beautiful evenings with a slight breeze and daylight lasting for hours and hours. Yes, I am happy! Happy enough to fire up the grill and add that barbecued flavor to just about anything! Today my corn on the cob will get it's fabulously delicious flavor from the grill. It doesn't get much better than that…oh wait! Yes it does, because I'm topping my grilled corn with a fresh-tasting and flavorful Cilantro Lime Butter! Now we're talking!
Grilled Corn with Cilantro Lime Butter
8 Tbs. butter, at room temperature, divided
1 Tbs. chopped cilantro
1 Tbs. lime zest
1/2 tsp. kosher salt
1/4 tsp. cracked black pepper
1/4 tsp. garlic powder
6 ears corn on the cob, husks removed
1 scallion, chopped
1. Preheat grill for direct heat grilling.
2. Reserve 1 Tbs. butter. In small bowl combine remaining 7 Tbs. butter, cilantro, lime zest, kosher salt, pepper and garlic powder.
3. Melt reserved 1 Tbs. butter. Brush evenly over corn.
4. Grill corn until kernels intensify in color to a bright deep golden yellow and begin to caramelize with brown spots, turning occasionally, 10-15 minutes.
5. Remove corn from grill. Brush with some of the Cilantro Lime Butter. Serve with remaining flavored butter.
Makes 6 servings.
You'll also love these recipes!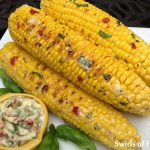 Grilled Corn with Tomato Basil Butter
Zucchini and Tomato Medley with Orange Mint Vinaigrette
Grilled Romaine with Creamy Roasted Garlic Herb Dressing
Orange Basil Cole Slaw with Apricots & Pine Nuts