Got pesto? Then you can easily make a homemade Pesto Vinaigrette that's bursting with fresh flavors! An easy recipe, this salad dressing is made with just 4 ingredients.
Pesto Vinaigrette
There's nothing quite like the flavor of a homemade salad dressing. No preservatives, no added sugar, just good fresh ingredients. And a homemade vinaigrette I so easy to make.
Pesto Vinaigrette is guaranteed to become your new go-to salad dressing, not just for the summer, but all year long too.
You can use a homemade pesto, my preference, or pick up a jarred pesto or refrigerated pesto at the grocery store. The choice is yours and all will taste delicious in this recipe.
Extra virgin olive oil is the best olive oil to use when making a salad dressing. It is very flavorful and will add delicious notes to the dressing.
A little red wine vinegar and grated Parmesan cheese and that's all you'll need for a mouthwatering Pesto Vinaigrette for your next salad.
You can shake it up in a mason jar or use a food processor, blender or immersion blender, and process it until the dressing is smooth.
Just 4 ingredients and this salad dressing is ready to enjoy.
But don't just stop with tossing it on your salad. Of course your salad greens and fresh salads will taste delightful but let's take this one step further, shall we?
Now go ahead and toss it on a pasta salad and any summer salads you make this season.
Potato salad, and even cole slaw, will taste delightful tossed in this pesto dressing.
Green beans with cherry tomatoes will be elevated to a new level of deliciousness with this basil pesto vinaigrette.
Making this easy dressing is a great way to use up leftover pesto you may have on hand.
I can assure you that you'll be making this pesto dressing over and over again. A simple recipe that's so delicious. Enjoy!
And if you have ore pesto that you want to do something delicious with, make sure you give my Pesto Mayonnaise recipe a try too!
I make commissions for purchases made through links in this post.
Be sure to visit the Swirls of Flavor Amazon Storefront for GG's personal kitchen recommendations!
And have you checked out my Ultimate Guide To Making Homemade Salad Dressings? Read about all the types of salad dressings that you can make at home!
Learn all about pesto, what does pesto taste like, how to make it, store it and even freeze it, along with lots more pesto recipes!
How to make pesto vinaigrette
Scroll down for the full recipe instructions and ingredient amounts in the recipe card below
Combine pesto, olive oil, vinegar and Parmesan cheese
Shake in a mason jar until blender or process in a blender until smooth
Swirls of Flavor Recipe Tips
A homemade basil pesto recipe will add delicious flavor
Serve this vinaigrette shaken and with texture or process it for a smoother dressing
Add thinly sliced fresh basil leaves to your salad too
Season your dressing with kosher salt and black pepper
For a creamy salad dressing stir in a tablespoon or two of sour cream
Substitutions
You can substitute apple cider vinegar for the red wine vinegar
You can substitute white balsamic vinegar for the red wine vinegar
Substitute white wine vinegar for the red wine vinegar
Olive oil can be used in place of the extra virgin olive oil
Substitute fresh lemon juice for half of the vinegar
Salad Dressing Storage
A good rule of thumb is to store homemade salad dressings for about 1 week in the refrigerator.
Since there are no preservatives or chemicals in your homemade salad dressing to preserve their shelf life, it is best to store your vinaigrette or creamy dressing in the refrigerator in a glass jar or airtight container with a sealed lid.
As always, I find it helpful to visit the FDA website for food storage guidelines
Ingredients for basil pesto dressing
pesto
extra virgin olive oil
red wine vinegar
grated Parmesan cheese
Vinaigrette Recipes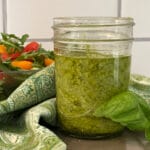 Print
Pesto Vinaigrette
Got pesto? Then you can easily make a homemade Pesto Vinaigrette that's bursting with fresh flavors! An easy recipe, this salad dressing is made with just 4 ingredients.
As an Amazon Associate I earn from qualifying purchases.
I earn a commission from Instacart from qualifying purchases.
Instructions
Combine all ingredients until blended. You can shake the ingredients together in a mason jar.

For a smoother salad dressing process ingredients in a blender or food processor until smooth and blended.
Notes
Recipe makes 1 cup
Swirls of Flavor Recipe Tips
 A homemade basil pesto recipe will add delicious flavor
Serve this vinaigrette shaken and with texture or process it for a smoother dressing
Add thinly sliced fresh basil leaves to your salad too
Season your dressing with kosher salt and black pepper
Substitutions
You can substitute apple cider vinegar for the red wine vinegar
You can substitute white balsamic vinegar for the red wine vinegar
Substitute white wine vinegar for the red wine vinegar
Olive oil can be used in place of the extra virgin olive oil
Substitute fresh lemon juice for half of the vinegar
Nutrition
Calories:
126
kcal
|
Carbohydrates:
1
g
|
Protein:
1
g
|
Fat:
13
g
|
Saturated Fat:
2
g
|
Polyunsaturated Fat:
1
g
|
Monounsaturated Fat:
5
g
|
Cholesterol:
2
mg
|
Sodium:
168
mg
|
Potassium:
5
mg
|
Fiber:
0.2
g
|
Sugar:
0.5
g
|
Vitamin A:
323
IU
|
Vitamin C:
0.04
mg
|
Calcium:
37
mg
|
Iron:
0.2
mg