This homemade Cilantro Lime Vinaigrette will have your taste buds dancing as fresh cilantro and tangy lime combine with a hint of chili spice! Our chili lime dressing is delicious on salads, tossed with pasta and drizzled over chicken and fish too!
Chili Lime Vinaigrette Recipe
There's nothing quite like serving a homemade salad dressing that's free of preservatives and chemicals.
As an Amazon Associate I earn from qualifying purchases.
Fresh clean goodness and flavors in a pretty cruet will be the star on your table tonight! That's the way I like my vinaigrette! How about you?
The fresh citrus notes of lime combines with just a hint of chili spice in your soon-to-be favorite homemade vinaigrette! This Mexican chili lime dressing is bursting with fresh flavor and will be a party in your mouth with every bite.
Toss it with your favorite greens for a delightful salad, and trust me, you'll always want to keep this vinaigrette on hand in your fridge for your nightly salad.
Or you can drizzle this citrus chili vinaigrette over cooked chicken, fish or steak to brighten up your main meal or even toss with pasta and veggies for a flavorful Meatless Monday option.
Grilled chicken, beef or seafood with a drizzle of cilantro lime sauce sounds so delicious to me!
Adding a lime salad dressing recipe to your pasta salad brightens up all the flavors and adds a splash of summertime to your macaroni salad.
And, of my goodness, can you imagine this recipe as a cilantro sauce for tacos? Fill your favorite tacos and top them off with a drizzle or two! My oh my!
Prefer a creamy dressing? Stir in either sour cream or Greek yogurt until you get the consistency you want and you'll have a creamy cilantro dressing too!
Wait! I have one more recommendation. Do you love the heat of a fresh jalapeno? Stir in some finely minced jalapeno or whirl up jalapeno with all the recipe ingredients for a smooth jalapeno cilantro sauce that you can serve on or with your favorite salad and foods.
Any way you serve our Chili Lime Vinaigrette, I guarantee you're going to love it!
Be sure to visit the Swirls of Flavor Amazon Storefront for GG's personal kitchen recommendations!
And have you checked out my Ultimate Guide To Making Homemade Salad Dressings?
Making a Homemade Salad Dressing is so easy and takes just minutes.
Made with simple real food ingredients, your salad dressing from scratch is not just better than store bought, it's better for you and oh so delicious too!
Swirls of Flavor Recipe Tips
Make this recipe with orange juice and orange zest for another citrus flavor
Drizzle over cooked vegetables
Stir in a dollop of sour cream and turn into a creamy cilantro dressing
Stir in finely minced fresh jalapenos and make a jalapeno cilantro sauce
Toss with your favorite pasta salad
Add to your favorite potato salad recipe
How to make a cilantro lime vinaigrette
Scroll down for the full recipe instructions and ingredient amounts in the recipe card below
Whisk olive oil, lime juice, vinegar, zest, chili powder and kosher salt together until blended.
Stir in cilantro.
Ingredients for a cilantro lime sauce
olive oil– extra virgin olive oil has the best flavor for a dressing
lime – juice and zest add fresh citrus flavor
apple cider vinegar– medium-sharp vinegar with fruity notes
chili powder– adds a bit of heat
kosher salt – makes all the flavors pop
cilantro – fresh herb flavor
Homemade Salad Dressing Recipes
With just minutes of prep, these homemade salad dressings recipes will soon be in your go-to lineup!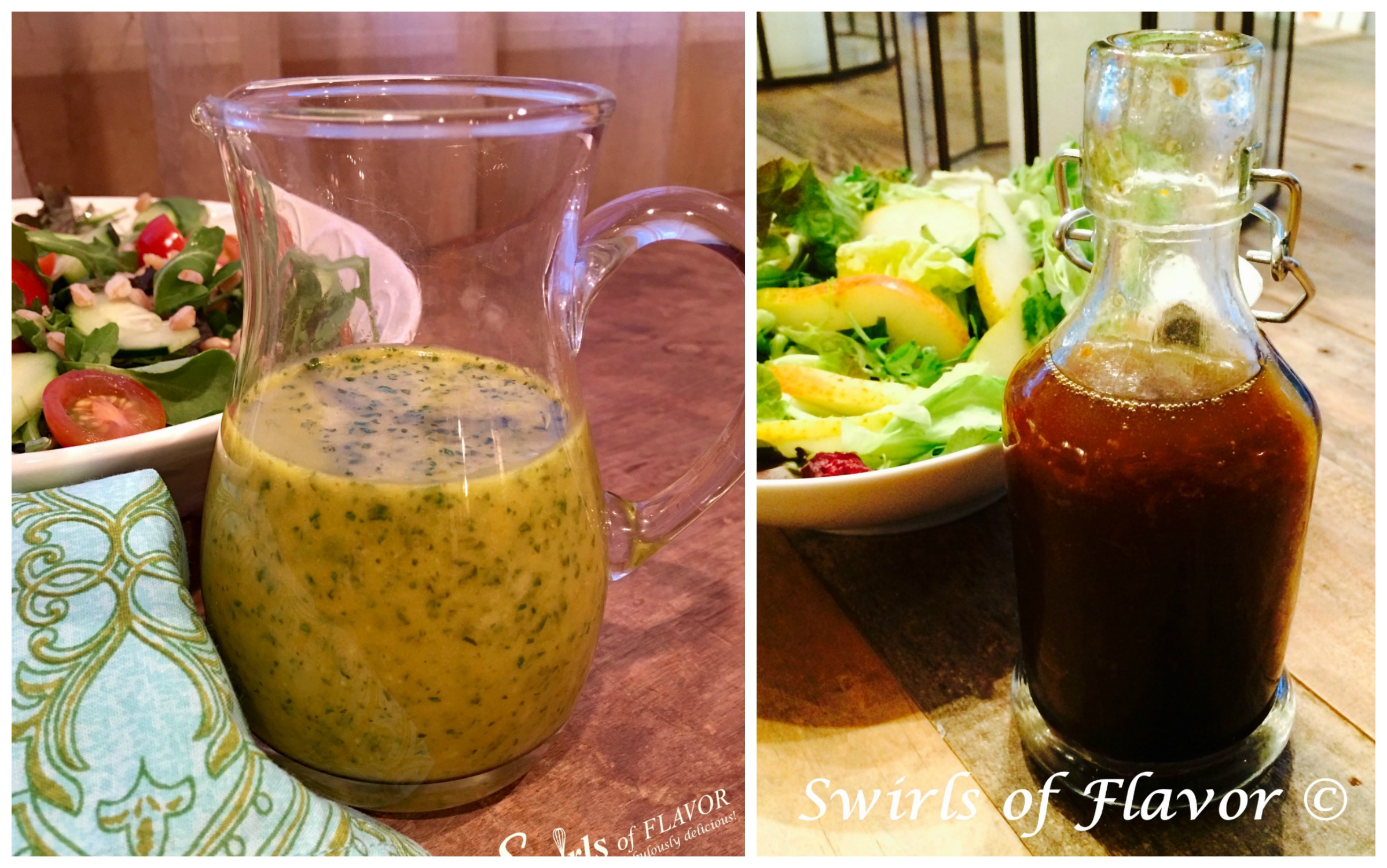 Turmeric Cilantro Vinaigrette combines the flavors of the powerful and amazing turmeric along with cilantro and ginger making it a fabulous homemade vinaigrette that's perfect on salads, chicken, fish, vegetables and pasta.
Honey Orange Balsamic Vinaigrette is an easy homemade vinaigrette that combines the perfect balance of sweetness with the crisp edginess of citrus notes.
In the mood for a creamy salad dressing? Savor the taste of summer tonight with the light creaminess of a Green Goddess Salad Dressing kissed with the summertime flavors of fresh herbs and lemon.
Chipotle Mango Vinaigrette is a sweet yet tangy creamy vinaigrette with just a hint of spice. Juicy sweet mango combines with key lime juice and honey for a fresh summery flavor combination that will dance on your taste buds.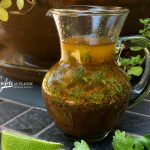 Print
Cilantro Lime Vinaigrette
This homemade Cilantro Lime Vinaigrette will have your taste buds dancing as the fresh tangy flavor of lime combines with a hint of chili spice!
As an Amazon Associate I earn from qualifying purchases.
I earn a commission from Instacart from qualifying purchases.
Instructions
Whisk olive oil, lime juice, vinegar, zest, chili powder and kosher salt together until blended.

Stir in cilantro.
Notes
Makes 2/3 cup.
Swirls of Flavor Recipe Tips
Make this recipe with orange juice and orange zest for another citrus flavor
Drizzle over cooked vegetables
Stir in a dollop of sour cream and turn into a creamy cilantro dressing
Stir in finely minced fresh jalapenos and make a jalapeno cilantro sauce
Toss with your favorite pasta salad
Add to your favorite potato salad recipe
Nutrition
Calories:
79
kcal
|
Carbohydrates:
1
g
|
Protein:
1
g
|
Fat:
9
g
|
Saturated Fat:
1
g
|
Sodium:
208
mg
|
Potassium:
26
mg
|
Fiber:
1
g
|
Sugar:
1
g
|
Vitamin A:
298
IU
|
Vitamin C:
2
mg
|
Calcium:
3
mg
|
Iron:
1
mg
First Published: September 13, 2017... Last Updated: March 4, 2023 for better readability and user experience