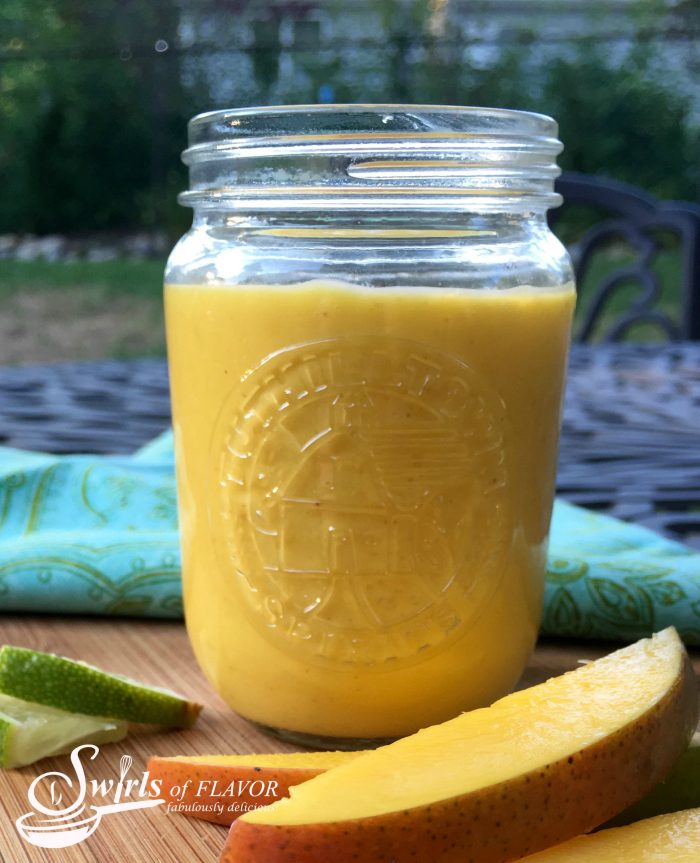 If you know me well, you know I'm not one to let summer go away easily! I hang on to every last ray of hot sunshine and fresh flavor of summer for as long as I can. Enter Chipotle Mango Vinaigrette. A sweet yet tangy creamy vinaigrette with just a hint of spice that will keep summer on your palate just a little bit longer. Juicy sweet mango combines with key lime juice and honey for a fresh summery flavor combination that will dance on your taste buds! Delicious on a kale salad, tossed with fresh fruit or drizzled over cooked chicken…..oh, you're just going to love Chipotle Mango Vinaigrette every which way!
Chipotle Mango Vinaigrette
1 cup chopped fresh mango*
1/4 cup apple cider vinegar
2 Tbs. Key lime juice
2 Tbs. olive oil
1 Tbs. honey
1/2 tsp. kosher salt
1/4 tsp. ground ginger
1/8 tsp. chipotle chile pepper
Combine all ingredients in blender and puree until smooth.
Makes 1 1/4 cups.
*No fresh mango? No problem! Just use frozen mango slices, thawed.