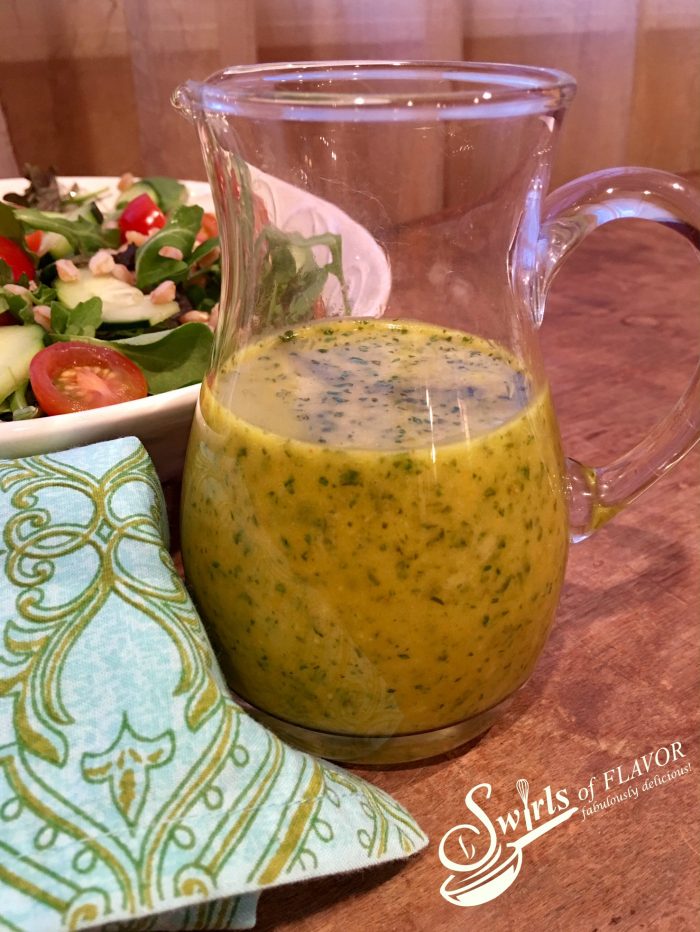 Turmeric. The magical and amazing turmeric. Referred to as the most powerful herb on the planet these days, turmeric has the medicinal healing properties of fighting and possibly even reversing diseases. Now that's what I call powerful! Agree? Turmeric, a common ingredient in most curries and is now found in numerous recipes because everyone is craving this natural miracle herb any which way they can get it. Turmeric Cilantro Vinaigrette is one of my favorite recipes that I've developed lately. Unusually delicious. Versatile. Colorful. Easy to make. I always have a container of it in my fridge now and put it on everything…..chicken, fish, vegetables, pasta and all my salads, of course! I guarantee that you'll want to make a double batch of Turmeric Cilantro Vinaigrette and always keep it on hand too! And don't forget the pepper! It helps the turmeric to work it's magic!
Turmeric Cilantro Vinaigrette
1/2 cup olive oil
1/4 cup apple cider vinegar
1/2 cup cilantro leaves
2 Tbs. chopped fresh ginger
2 Tbs. honey
1 clove garlic
1 tsp. ground turmeric
3/4 tsp. kosher salt
1/8 tsp. black pepper
Combine olive oil, vinegar, cilantro, ginger, honey, garlic, turmeric, kosher salt and pepper in blender and puree until blended.
Yield: 3/4 cup