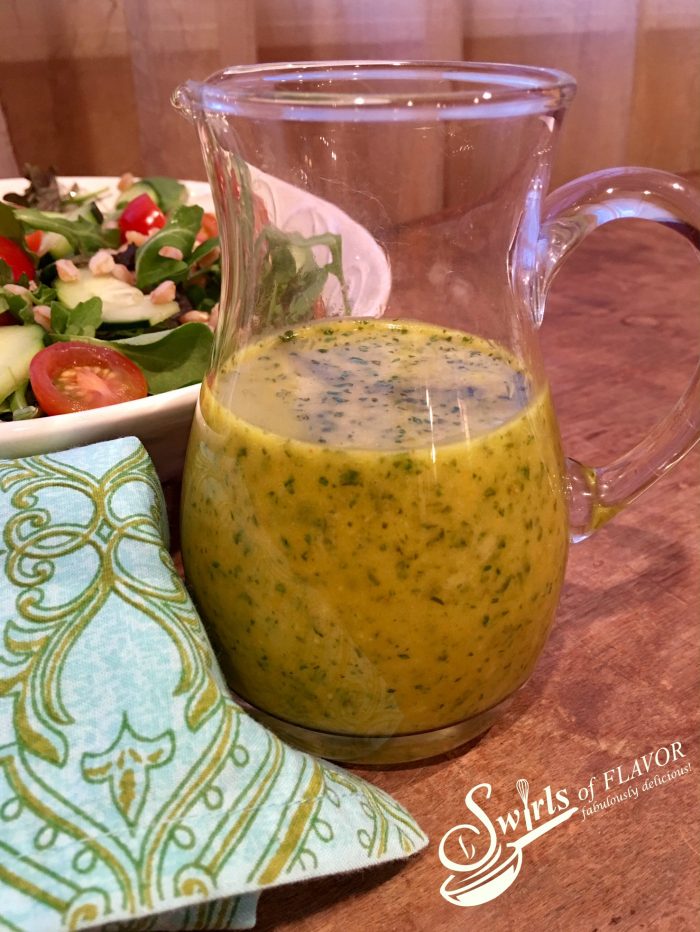 Salad Dressing Recipe
Turmeric Cilantro Vinaigrette. The magical and amazing turmeric. Referred to as the most powerful herb on the planet these days, turmeric has the medicinal healing properties of fighting and possibly even reversing diseases. Now that's what I call powerful! Agree? Turmeric, a common ingredient in most curries and is now found in numerous recipes because everyone is craving this natural miracle herb any which way they can get it. Turmeric Cilantro Vinaigrette is one of my favorite recipes that I've developed lately. Unusually delicious. Versatile. Colorful. Easy to make. I always have a container of it in my fridge now and put it on everything…..chicken, fish, vegetables, pasta and all my salads, of course! I guarantee that you'll want to make a double batch of Turmeric Cilantro Vinaigrette and always keep it on hand too! And don't forget the pepper! It helps the turmeric to work it's magic!
Turmeric Recipes
Start your day with a nutritious Turmeric Smoothie. Golden in color and bursting with fresh fruit flavors, this smoothie gets you started on the right foot. Turmeric and ginger combine to provide anti inflammatory and antioxidant benefits along with sweet and tangy mango with over twenty vitamins and minerals. Prefer a smoothie bowl in the morning? Tropical Turmeric Smoothie Bowl combines turmeric, greens, chia seeds and tropical fruits for a healthy delicious smoothie bowl that's right on trend! Love potatoes? Spiced Sweet Potatoes are decadent and creamy with a hint of spice and turmeric. The perfect side dish for any meal! Prefer fries? Oven Roasted Turmeric Sweet Potato Fries bake in the oven and are flavored with ginger, turmeric and paprika, a delicious combination! Indian Butter Chicken combines warm spices with the simple ingredients of onion, butter, tomato and garlic creating tender chicken in a creamy tomato sauce.
Turmeric Cilantro Vinaigrette
Turmeric Cilantro Vinaigrette combines the flavors of the powerful and amazing turmeric along with cilantro and ginger making it a fabulous vinaigrette that's perfect on salads, chicken, fish, vegetables and pasta.
Instructions
Combine olive oil, vinegar, cilantro, ginger, honey, garlic, turmeric, kosher salt and pepper in blender and puree until blended.
Recipe Notes
Yield: 3/4 cup