Ultimate Brownie Milkshake on the blog today! Because I can't think of a better way to celebrate the weekend than with an over-the-top milkshake! This post contains affiliate links (Disclosure policy)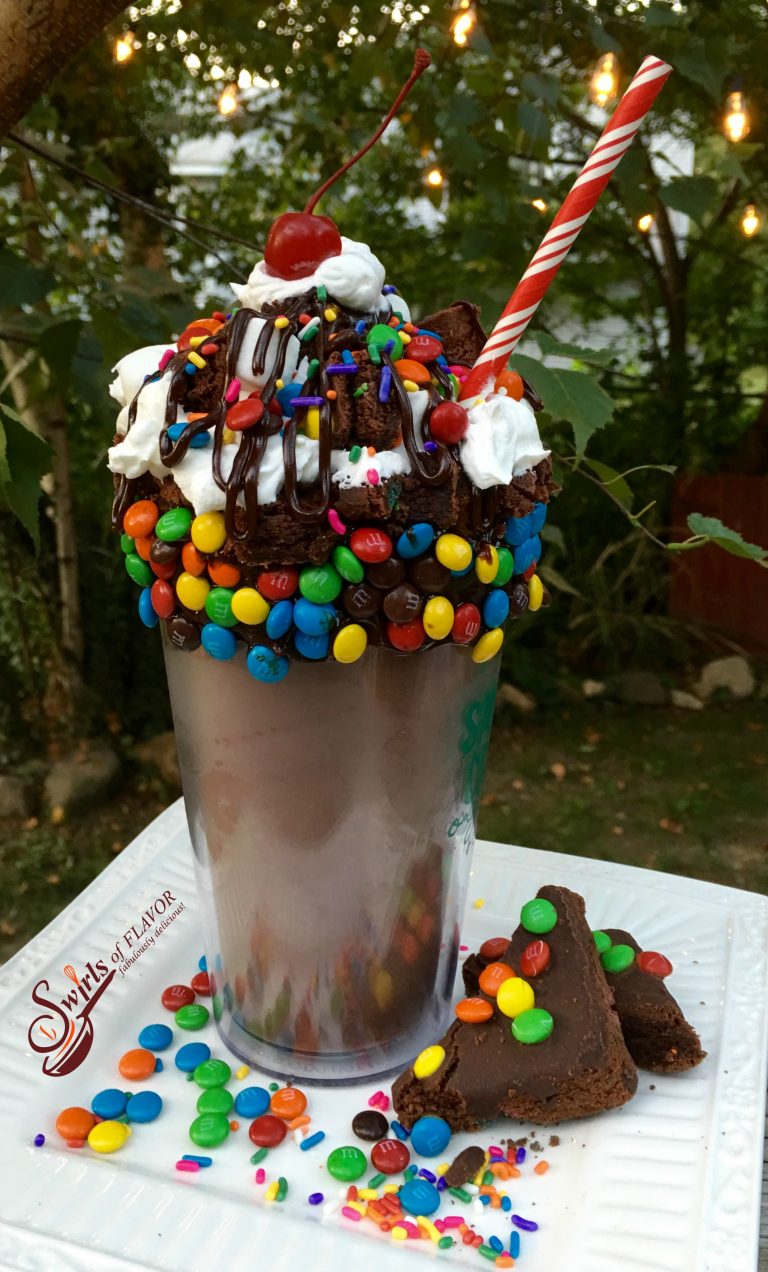 Over-the-top milkshakes are all the rage at Florida's Bocas House , New York City's Black Tap and Momofuku Milk Bar in NYC, Washington D.C., Las Vegas and Toronto! Can't make it to one of those sweet shops and don't want to spend as much as $15 on a milkshake? I know, outrageous! That's why you need to make our Ultimate Brownie Milkshake in the comfort of your own home for many dollars less! You are going to totally enjoy sipping on our milkshake filled with chocolate marshmallow ice cream and brownie bits with a fudgy rim of mini M&M's and brownie chunks topped with creamy whipped cream, mini marshmallows, a drizzle of hot fudge sauce, rainbow sprinkles and a cherry on top, of course! Go ahead, indulge! You deserve it! You can even make it an adult beverage and add a shot of Kahlua or chocolate vodka! Wanting more? Check out Huffington Post's Crazy Over-The-Top Milkshake Recipes You Totally Want!
Ultimate Brownie Milkshake
2 cups chocolate marshmallow or chocolate ice cream
2 storebought or homemade brownies, divided
6 Tbs. milk
3 Tbs. hot fudge sauce, divided
1/4 cup mini M&M candy, divided
1/2 cup whipped cream
2 Tbs. mini marshmallows
1 tsp. rainbow sprinkles
1 maraschino cherry
In blender puree ice cream, 1 brownie and milk until thick and blended; keep cold.
To prepare your milkshake glass: Roll top one third of a milkshake glass in 2 Tbs. hot fudge sauce.
Cut remaining brownie into small pieces and press half of the brownie pieces and 3 Tbs. mini M&M's onto fudge rim.
Pour milkshake into glass and top with whipped cream, mini marshmallows, remaining brownie pieces and remaining mini M&M's and rainbow sprinkles. Drizzle with remaining fudge sauce and top with cherry! Holy moly! Now that's a milkshake! Enjoy!
TIP: Make it adult! Add a shot of Kahlua or chocolate vodka!
Makes 1 serving!