Mint, spring peas, pesto…..the flavors of a new season all in one bite? Yep! That's what you get when you whirl up a batch of Fresh Mint Spring Pea Pesto! And I guarantee you'll be very happy you did! This post contains affiliate links. (Disclosure policy)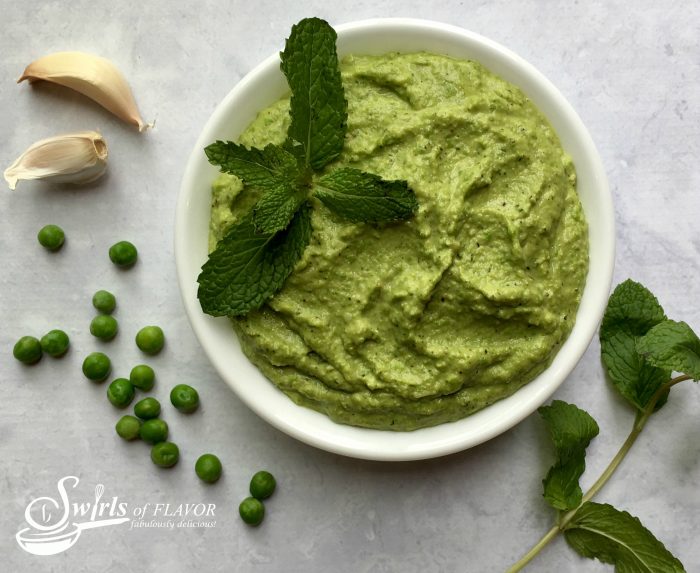 Fresh mint is a sure sign of winter's exit and the arrival of warmer weather. Although mint is available year round, it pops up in gardens once the warm weather arrives becoming most abundant during the spring and summer seasons.
Mint is well known for it's many medicinal properties, such as aiding with digestion, headaches, respiratory disorders, asthma, depression and fatigue, memory loss, weight loss and oral care, just to name a few! But best of all, it tastes so darn good!
Mint adds a refreshing burst of flavor to foods, confectionery creations, desserts and drinks and cocktails, making it a welcome ingredient in recipes. Toss it with pasta, zucchini noodles, rice or quinoa. Spoon it on chicken, fish or beef. Top a baked potato or your favorite vegetable. I even love it with scrambled eggs! Any way you serve this it, the delicate hint of mint in Fresh Mint Spring Pea Pesto is a welcome addition to this twist on pesto and a reminder of a season of new beginnings!
This recipe is featured on the Honest Cooking web site.
Fresh Mint Spring Pea Pesto
1 cup spring peas or frozen peas, thawed
¼ cup extra virgin olive oil
¼ cup toasted sliced almonds
¼ cup shredded Parmesan cheese
2 Tbs. packed fresh mint leaves
1 clove garlic
1/2 tsp. kosher salt
1/4 tsp. pepper
1. Combine all ingredients in a blender or food processor and puree until blended and smooth.
2. Refrigerate until ready to use*.
Makes 1 cup
*Make a double batch! Trust me, you'll want to have a lot of it on hand! Recipe can be doubled and stored in refrigerator. Seal with plastic wrap directly on surface of pesto to prevent discoloring.