Do you shy away from recipes with turmeric? Do you like to cook with turmeric but don't always have ground turmeric on hand or access to fresh turmeric root? I've gathered Substitutions for Turmeric, both ground turmeric and fresh turmeric, for you along with lots of information about the spice and recipes too.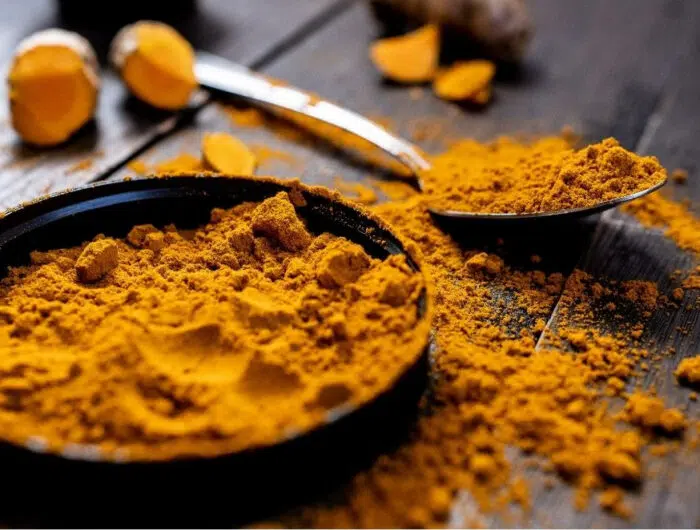 Substitutes for Turmeric
Although it is an ancient spice, these days turmeric is the new "it" super ingredient with lots of health benefits, beautiful color and a punch of flavor.
Not only will I give you easy substitutions for turmeric, read on to learn how to store turmeric root, how to substitute turmeric powder for turmeric root and the many health benefits of turmeric.
I also have some tasty recipes with turmeric that you are going to love!
But first, let's learn a bit about turmeric.
Turmeric might be one of the biggest superfoods globally, and there is a lot of buzz about it.
What is Turmeric?
Turmeric is a root native to the South Asia region that has been used in cooking for thousands of years, and it has recently been gaining popularity worldwide.
Turmeric powder is a yellow spice made from the rhizome of the plant Curcuma longa. Its distinctive yellow color comes from the compound curcumin, which gives it its powerful anti-inflammatory properties.
The most common use of turmeric is adding color and flavor to curries and other dishes.
However, turmeric can also be added to baked items like bread, biscuits, cakes, and pastries.
Turmeric can also be used to create a paste or powder that can be added to food or drinks for its color and flavor properties.
What Does Turmeric Taste Like?
Turmeric has a distinctive taste and smell, so it is often used as an ingredient in curry dishes.
Turmeric has an earthy and musky flavor profile with a peppery touch, which adds depth to the dish.
However, its bitterness can be tough to deal with, so turmeric spices are often combined with other sweet spices such as cardamom or cinnamon.
Fresh Turmeric Vs. Ground Turmeric
You might be wondering what's the difference between fresh turmeric root and ground turmeric powder. I'm going to make it easy for you to understand!
Fresh turmeric is the root of the plant, while turmeric powder is made from dried turmeric root.
Fresh turmeric has a more robust flavor than powder. Still, it also contains more volatile oils and compounds that are lost when it's dried and ground into powder.
You can add fresh turmeric to recipes just like you would ground turmeric, or you can use the fresh root itself.
7 Substitutes for Ground Turmeric (That You Can Find In Your Kitchen)
Ground turmeric is a spice that not only adds a delicious flavor to your food, but it's also packed with a lot of health benefits.
If you're looking for substitutes for ground turmeric in cooking, don't worry! We've got you covered here at Swirls.
The following are my top 7 substitutes for ground turmeric that will add flavor and nutrition to your meals.
A quick side note, these turmeric substitutions may affect the taste of your dish slightly. So if possible, test a small amount before adding to your recipe.
It is essential to learn what substitutes work best in your recipe and how much you should use, so when substituting one of these other spices, so again, be sure to add it in small amounts and then taste.
1. Saffron
Saffron is a spice made from the dried stigmas of Crocus Sativus. It has an earthy, floral taste that complements many dishes. While it's more expensive than turmeric, you can still use saffron as a substitute for ground turmeric if you're looking to add some color or intense depth to your dish (e.g., curries).
However, remember that saffron tends to be quite bitter when used in large quantities, so don't go overboard!
If you want something milder with less intensity, try using other substitutes like ground ginger instead!
When used sparingly, saffron can add depth of flavor to dishes like paella, risotto, or even curries! Just make sure not to add too much, or your dish will end up tasting overwhelmingly saffron-y.
2. Ground Ginger
Many people are discovering that ground ginger powder is an excellent substitute for turmeric. Ginger powder is made by grinding dried ginger root into a fine powder.
Ginger gives a warm, spicy flavor to food without being too overwhelming, so it's great for adding depth of flavor and sweetness at the same time! This spice can be added to soups, curries, smoothies, and more.
Fresh ginger root is also a delicious substitute for ground turmeric and turmeric root.
3. Ground Cumin
Ground cumin, or cumin powder, is perfect if you don't have any turmeric on hand but still need that nutty warming taste and distinctive earthy color in your dish.
It also pairs well with other spices like coriander seeds which means there are lots of possibilities when using cumin as an ingredient.
Be careful not to overdo it - this spice might overpower everything else around it, so use sparingly 🙂
4. Curry Powder
Curry powder is a blend of spices like turmeric with other ingredients such as cumin seeds or coriander seed, which gives it its yellow color and some earthy flavors similar to turmeric powders without being bitter from overexposure (like saffron).
Turmeric is a key ingredient in curry powder, so you might need to substitute it with curry powder in South Asian dishes.
Curry powder is perfect for those looking to make their curry at home because all the necessary spices are already in one convenient package!
5. Dry Mustard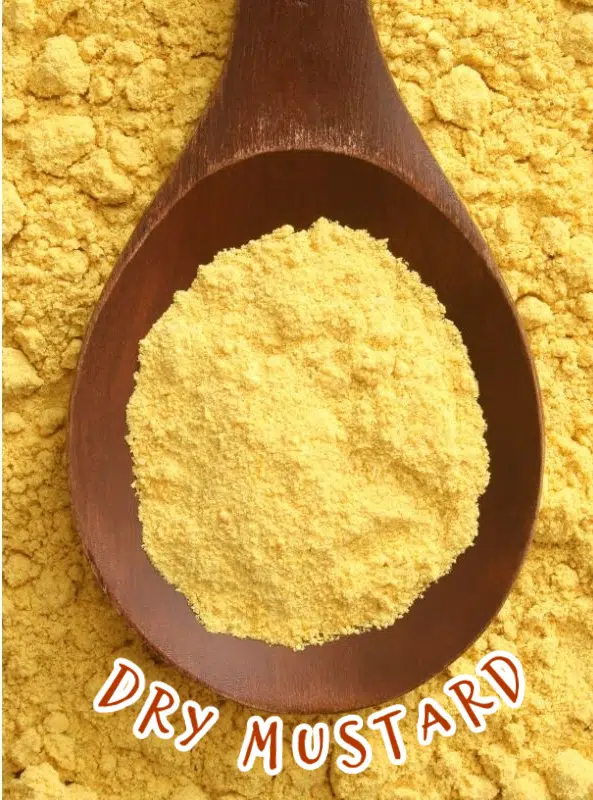 Dry mustard is made from ground, dried mustard seeds. You can find it at most grocery stores, and it's affordable too!
It's an excellent substitute for ground turmeric because it adds a turmeric-like color to your dish.
Dry mustard can also be used as a thickener in sauces or dressings.
6. Paprika
Paprika is made from dried red bell peppers, which gives it its characteristic orange-red color and earthy sweetness.
It's great for adding color to dishes and has a mild flavor, making it a perfect turmeric substitute.
Try using smoked paprika if you want an extra depth of flavor in your dish!
7. Galangal Powder
Galangal is a root related to ginger but has a much more intense, peppery flavor. Galangal powder is made by grinding dried galangal root into a fine consistency.
However, if you're looking for substitutes for ground turmeric and want something with a bit of heat, then galangal powder might be the perfect fit!
Substitutions for Fresh Turmeric Root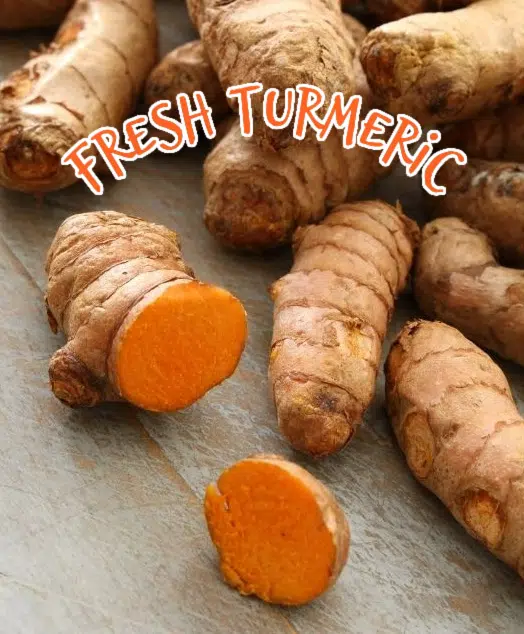 Fresh turmeric is delicious when added to soups, stews, and stir-fries. But how can you substitute it if it's not available?
The best substitute for fresh turmeric root is turmeric powder. You can find it in the spice aisle of your grocery store.
Just be sure to get the ground turmeric, not the curry powder.
Substitute one teaspoon of turmeric powder for every one inch of fresh turmeric root.
You can substitute the ground turmeric in any recipe that calls for fresh turmeric.
If you can't find turmeric powder, peeled and grated ginger also makes a good substitute for fresh turmeric.
Use one teaspoon of grated fresh ginger for every one inch of fresh turmeric root.
How to Store Fresh Turmeric Root
When you're done using fresh turmeric root, be sure to store it properly so you can use it again later.
Fresh turmeric will last in the fridge for about two weeks.
You can also freeze it, grated or whole, for up to six months.
Be sure to wrap it tightly so that no air gets in. That way, your fresh turmeric will stay fresh and delicious!
Health Benefits of Turmeric
Turmeric is a fantastic spice with a lot of health benefits. Adding turmeric to your daily routine is a great way to improve your overall health!
It's often added to food to give a certain flavor, but it also has excellent medicinal properties.
Turmeric has many health benefits including:
anti-inflammatory properties
antioxidant properties
can also help improve digestion
may even help protect against cancer
helps to reduce inflammation and relieve pain, swelling, stiffness, and joint pain
Recipes With Turmeric
Cooking With Turmeric
There are many substitutes for ground turmeric that can be used in cooking - these 7 Substitutions for Turmeric are just some of my favorites!
As long as you're mindful of the flavor profile you're trying to achieve, there are endless possibilities when it comes to substitutes for ground turmeric.
Cooking with turmeric or any of its substitutes will add delicious flavor and color to your recipes!
First Published: February 24, 2022... Last Updated: June 16, 2022 for better readability and user experience