Slow Cooker Ginger Carrot Soup is a vegetarian soup that will fit beautifully into your plant-based vegan lifestyle. Bursting with the flavors of fresh vegetables, ginger, coconut milk and cilantro, our homemade carrot ginger soup recipe will please every palate. Let your crockpot do the cooking for you!
Carrot Ginger Soup
It's soup season! Woo hoo! One of my favorite things about living in the northeast is the change of seasons. And changing from bathing suit season to soup season is top on my list!
Now, just to be clear, I'm not talking about canned soup season folks. Oh no, not that! Homemade soup is so darn easy to make and can literally takes just minutes to make on the stove top.
I make commissions for purchases made through links in this post.
Or, even easier, just let your slow cooker do all the cooking for you. Put the ingredients into the crockpot in the morning and come home to piping hot homemade Ginger Carrot Soup with coconut milk! All you need to do is whirl it up with your immersion blender and voila! Homemade soup is on the table!
So if you're looking for a Meatless Monday recipe, a vegetarian option, are living a plant-based lifestyle, or just need a bowl of comfort food, our vegan Carrot Ginger Soup is for you!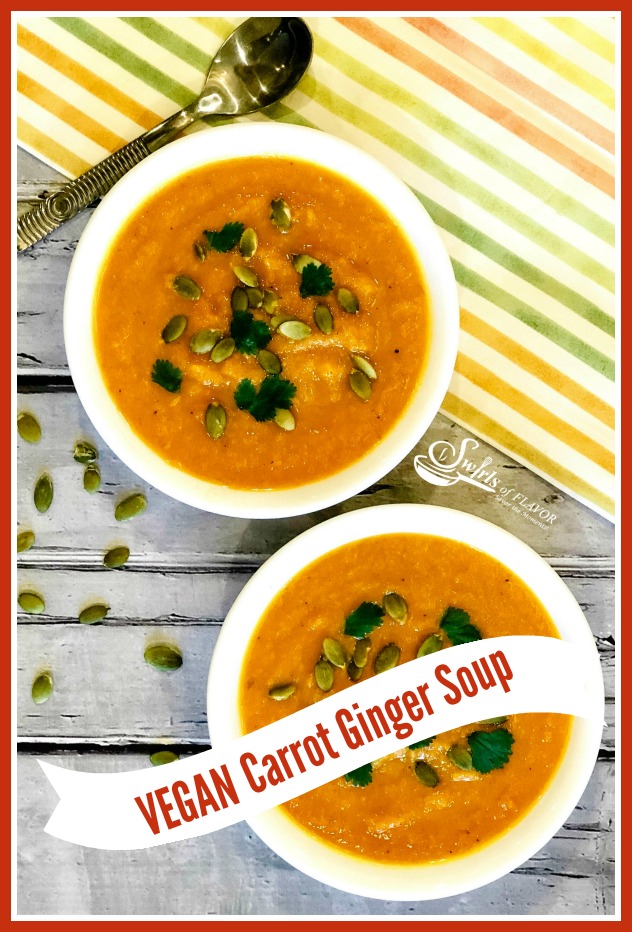 Soup FAQ's
Can I freeze carrot soup?
Yes, you can freeze carrot ginger soup. Be sure to cool the soup completely then transfer to a freezer safe container or a ziplock freezer bag. If using a ziplock freezer bag, lay the bag flat in your freezer. Always remember to label containers with the date and name of contents.
How do I reheat frozen soup?
To reheat frozen soup, first thaw the soup in your refrigerator. Then reheat on the stovetop over medium heat or microwave.
How long can soup be frozen for?
Soup can be frozen for 2 to 3 months, according to the USDA.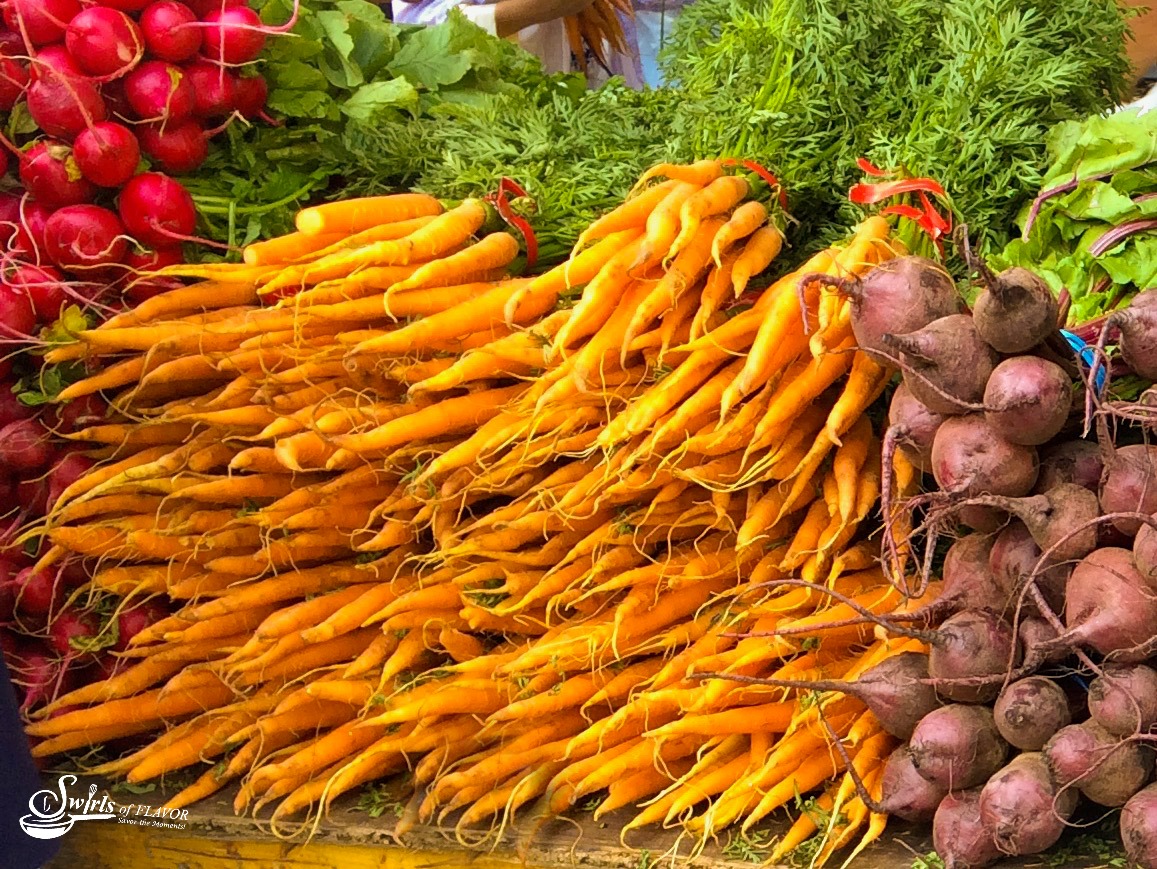 How to make ginger carrot soup
Arrange carrots, broth, onion, celery, coconut milk, ginger, garlic, turmeric, salt and pepper in crockpot.
Cook 7-8 hours on low or 3-4 hours on high.
Puree soup with an immersion blender until smooth.
Garnish with cilantro and pumpkin seeds.
Swirls of Flavor Recipe Tips
Garnish with finely shredded carrots
Make with chicken broth
Add minced fresh jalapeno to the vegetable mixture for a touch of heat
Ingredients you will need to make this recipe
carrots
onion
celery
fresh ginger
garlic
cilantro
Easy Homemade Soup Recipes

Pesto Minestrone Soup is an easy homemade soup recipe that is ready in just minutes. This hearty minestrone with pesto and baby kale is an updated version of the classic Italian soup and is sure to be a new family favorite!
The classic Creamy Tomato Soup With Cheddar Bacon Grilled Cheese Croutons simmers on your stovetop and will warm you up on a chilly fall day topped with grilled cheese croutons of crispy bacon, sharp cheddar cheese and potato bread.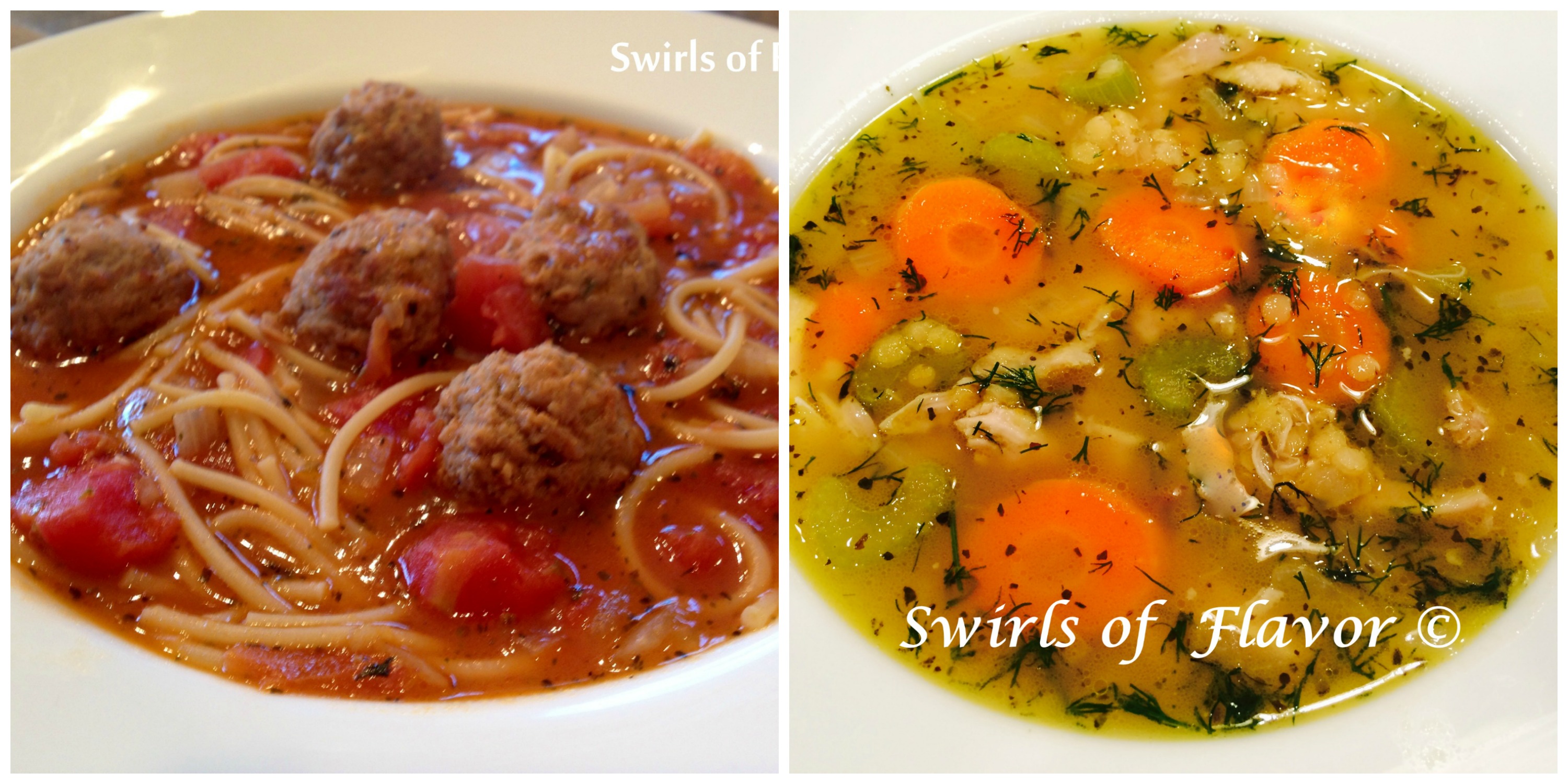 Spaghetti and Meatball Soup is a fun twist on a favorite comfort food. It's a spaghetti and meatball dinner in a bowl of soup and ready in under 30 minutes!
Chicken Lentil Soup is an easy weeknight recipe made with chicken thighs and vegetables that will warm you up! Not a fan of lentils? Just substitute mini pasta, egg noodles or rice! Choose your soup, add a salad or grilled cheese sandwich and you're all set!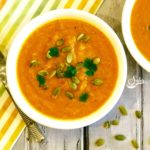 Slow Cooker Ginger Carrot Soup
Bursting with the flavors of fresh vegetables, ginger, coconut milk and cilantro, Slow Cooker Carrot Ginger Soup is vegan and will please every palate too!
Keyword:
carrot ginger soup, carrot soup, ginger carrot soup
Instructions
Place carrots, broth, onion, celery, coconut milk, ginger, garlic, turmeric, salt and pepper in slow cooker.

Cook on low 7-8 hours or on high 3-4 hours.

Top with cilantro and pumpkin seeds.
Recipe Notes
Makes 8 cups.
Nutrition Facts
Slow Cooker Ginger Carrot Soup
Amount Per Serving
Calories 199
Calories from Fat 108
% Daily Value*
Fat 12g18%
Sodium 835mg36%
Potassium 729mg21%
Carbohydrates 23g8%
Protein 4g8%
Vitamin A 25630IU513%
Vitamin C 13mg16%
Calcium 73mg7%
Iron 2mg11%
* Percent Daily Values are based on a 2000 calorie diet.
First Published: February 21, 2018... Last Updated: January 10, 2021