Spiced Sweet Potatoes is an easy recipe for mashed potatoes that's decadent and creamy with a hint of spice. Our sweet and spicy sweet potatoes are the perfect compliment to any meal and fancy enough for the holidays and entertaining!
Mashed Sweet Potatoes Recipe
Don't underestimate the power of a side dish, especially when that side dish is a bowl of spiced mashed sweet potatoes!
Sweet potatoes are packed with nutrients such as beta-carotene, fiber, minerals and vitamin B6. Add in turmeric, an amazing source of antioxidants and anti-inflammatory properties, and coconut milk which lowers cholesterol, and you have a powerhouse of nutrition in one dish! Be sure to add the pepper to help activate the turmeric.
Many recipes boil the sweet potatoes first and then mash them, but I prefer to bake them in the oven first instead. Baked sweet potatoes develop a deep rich caramelized flavor from the oven roasting.
After baking the potatoes, then you peel and mash them creating a more flavorful final result. Our sweet and spicy sweet potatoes are decadent and creamy with a hint of spice. Perfect with any meal!
Are sweet potatoes good for you?
Yes, sweet potatoes are nutritious and good for you! One medium sweet potato provides the following:
400% of your daily needs for vitamin A
large amounts of fiber and potassium
Vitamins C, B-6 and E
Calcium
Iron
Magnesium
Phosphorus
Zinc
Thiamin
Riboflavin
Beta-carotene
Is high in antioxidants
May reduce the risk of developing cancer
May delay aging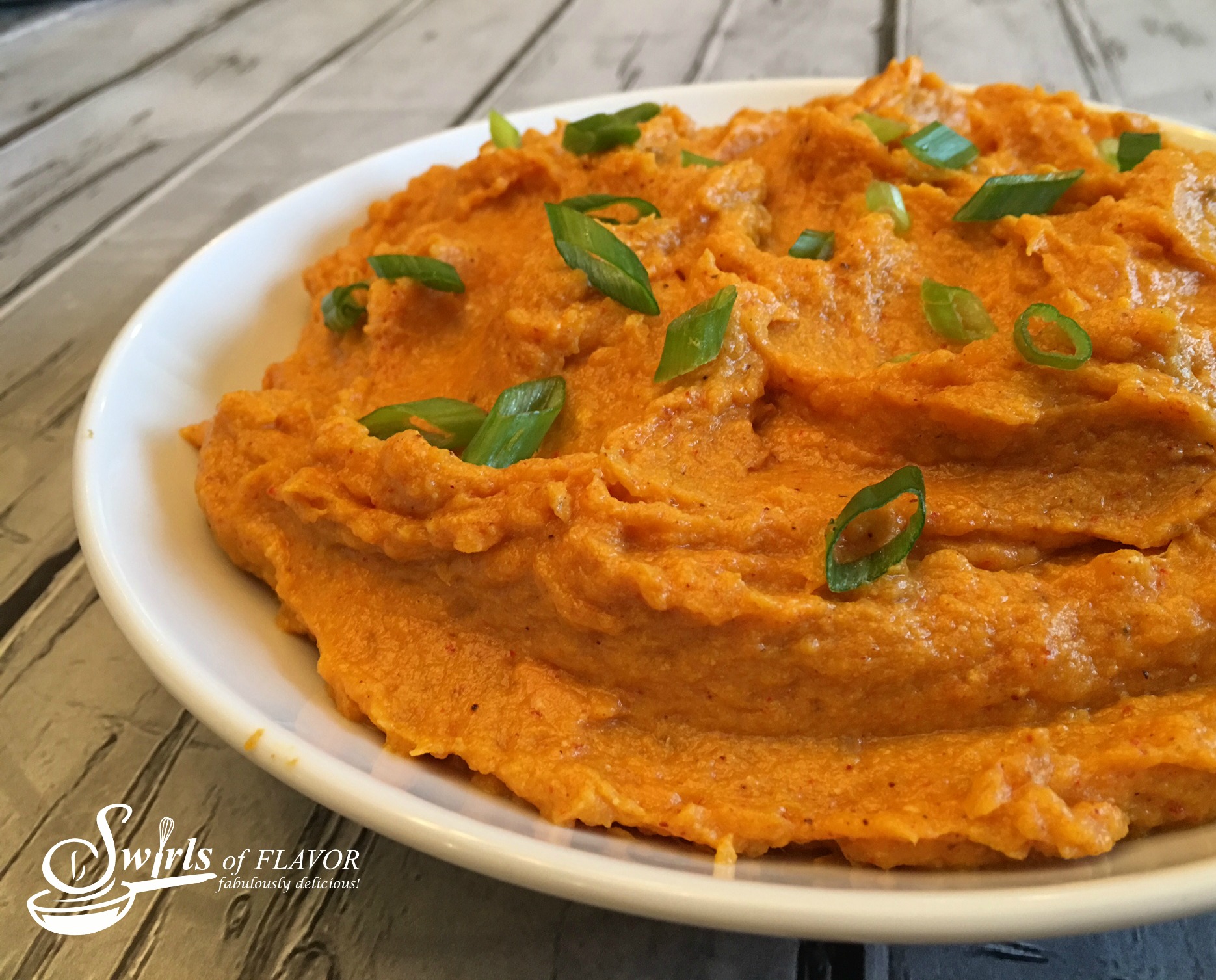 This post contains affiliate links. If you make a purchase through one of these links, I make a small commission at no extra cost to you.
If you're in search of ideas for potato recipes, then you'll definitely want to check out our Potato Recipe Round Up! Look no further than our Thanksgiving Potato Recipes Round Up that's bursting with thirty seven delicious white and sweet potato recipes that will compliment any holiday dinner. Choose from mashed potatoes, baked potatoes, creamy potatoes, crumb topped potatoes, instant pot potatoes, slow cooker potatoes and even French fries. Your holiday potato recipe is waiting for you!
Ingredients you will need to make this recipe
sweet potatoes
coconut milk
sliced scallions
Easy Potato Recipes

Creamy Garlic Infused Mashed Potatoes is an easy recipe that's perfect for holiday menus. Buttery Yukon Gold potatoes cook together with cloves of garlic then are mashed with butter and cream cheese creating creamy garlic potatoes that are bursting with flavor.
Panko Garlic Mashed Potatoes are infused with fresh garlic, topped with a buttery panko crumb and baked into a golden crusted creamy casserole. A perfect potato recipe for the holidays and entertaining.
Pecan Crumb Sweet Potatoes are so decadent that every mouthful is filled with creamy sweet potatoes and buttery cinnamon crumbs…..the perfect combination of a side dish and a dessert!
Golden Potatoes Au Gratin is a creamy potato casserole that will be your entertaining go-to potato recipe from now on! Slices of potatoes are gently boiled in a shallot cream mixture and then layered with cheese and baked to a cheesy, creamy perfection.
Spiced Sweet Potatoes
Spiced Sweet Potatoes are decadent and creamy with a hint of spice. The perfect side dish for any meal and perfect for the holidays and entertaining too!
Keyword:
spiced sweet potatoes, sweet potatoes
Instructions
Preheat oven to 425F.

Pierce potatoes several times with a fork.

Arrange sweet potatoes on a baking sheet and roast 1 hour or until tender. Let cool 15 minutes, then remove skins and discard.

Mash potatoes and stir in coconut milk, chili powder, turmeric, kosher salt and pepper.

Top with sliced scallions.
Recipe Notes
Makes 4 cups/ 8 servings.
Nutrition Facts
Spiced Sweet Potatoes
Amount Per Serving
Calories 160
Calories from Fat 54
% Daily Value*
Fat 6g9%
Sodium 206mg9%
Potassium 484mg14%
Carbohydrates 25g8%
Protein 3g6%
Vitamin A 16468IU329%
Vitamin C 3mg4%
Calcium 43mg4%
Iron 2mg11%
* Percent Daily Values are based on a 2000 calorie diet.