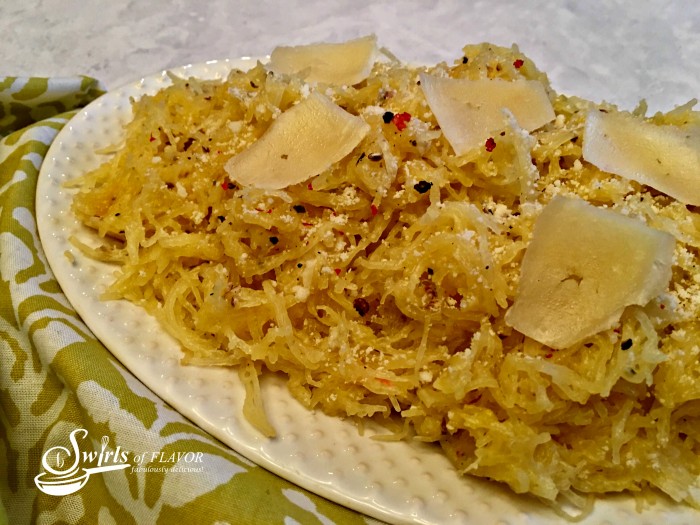 Cacio e Pepe, "cheese and pepper", is typically a classic Italian pasta dish made with spaghetti, cheese and pepper along with some of the pasta water. Spaghetti squash puts a healthy spin on this traditional recipe known for the simplest of ingredients. Freshly ground tricolor peppercorns add specks of color and just 2 tablespoons of butter replace the pasta water. Spaghetti squash provides many nutrients such as vitamin A, vitamin B6, vitamin C, beta carotene, calcium, folic acid, iron and potassium, is gluten free and extremely low in calories, about 42 calories per 1 cup serving (I'm loving that!)…..oh and contains no fat (I'm loving that even more!) Select a squash that is firm with no soft spots. It should be an even yellow color with no green spots. The fun part about cooking a spaghetti squash is that once it is cooked and tender it will shred into spaghetti-like strands when you scrape a fork through the soft flesh! So cool!
Cacio e Pepe Spaghetti Squash
2017-01-02 21:04:03
Serves 4
Nutrition Facts
Amount Per Serving
* Percent Daily Values are based on a 2,000 calorie diet. Your Daily Values may be higher or lower depending on your calorie needs.
Ingredients
1 spaghetti squash, about 2 pounds
3 Tbs. butter, melted, divided
1/4 cup grated Parmesan cheese
1 tsp. freshly ground tricolor peppercorns OR 1/2 tsp. ground pepper
Parmesan shavings, optional garnish
Instructions
Preheat oven to 400F.
Cut squash in half lengthwise and remove seeds.*
Roast, cut sides down, on baking sheet for 45 minutes or until squash is tender.
Let cool 15 minutes then, using a fork, scrape the cut sides so that spaghetti-like stands form.
Toss strands with remaining 2 Tbs. melted butter, Parmesan cheese and peppercorns.
Garnish with Parmesan shavings, if desired.
Notes
Makes 4 cups/ 4 servings
*For a delicious snack, spaghetti squash seeds can be roasted just like pumpkin seeds!
Swirls of Flavor https://swirlsofflavor.com/