Spaghetti squash puts a low carb spin on Cacio e Pepe, the classic Italian recipe known for the simplest of ingredients. An easy recipe, our Cacio de Pepe Spaghetti Squash is perfect for Meatless Monday or a vegetable side dish!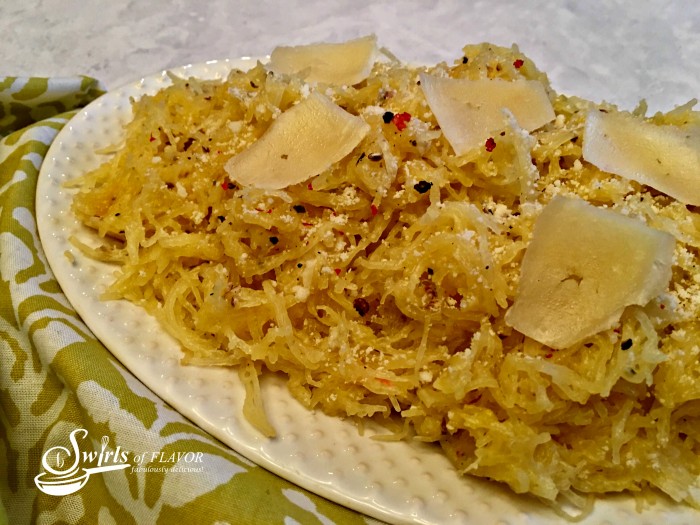 Cacio e Pepe Pasta
Cacio e Pepe, "cheese and pepper", is typically a classic Italian pasta dish made with spaghetti, cheese and pepper along with some of the pasta water. Cacio e Pepe Spaghetti Squash puts a healthy low carb spin on this traditional recipe known for the simplest of ingredients. Freshly ground tricolor peppercorns add specks of color and just 2 tablespoons of butter replace the pasta water.
With summer produce abundant now, I love making the traditional "cheese and pepper" pasta recipe with a spaghetti squash. Not only does it make this recipe seasonal and low carb, it becomes a plant based recipe too. And living a plant based lifestyle is the healthy way to go these days!
What does cacio e pepe mean?
Cacio e pepe means "cheese and pepper".
Spaghetti Squash FAQ's
Is spaghetti squash healthy?
Spaghetti squash is healthy and provides:
beta carotene
calcium
folic acid
iron
potassium
vitamin A
vitamin B6
vitamin C
Spaghetti squash is also:
gluten free
low in calories, about 42 calories per 1 cup serving (I'm loving that!)
contains no fat (I'm loving that even more!)
How to select a spaghetti squash
When selecting a spaghetti squash look for one that is:
an even yellow color
firm with no soft spots
has no green spots
How do you serve spaghetti squash?
The fun part about cooking a spaghetti squash is that once it is cooked and tender it will shred into spaghetti-like strands when you scrape a fork through the soft flesh! So cool!
Easy Pasta Recipes
Still craving your pasta? then I've got some simple pasta recipes for you that you are going to love!
Our Instant Pot Spaghetti with Homemade Tomato Sauce recipe is so easy to make. Spaghetti cooks together with just 6 ingredients from your pantry (+ water) for a quick and easy homemade marinara sauce.
Zucchini Pasta Pomodoro is bursting with the summertime flavors of zucchini noodles, tomatoes and fresh basil. Zucchini noodles replace your high carb pasta in this recipe.
And then there's one of my favorite go-to recipes, One Pot Penne Pomodoro, a pasta that's flavored in a light buttery tomato broth with garlic, onion and lots of tomatoes. As the penne cooks it forms it's own sauce, all in one pot! It doesn't get better or easier than one pot recipes folks!
I make commissions for purchases made through links in this post.
Cacio e Pepe Spaghetti Squash
Spaghetti squash puts a healthy spin on Cacio e Pepe, the classic Italian recipe known for the simplest of ingredients. Perfect for Meatless Monday!
Course:
Main Course, Side Dish
Keyword:
spaghetti squash with cheese
Ingredients
1

spaghetti squash, about 2 pounds

3

Tbs.

butter, melted, divided

1/4

cup

grated Parmesan cheese

1

tsp.

freshly ground tricolor peppercorns OR 1/2 tsp. ground pepper

Parmesan shavings, optional garnish
Instructions
Preheat oven to 400F.

Cut squash in half lengthwise and remove seeds.*

Roast, cut sides down, on baking sheet for 45 minutes or until squash is tender.

Let cool 15 minutes then, using a fork, scrape the cut sides so that spaghetti-like stands form.

Toss strands with remaining 2 Tbs. melted butter, Parmesan cheese and peppercorns.

Garnish with Parmesan shavings, if desired.
Recipe Notes
Makes 4 cups/ 4 servings
*For a delicious snack, spaghetti squash seeds can be roasted just like pumpkin seeds!
Nutrition Facts
Cacio e Pepe Spaghetti Squash
Amount Per Serving
Calories 180
Calories from Fat 108
% Daily Value*
Fat 12g18%
Cholesterol 28mg9%
Sodium 212mg9%
Potassium 277mg8%
Carbohydrates 18g6%
Protein 4g8%
Vitamin A 606IU12%
Vitamin C 5mg6%
Calcium 133mg13%
Iron 1mg6%
* Percent Daily Values are based on a 2000 calorie diet.
First Published: January 9, 2017... Last Updated: June 29, 2020