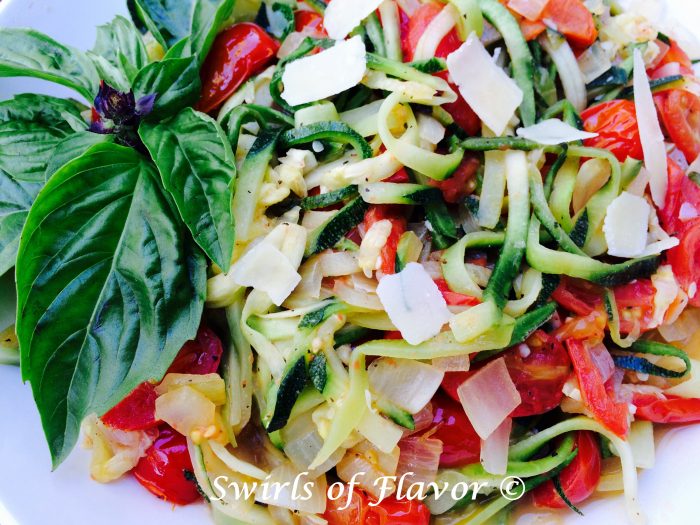 Love your pasta but not the carbs and calories? There's a new gadget on the market , the Vegetti, that makes strands of zucchini "pasta" in no time at all making this recipe so much healthier for you! Rich in antioxidants, fiber, potassium and vitamins A and C, low in calories and with no saturated fats or cholesterol, the zucchini is an ideal addition to any recipe, especially when it is replacing your pasta! Oh, and did I mention that zucchini also contains the B-complex group of vitamins such as thiamin, pyridoxine, riboflavin and minerals like iron, manganese, phosphorus, and zinc? The smooth tender skin, creamy center and mild sweet flavor make zucchini a popular year round vegetable. You're going to be so happy you switched from pasta to nutrient-rich, low-calorie zucchini "pasta" when you make this fabulously delicious recipe!
Zucchini Pasta Pomodoro
1 Tbs. olive oil
1 pint grape tomatoes, halved lengthwise
1 onion, chopped, 1 cup
2 cloves garlic, minced
3/4 tsp. kosher salt
1/4 tsp. pepper
1/4 cup white wine OR chicken broth
2 Tbs. butter
1 lb. zucchini, cut into "pasta" strands, 5 cups
1/4 cup chopped fresh basil*
1/4 cup shaved Parmesan cheese
1. Heat oil in large non-stick skillet over medium-high heat.
2. Cook tomatoes, onion, garlic, kosher salt and pepper until just tender, 2-3 minutes.
3. Add wine and cook 1 minute.
4. Add butter and cook until butter is melted and a light sauce forms, 1 minute.
5. Stir in zucchini and cook until just tender, 3-4 minutes.
6. Remove from heat. Stir in basil and top with Parmesan.
Makes 5 cups. Recipe can be served as a main dish or a vegetable side dish.
*No fresh basil on hand? Just add 1 teaspoon dried basil to Step 2 and cook with tomatoes, onion, garlic, kosher salt and pepper!