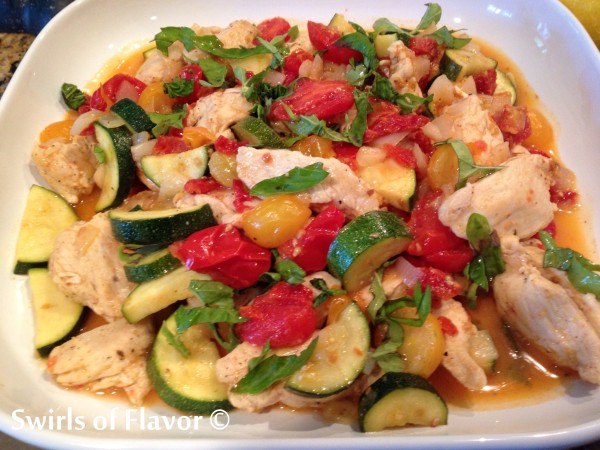 My garden is looking quite abundant these days. Juicy red tomatoes, shiny green zucchini, fragrant leaves of basil......I think it's time for a summer stir fry! I love the days when I can pick fresh produce right in my own backyard and it ends up on my table in just a few minutes....yard to table....yep, that's when I'm happiest! And on those days when it's too hot to turn on your oven, and you don't even want to fire up the grill outside, you can make a quick stove top stir fry dinner in no time at all! No garden in your backyard? Just visit your local farmer's market* and dinner will be fabulously delicious!
Double Tomato & Zucchini Chicken Stir Fry
1 Tbs. olive oil
1 lb. boneless skinless chicken breasts, sliced
1 onion, chopped, 1 cup
1 pint red and/or yellow grape tomatoes, halved lengthwise
1 (8 oz.) zucchini, sliced
1/4 cup sundried tomatoes packed in oil, chopped
1 clove garlic, minced
1/2 tsp. kosher salt
1/4 tsp. ground black pepper
1/4 cup white wine OR chicken broth
1/4 cup fresh basil leaves, thinly sliced
1. In large non-stick skillet heat oil over medium-high heat. Cook chicken until browned, stirring occasionally; set aside.
2. In same skillet cook onion, grape tomatoes, zucchini, sundried tomatoes, garlic, kosher salt and pepper until tender, 5-6 minutes, stirring occasionally. Add wine and cook 1 minute.
3. Return chicken to skillet and cook until chicken is heated and cooked through, 1-2 minutes. Remove from heat and stir in basil.
Makes 4 servings/5 cups.