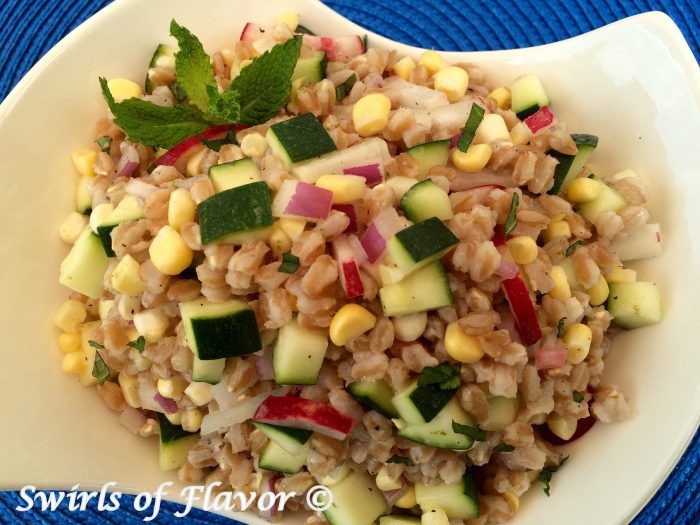 There's a new super grain in town that's quickly gaining in popularity and appearing in recipes and on menus everywhere. Farro, the ancient Italian grain, has a nutty flavor and a bit of a bite to it. It's health benefits are numerous and include being high in fiber, an excellent source of protein and providing nutrients such as magnesium and iron and it's high in B vitamins too! Farro boosts your immune system and is heart healthy. Fresh vegetables are tossed together with farro in a lime scented dressing making Zucchini & Corn Farro Salad both refreshing and nutritious.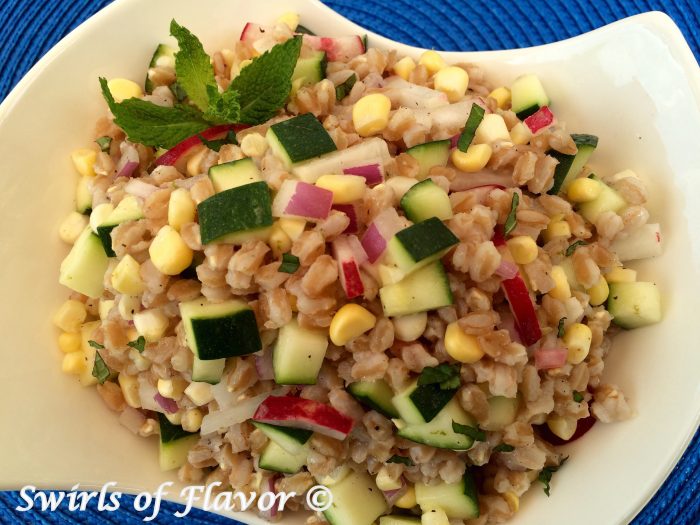 Zucchini & Corn Farro Salad
2016-05-16 13:18:42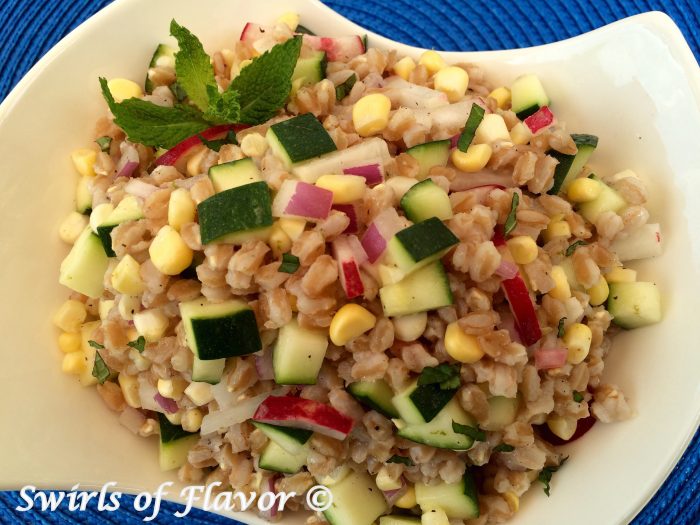 Serves 8
Nutrition Facts
Amount Per Serving
* Percent Daily Values are based on a 2,000 calorie diet. Your Daily Values may be higher or lower depending on your calorie needs.
Ingredients
3 Tbs. olive oil
2 Tbs. fresh lime juice
1 Tbs. apple cider vinegar
1 tsp. lime zest
3/4tsp. kosher salt
1/4 tsp. pepper
1 cup farro, cooked according to package directions, drained and cooled
1 1/2 cups chopped zucchini (about an 8 ounce zucchini)
1 1/2 cups fresh corn kernels (about 2 corn on the cob)
1/2 cup thinly sliced radishes (about 4 large radishes)
1/4 cup chopped red onion
1 Tbs. chopped parsley
Instructions
In serving dish combine olive oil, lime juice, vinegar, lime zest, kosher salt and pepper until blended.
Stir in cooled farro, zucchini, corn, radishes, red onion and parsley and toss until evenly coated.
Serve at room temperature or chilled.
Swirls of Flavor https://swirlsofflavor.com/