Our Roasted Fennel Pomodoro Recipe is an easy side dish that's bursting with the sweet licorice flavor of roasted fennel and tender tomatoes in every bite. Ready in just 25 minutes of oven roasting, our roasted fennel recipe will soon become a family favorite.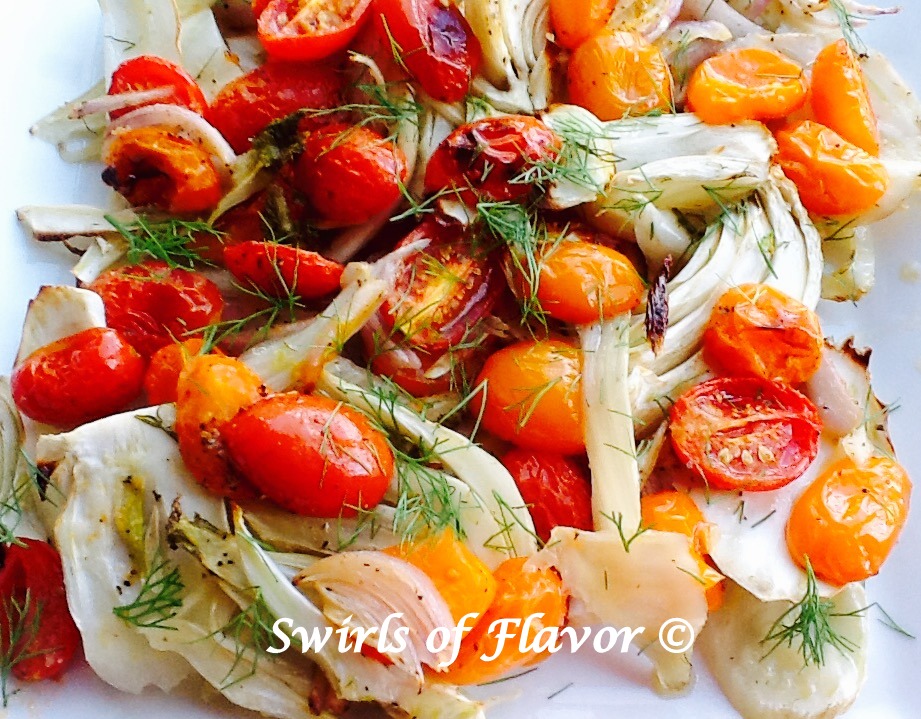 Roasted Fennel Recipe
Looking for a new side dish to add to your recipe line up? Look no further. You've come to the right place!
Roasted fennel with tomatoes will become a new favorite on your dinner table. Easy to make and oh so delicious!
Trust me when I say, you are going to love this roasted fennel side dish recipe.
Fresh fennel has a slight licorice flavor that mellows with roasting. Oven-roasted tomatoes lend a sweetness to every bite.
With just 6 ingredients and 25 minutes in the oven, this baked fennel and tomatoes side dish will dress up any meal you serve it with.
Plan on firing up your grill tonight? Grilled fennel will taste delicious too! Here's how to make this a grilled fennel recipe:
Preheat grill for direct heat grilling.
Grill the fennel slices until tender crisp, turning once.
Place your baking sheet directly on the grill.
Transfer the grilled fennel onto the baking sheet and top with remaining ingredients.
Grill until vegetables are tender.
So go ahead and add Roasted Fennel Pomodoro to your list of go-to side dish recipes. You'll be happy you did!
Are you hooked on fresh fennel now? Then you're going to love these fennel bulb recipes here at Swirls! Pistachio Fennel Salad and our Fennel and Orange Salad are sure to delight your taste buds!
And if it's a pomodoro recipe you're craving then Penne Pomodoro , Zucchini Noodles Pomodoro and Chicken Pomodoro are what you'll be wanting to whip up next!
I make commissions for purchases made through links in this post.
Be sure to visit the Swirls of Flavor Amazon Storefront for GG's personal kitchen recommendations!
Fresh Fennel FAQ's

What is fennel?
Fennel is a vegetable that is actually in the carrot family. Who knew? Fennel originates from the shores of the Mediterranean. It is a flowering plant with feathery leaves or fronds and yellow flowers. However, when selecting a bulb of fennel to eat, you don't want it to be flowering or have any buds on it. The bulb, stalk and fronds of fennel are all edible.
How do you select a fennel bulb?
When selecting a fennel bulb look for one that:
Is whitish or pale green in color
Is firm and solid
Has no signs of splitting, spotting or bruising
Has stalks and feathery fronds that are green in color
Has no signs of flowering buds
Has a subtle fragrant aroma of licorice or anise
How do you store fennel?
Fresh fennel should be kept in the vegetable crisper drawer of your refrigerator and will stay fresh for about five days.
What does raw fennel taste like?
Fennel has a faint licorice flavor. It can be eaten raw in salads and side dishes and can also be cooked.
What does roasted fennel taste like?
When roasted fennel becomes tender with a subtle sweet flavor.
What are fennel fronds?
Fennel fronds are the feathery greens towards the top of a fennel bulb. Fennel fronds make a beautiful garnish. Just chop them up and sprinkle for a beautiful presentation.

How to make roasted fennel
Scroll down for the full recipe instructions and ingredient amounts in the recipe card below
Preheat oven to 425F.
Arrange fennel on baking sheet with shallow sides.
Combine tomatoes, red onion, olive oil, garlic powder and kosher salt in medium bowl.
Pour tomato mixture over fennel.
Roast until tender about 25 minutes.
Swirls of Flavor Recipe Tips
Top with grated or shaved Parmesan after cooking
Drizzle with fresh orange juice
Substitutions
Substitute shallots for the red onion
Substitute sweet onion, such as Vidalia, for the red onion
Ingredients for baked fennel
fresh fennel bulb – a light green vegetable with a slight taste of licorice
orange and/or red grape tomatoes – a delicious sweet compliment to the fennel
red onion – adds color and mild onion flavor
olive oil - the best oil to use in an Italian recipe
garlic powder - adds a savory note
kosher salt - makes the flavors pop
Easy Side Dish Recipes

Pistachio Blood Orange & Fennel Salad is an easy salad recipe that's both refreshing and seasonal with citrus ingredients. Blood oranges flavor the citrus vinaigrette and are a bright addition to the pistachios and fennel salad.
Panzanella, the classic Tuscan bread salad, is bursting with heirloom tomatoes, cucumber, mozzarella and fresh basil, the flavors and colors of summer! Our Panzanella is an easy recipe for a mouthwatering bread salad that's a perfect side dish on a warm summer evening.
Sauteed Sesame Ginger Radishes are gently sauteed in a buttery garlic ginger mixture and finished with a drizzle of toasted sesame oil. Sauteed radishes and sauteed radish greens are surprisingly delicious. An easy recipe for a tasty summer side dish!
The crunch of fresh fennel, the juiciness of mandarin oranges and the crispness of radishes all come together in a lime-kissed vinaigrette to make Fresh Fennel & Mandarin Salad an amazing combination of flavors and textures.
Tomatoes, red onion, fresh basil, olive oil and white balsamic vinegar combine to make a flavorful bruschetta topping for quinoa. Heirloom Tomato Bruschetta Quinoa is an easy side dish recipe that's bursting with the fresh flavors of summer in every bite!
Buttery Lemon Parsley Potatoes is an easy side dish brimming with the creaminess of Yukon Gold potatoes and the flavors of fresh lemon and parsley. It's the perfect addition to any weeknight meals and great for entertaining too!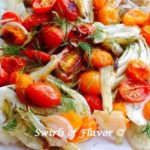 Print
Roasted Fennel Pomodoro Recipe
As an Amazon Associate I earn from qualifying purchases.
Ingredients
1

lb.

fresh fennel bulb

,trimmed (2 Tablespoons feathery fronds reserved), thinly sliced, about 3 cups sliced

1

cup

orange and/or red grape tomatoes

,halved lengthwise

1/2

cup

chopped red onion

2

Tbs.

olive oil

1/2

tsp.

garlic powder

1/2

tsp.

kosher salt
I earn a commission from Instacart from qualifying purchases.
Instructions
Preheat oven to 425F.

Arrange fennel on baking sheet with shallow sides.

Combine tomatoes, red onion, olive oil, garlic powder and kosher salt in medium bowl.

Pour tomato mixture over fennel.

Roast 25 minutes or until tender.

Top with reserved feathery fronds.
Notes
Swirls of Flavor Recipe Tips
Top with grated or shaved Parmesan after cooking
Drizzle with fresh orange juice
Substitute shallots for the red onion
Nutrition
Calories:
114
kcal
|
Carbohydrates:
12
g
|
Protein:
2
g
|
Fat:
7
g
|
Saturated Fat:
1
g
|
Sodium:
301
mg
|
Potassium:
587
mg
|
Fiber:
4
g
|
Sugar:
2
g
|
Vitamin A:
462
IU
|
Vitamin C:
20
mg
|
Calcium:
64
mg
|
Iron:
1
mg
First Published: May 12, 2016... Last Updated: October 29, 2022 for better readability and user experience