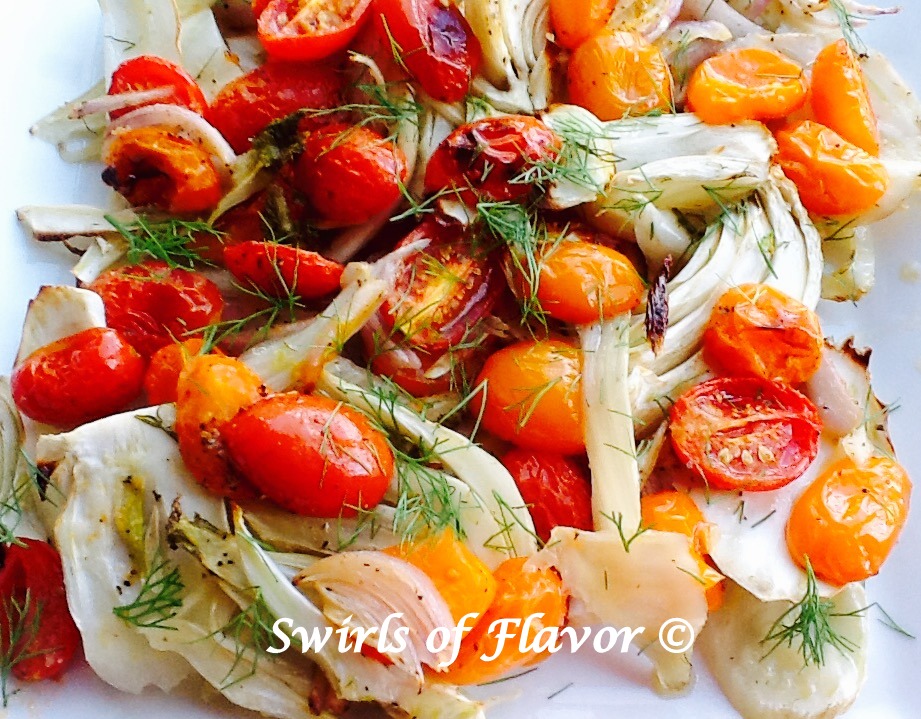 Looking for a new side dish to add to your recipe line up? Look no further! Roasted Fennel Pomodoro will become a new favorite on your dinner table. Fresh fennel has a slight licorice flavor that mellows with roasting and oven-roasted tomatoes lend a sweetness to every bite. Select a fennel bulb that is whitish or pale green in color and is firm and solid with no signs of splitting, spotting or bruising. The stalks and feathery fronds should be green in color with no signs of flowering buds. The bulb, stalk and fronds are all edible. Check for a subtle fragrant aroma of licorice or anise. Fresh fennel should be kept in the vegetable crisper drawer of your refrigerator and will stay fresh for four to five days. Go ahead and add Roasted Fennel Pomodoro to your list of go-to side dish recipes!
Roasted Fennel Pomodoro
2016-04-03 10:54:32
Serves 4
Nutrition Facts
Amount Per Serving
* Percent Daily Values are based on a 2,000 calorie diet. Your Daily Values may be higher or lower depending on your calorie needs.
Ingredients
1 lb. fresh fennel bulb, trimmed (2 Tablespoons feathery fronds reserved), thinly sliced, about 3 cups sliced
1 cup orange and/or red grape tomatoes, halved lengthwise
1/2 cup chopped red onion
2 Tbs. olive oil
1/2 tsp. garlic powder
1/2 tsp. kosher salt
Instructions
Preheat oven to 425F.
Arrange fennel on baking sheet with shallow sides.
Combine tomatoes, red onion, olive oil, garlic powder and kosher salt in medium bowl.
Pour tomato mixture over fennel.
Roast 25 minutes or until tender.
Top with reserved feathery fronds.
Swirls of Flavor https://swirlsofflavor.com/