When tomatoes are abundant and flavorful, it's time to make Baked Tomatoes Provencal, an easy tomato casserole recipe. Tomatoes baked with cheese and breadcrumbs is the perfect side dish for your summer menu.
Baked Tomatoes Recipe
Living in Jersey in the summertime certainly has it's advantages and by that I mean an abundance of fresh Jersey tomatoes! Oh yes! Ripe, plump, juicy, delicious tomatoes.
There's nothing quite like a Jersey tomato and I hope that everyone gets the chance to taste at least one Jersey tomato in their lifetime. You will savor the flavor for sure!
According to our state's Department of Agriculture last year:
New Jersey farmers produced 71.9 million pounds of tomatoes
Tomatoes grow on 2,900 acres of farmland
The tomato crop was valued at almost $46 million dollars
Tomatoes are the Garden State's third biggest crop, surpassed only by blueberries and peaches.
And with that many tomatoes you better believe that we need to have tomato side dish recipes and our tomato casserole will quickly become your favorite, I promise!
My recipe puts a slight twist on Tomatoes Provençal.
Yes, you'll find the typical olive oil, garlic, Parmesan and breadcrumbs, but I changed it up a bit by using panko breadcrumbs and adding bocconcini.
What are panko breadcrumbs?
Panko breadcrumbs are larger than your typical breadcrumbs so they give a bit more crunch to the dish.
What is bocconcini?
Bocconcini are small balls of fresh mozzarella. They lends a creamy texture and turn this dish into baked stuffed tomatoes with pockets of warm creamy cheese hiding under thick juicy slices of freshly baked tomatoes.
Our baked tomatoes with cheese and breadcrumbs is mighty tasty, if I must say so myself! I hope you think so too!
Tomato FAQ's
How many types of tomatoes are there?
There are more than 15,000 known varieties of tomatoes and more than 3,000 varieties of heirloom tomatoes worldwide.
Which tomato is the sweetest?
Typically the smaller tomatoes, such as the varieties of the cherry tomato and the plum tomato are the sweetest tomatoes.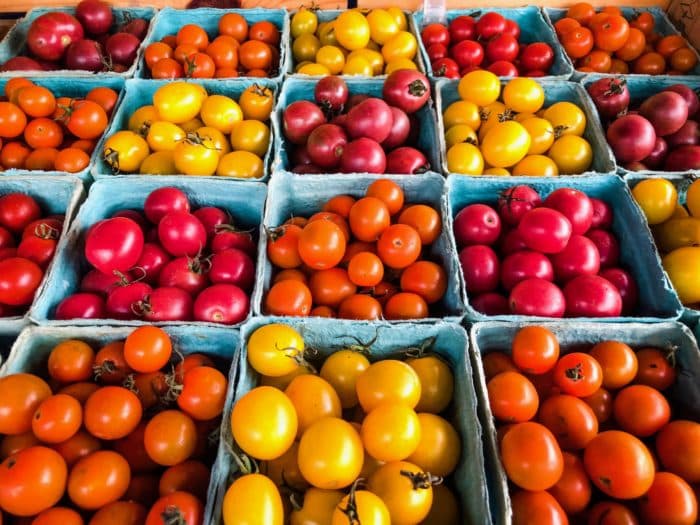 What tomato is best for making sauce?
The San Marzano tomato is said to be the best tomato for making sauce. It is a plum-type tomato that is deep red in color and grown in the Campania region of Italy that is known for it's rich soil.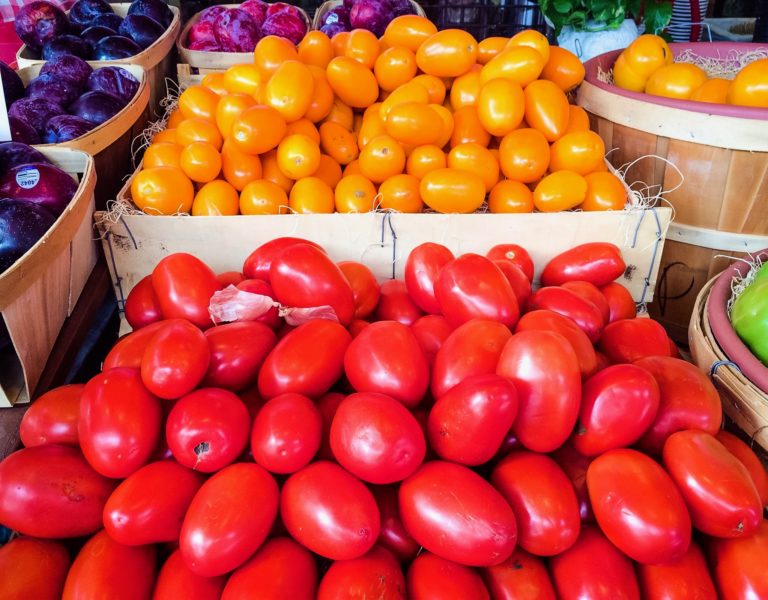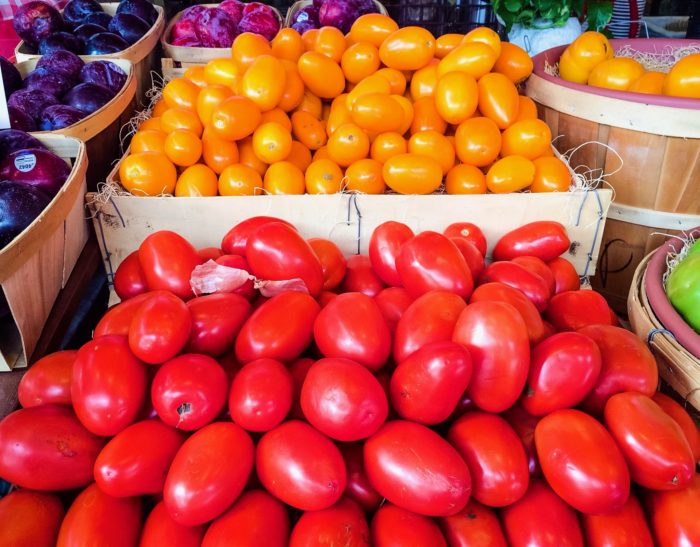 Ingredients you will need to make this recipe
large tomatoes
bocconcini
seasoned Panko breadcrumbs
Parmesan
Garlic
Parsley
olive oil
cracked black pepper
Best Tomato Recipes
No matter where you live, if it's summer time, it's tomato time. Check out these easy tomato side dish recipes that will put those bushels of tomatoes to delicious use!
Caprese Skewers With Pesto is an easy recipe for a homemade pesto dipping sauce served with skewers of fresh basil, mozzarella and tomatoes. A well deserved indulgence when you unwind after a busy week and perfect for entertaining.
Heirloom Tomato & Cucumber Summer Salad is an easy summer side dish bursting with tomatoes and cucumbers lightly coated in a tangy red wine vinaigrette.
An absolute favorite recipe of mine, Balsamic Portobellos Caprese will make a pesto lover out of everyone. Portobello mushrooms flavored with a balsamic marinade are grilled and then topped with fresh mozzarella, pesto, campari tomato slices and fresh basil leaves. An easy grilling recipe that's perfect for Meatless Monday in the summer!
Fresh Heirloom Tomato Salsa is an easy homemade salsa recipe bursting with fresh summertime flavors and perfect with tortilla chips or tacos for Cinco de Mayo or over chicken, beef or fish!
Tomatoes, red onion, fresh basil, olive oil and white balsamic vinegar combine to make a flavorful bruschetta topping for quinoa. Heirloom Tomato Bruschetta Quinoa is an easy side dish recipe that's bursting with the fresh flavors of summer in every bite!
Panzanella, the classic Tuscan bread salad, is bursting with heirloom tomatoes, cucumber, mozzarella and fresh basil, the flavors and colors of summer! Our Panzanella is an easy recipe for a mouthwatering bread salad that's a perfect side dish on a warm summer evening.
As an Amazon Associate I earn from qualifying purchases.
Baked Tomatoes Provencal
When tomatoes are abundant and flavorful, it's time to make Baked Tomatoes Provencal, an easy tomato casserole recipe. Tomatoes baked with cheese and breadcrumbs is the perfect side dish for your summer menu.
Keyword:
baked tomatoes, stuffed baked tomatoes
Ingredients
3

large tomatoes

,preferably Jersey tomatoes, about 1 lb. 4 oz. total weight, each sliced crosswise into 4 slices

2

oz.

bocconcini,

,sliced, about 1/4 cup

1/2

cup

seasoned Panko breadcrumbs

1/4

cup

shredded Parmesan

1

clove

garlic

,minced

2

Tbs.

chopped parsley

2

Tbs.

olive oil

1/4

tsp.

cracked black pepper

fresh parsley leaves

,for garnish
Instructions
Arrange tomatoes and bocconcini in single layer in prepared baking dish, overlapping slightly, as shown.

In small bowl combine Panko breadcrumbs, Parmesan, garlic, chopped parsley, olive oil and cracked black pepper.

Sprinkle breadcrumb mixture over tomatoes and bocconcini.

Bake 20 minutes or until breadcrumbs are golden and tomatoes are tender.

Garnish with fresh parsley leaves.
Recipe Notes
Makes 6 servings.
Nutrition Facts
Baked Tomatoes Provencal
Amount Per Serving
Calories 115
Calories from Fat 72
% Daily Value*
Fat 8g12%
Cholesterol 7mg2%
Sodium 111mg5%
Potassium 163mg5%
Carbohydrates 7g2%
Protein 5g10%
Vitamin A 661IU13%
Vitamin C 10mg12%
Calcium 97mg10%
Iron 1mg6%
* Percent Daily Values are based on a 2000 calorie diet.
First Published: August 21, 2013... Last Updated: July 29, 2019
This recipe is part of Meal Plan Monday and Weekend Potluck