This post contains affiliate links. (Disclosure policy)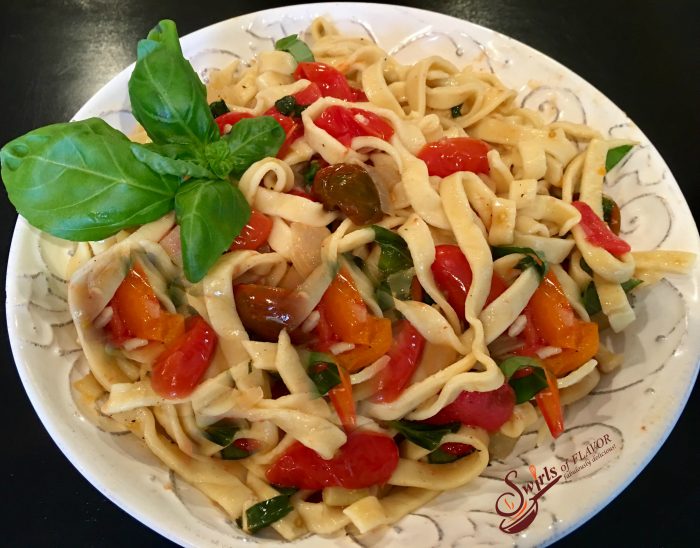 I just returned home from the farmers market and now I am craving an al fresco dinner with the fresh flavors of summer that I brought home with me! I am beyond happy that I went to the farmers market today! I'll make some homemade pasta with basic ingredients that I have on hand….flour, eggs, olive oil and kosher salt….and while the pasta dough is resting I'll prep the ingredients for my Buttery Fresh Basil Tomato Sauce. No need to worry if you don't want to make homemade pasta tonight. Just substitute 8 ounces of fettuccine or any pasta you have in your pantry because, trust me, this sauce will taste absolutely divine on any pasta!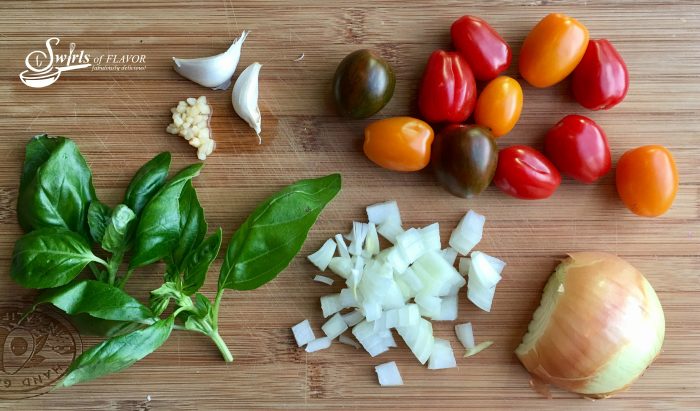 So close your eyes and imagine a forkful of tender homemade pasta coated in a buttery white wine sauce seasoned with flecks of fresh basil and juicy perfectly wilted heirloom tomatoes on the end of that fork! That's what can be on your table tonight in a matter of minutes! Yes, life is good! We're going to be making some delicious memories tonight!
Fettuccine & Buttery Fresh Basil Tomato Sauce
1 recipe fresh pasta or 8 ounces fettuccine
4 butter, divided
1 cup chopped sweet onion, such as Vidalia
2 cloves garlic, minced
1/2 tsp. kosher salt
1/4 tsp. cracked black pepper
1 pint heirloom tomatoes, halved lengthwise
¼ cup white wine
½ cup chopped fresh basil leaves
Cook pasta according to recipe or package directions. Drain, reserving 1/2 cup pasta water.
In large non-stick skillet melt 2 Tbs. butter over medium-high heat and cook onion, garlic, kosher salt and cracked black pepper until just tender, about 2 minutes.
Add tomatoes and cook just until tomatoes begin to wilt, about 2 minutes.
Add wine and cook 1 minute.
Stir in reserved 1/2 cup pasta water and remaining 2 Tbs. butter and cook until a sauce forms.
Stir in fresh basil and cooked pasta, tossing until evenly coated and heated through, 1 minute.
Makes 8 cups/4 servings.