This post contains affiliate links (Disclosure Policy)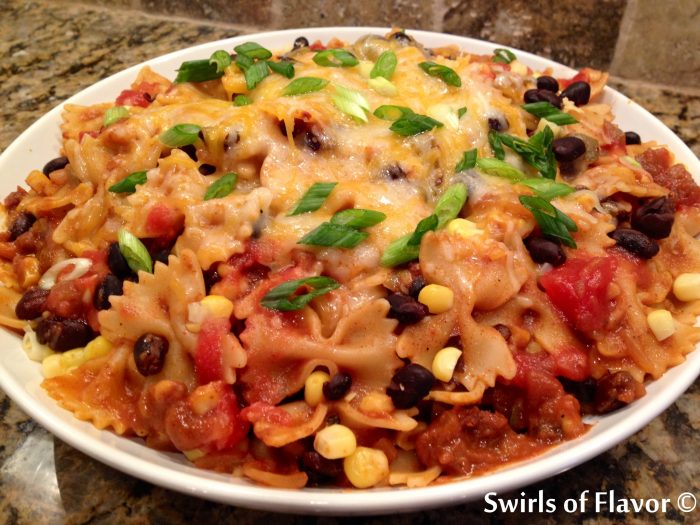 I'm loving my "One Pot"* recipes and I hope you are too! It just doesn't get much easier to make a flavorful pasta with a light brothy sauce than to cook all the ingredients and seasonings in one pot and voila, it's done!
One Pot Mexicali Bowtie Pasta is seasoned with salsa, chili powder and cumin, giving it a Mexican flair. Top it with melty cheese and fresh scallion and all you'll need is cornbread and a salad and you're all set!
One pot meals are a blessing for busy families. Check out my favorite deep sided skillet for One Pot recipes and be sure to add these One Pot recipes to your lineup, One Pot Penne Pomodoro, One Pot Chili Mac and Cheese, One Pot Creamy Tomato Basil Pasta, One Pot Springtime Pasta Primavera, One Pot Greek Lemon Dill Pasta and even One Pot Mac N Cheese! Everything cooks up to perfection in just one pot and dinner is on the table before you know it!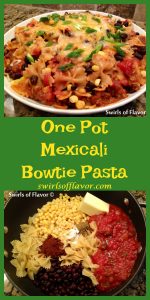 One Pot Mexicali Bowtie Pasta
8 ounces uncooked bowtie pasta
1 (16 oz.) jar salsa
3 cups water
1 (10.5 oz.) can black beans, drained and rinsed
1 (8.5 oz.) can corn kernels, drained
4 Tbs. butter
2 tsp. chili powder**
1 tsp. ground cumin
1 tsp. kosher salt
1 cup shredded 4 cheese Mexican blend cheese
1 scallion, sliced
1. In pot with tall sides, preferably a non-stick pot, combine pasta, salsa, water, beans, corn, butter, chili powder, cumin and kosher salt.
2. Bring to a boil over medium-high heat.
3. Boil 10 minutes or until pasta is al dente and a brothy sauce has formed, stirring occasionally.
4. Top with shredded cheese and sliced scallion.
Makes 4 servings, about 6 cups.
** Want a bit more of a spice kick? Just increase chili powder to 1 Tbsp. (3 tsp.)!
*Click on the links below for more fabulously delicious "One Pot" recipes!

One Pot Penne Pomodoro

One Pot Springtime Pasta Primavera