I have an admission to make. Back in the day, I actually loved the macaroni and cheese with the powdered cheese mix that came in that blue box. Sorry to disappoint y'all. But have no fear! I upgraded to the blue box with the prepared cheese sauce in the pouch that you just squeezed into the pasta, so easy! Yes, it's true and I just cannot deny my past anymore. But I did finally come to my senses and began making my mac 'n cheese from scratch so I could control what goes into my creamy bowl of cheesy pasta. And you should too! I've made it super easy for you with One Pot Mac 'N Cheese with the pasta, cheesy sauce and breadcrumb topping all cooked together in the same skillet! So please forgive me for my past shortcomings…but we all have to start somewhere! Luckily we are ending up in a really good place with a fabulous homemade Mac 'N Cheese that will be a family favorite in no time at all!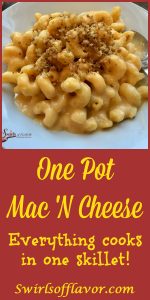 One Pot Mac 'N Cheese
2 Tbs. butter
1/2 cup seasoned panko breadcrumbs
3 cups water
1 can (12 ounces) evaporated milk
8 ounces uncooked cavatappi pasta
1 Tbs. Worcestershire sauce
1 Tbs. spicy brown mustard
2 cups shredded extra sharp cheddar cheese
1. Melt butter over medium-high heat in large skillet with tall sides.
2. Add breadcrumbs and cook until golden and toasted. Reserve.
3. In same skillet bring water, evaporated milk. cavatappi, Worcestershire and mustard to a boil over medium-high heat. Cook, uncovered, 12 minutes or until pasta is tender, stirring occasionally.
4. Stir in shredded cheddar and cook on low, stirring occasionally, until cheese is melted and a sauce has formed.
5. Sprinkle with reserved toasted breadcrumbs.
Makes 4 servings.