One Pot Mac and Cheese is an easy recipe for a busy weeknight dinner. Homemade mac and cheese is so easy to make when the pasta, cheesy sauce and breadcrumb topping are all cooked in the same skillet!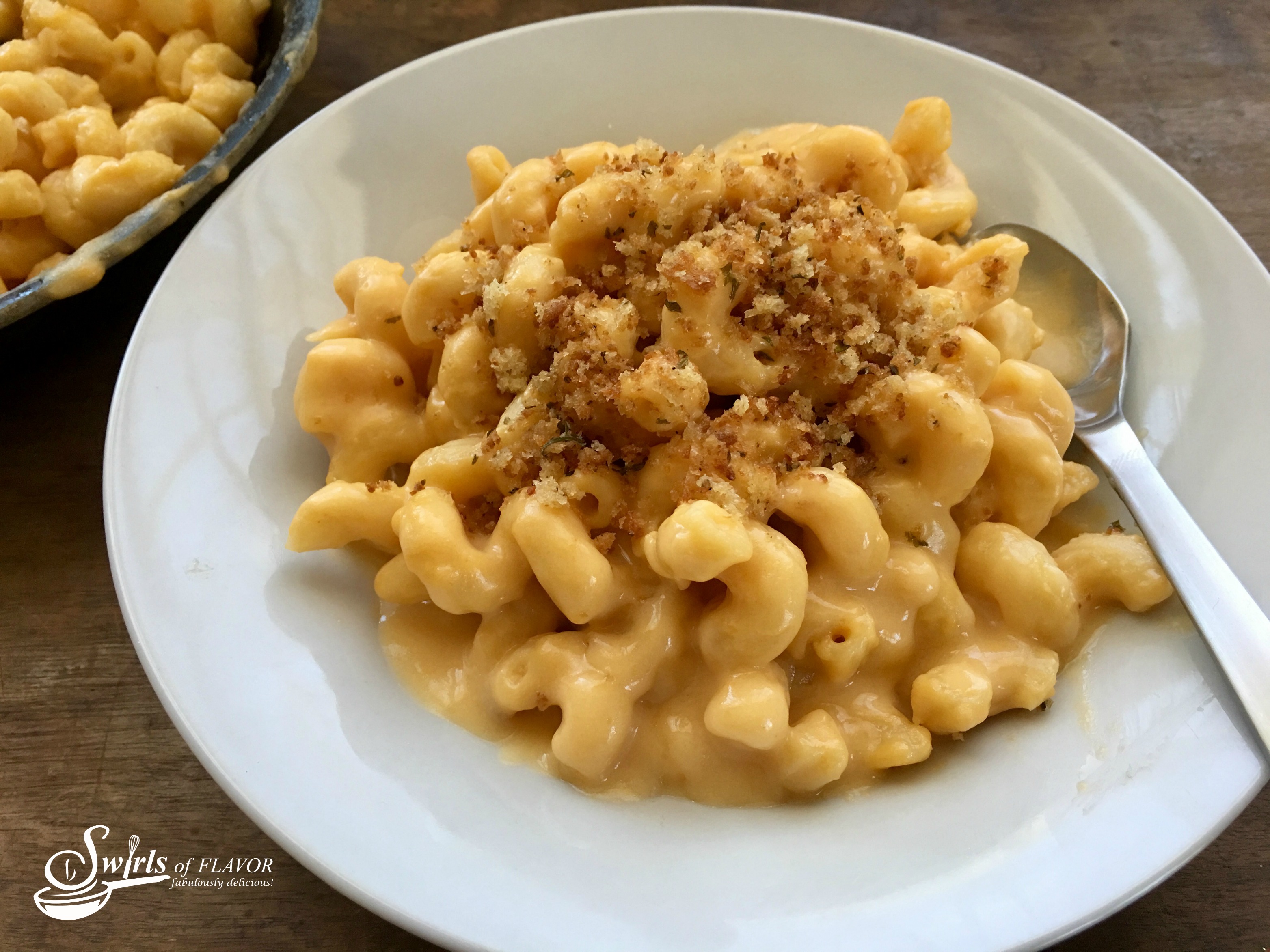 Easy Mac
I have an admission to make. Back in the day, I actually loved the macaroni and cheese with the powdered cheese mix that came in that blue box.
Sorry to disappoint y'all. But have no fear! I upgraded to the blue box with the prepared cheese sauce in the pouch that you just squeezed into the pasta, so easy!
Yes, it's true and I just cannot deny my past anymore. But I did finally come to my senses and began making my mac and cheese from scratch. That way I could control what goes into my bowl of cheesy pasta. And you should too!
I've made it super easy for you with this creamy stovetop mac and cheese recipe with the pasta, cheesy sauce and breadcrumb topping all cooked together in the same skillet!
And the secret ingredient that makes it rich and delectable? It's evaporated milk!
I promise that my one pot mac and cheese with evaporated milk will make you forget all about that boxed pasta with the powdered cheese.
Oh, and did I mention the finishing touch? Buttery breadcrumbs. You're welcome!
So please forgive me for my past shortcomings...but we all have to start somewhere!
Luckily we are all ending up in a really good place together with a fabulous homemade One Pot Mac and Cheese that will be a family favorite in no time at all!
Swirls of Flavor Recipe Tips
Prefer a milder cheese? Use mild shredded cheddar cheese
Stir in crumbled crispy bacon
Use seasoned Italian breadcrumbs
I make commissions for purchases made through links in this post.
Ingredients you will need to make this recipe
butter
seasoned panko breadcrumbs
water
cavatappi pasta
spicy brown mustard
extra sharp cheddar cheese
Related Recipes
One Pot Recipes are the answer to your busy weeknight dinner dilemma. You will want to add these One Pot Recipes to your menu lineup and take the stress out of dinner from now on!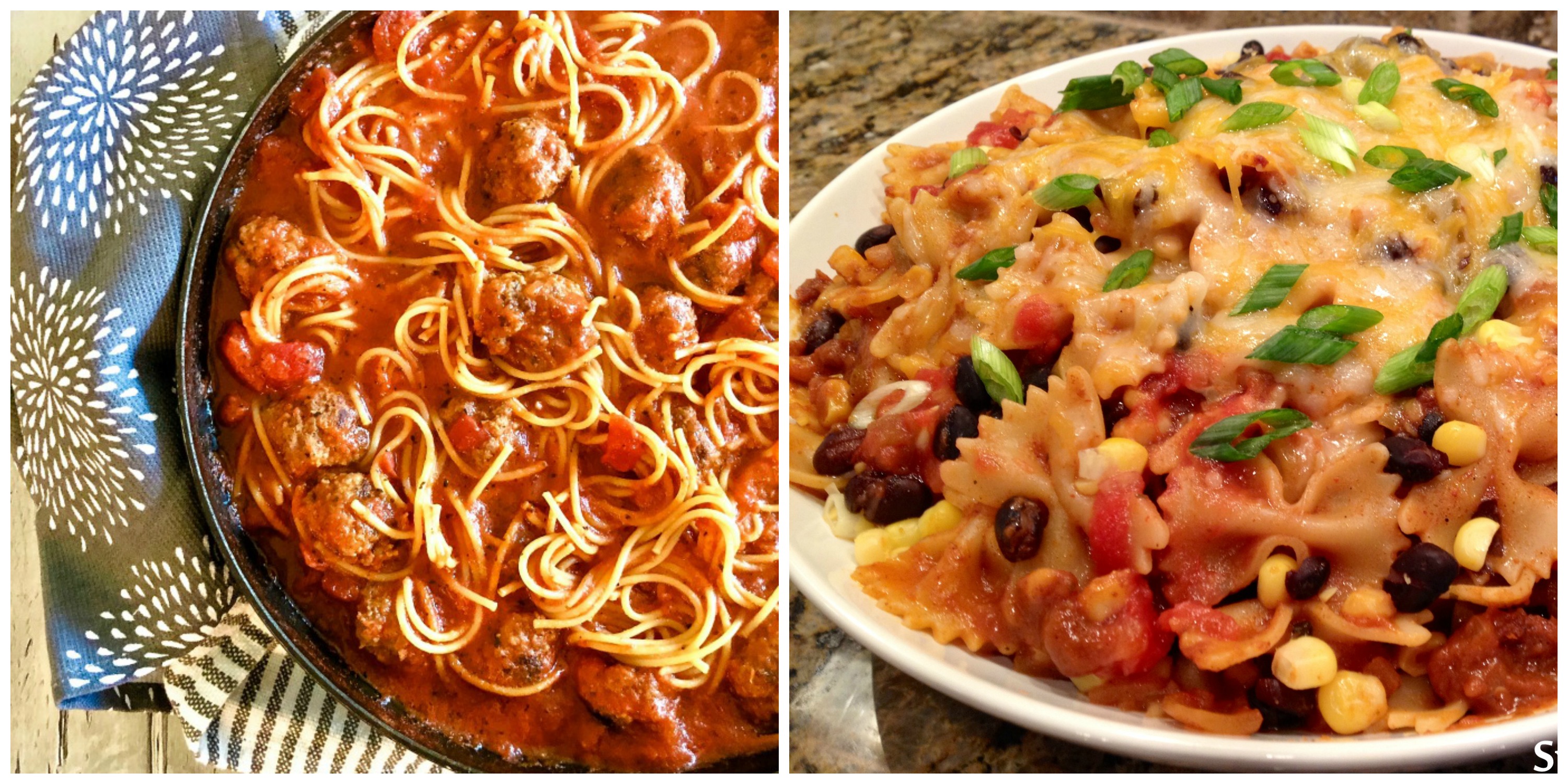 One Pot Spaghetti and Meatballs is an easy recipe that cooks pasta and homemade meatballs together in a delicious tomato sauce. Ground beef meatballs simmer in a quick homemade sauce and then uncooked spaghetti is added. Skillet spaghetti and meatballs finishes cooking together in one pot for a saucy pasta dinner!
One Pot Mexicali Bowtie Pasta is seasoned with salsa, chili powder and cumin, giving it a Mexican flair. Top it with melty cheese and fresh scallion and all you'll need is cornbread and a salad and you're all set for a Mexican fiesta!
One Pot Creamy Tomato Basil Pasta makes it's own velvety tomato sauce and gets it's creaminess from a secret ingredient….cream cheese!
One Pot Chili Mac and Cheese is an easy dinner recipe kids will love and it's filled with cheesy saucy goodness and made in just one pot!
Change up your Taco Tuesday this week with our One Pot Taco Beef and Rice. A taco skillet recipe that's quick, easy and delicious will soon become a family favorite taco alternative. With all the flavors of a taco, you can eat this easy taco rice recipe in a bowl or in taco shells.
One Pot Pepperoni Pizza Pasta is an easy recipe for pasta that cooks together with pepperoni slices, pizza sauce and diced tomatoes with a cheesy mozzarella topping! All the flavors of pepperoni pizza in a bowl of pasta with just 5 ingredients + water!
One Pot Mac 'N Cheese
One Pot Mac 'N Cheese is an easy recipe for a busy weeknight dinner. Homemade mac and cheese is so easy to make when the pasta, cheesy sauce and breadcrumb topping are all cooked together in the same skillet!
Instructions
Melt butter over medium-high heat in large skillet with tall sides.

Add breadcrumbs and cook until golden and toasted. Reserve.

In same skillet bring water, evaporated milk. cavatappi, Worcestershire and mustard to a boil over medium-high heat. Cook, uncovered, 12 minutes or until pasta is tender, stirring occasionally.

Stir in shredded cheddar and cook on low, stirring occasionally, until cheese is melted and a sauce has formed.

Sprinkle with reserved toasted breadcrumbs.
Nutrition
Calories:
524
kcal
|
Carbohydrates:
50
g
|
Protein:
23
g
|
Fat:
26
g
|
Saturated Fat:
16
g
|
Cholesterol:
74
mg
|
Sodium:
552
mg
|
Potassium:
231
mg
|
Fiber:
2
g
|
Sugar:
3
g
|
Vitamin A:
741
IU
|
Vitamin C:
1
mg
|
Calcium:
443
mg
|
Iron:
2
mg
First Published: April 10, 20187.. Last Updated: September 2, 2020
This recipe is featured on Meal Plan Monday and Weekend Potluck