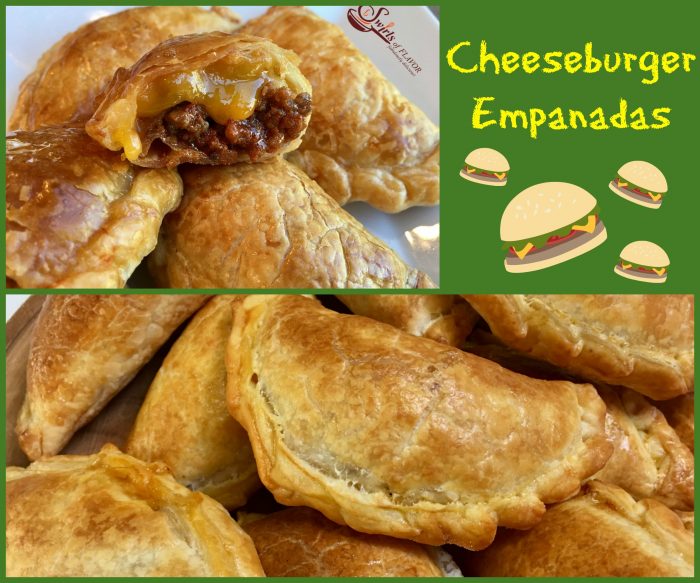 National Empanada Day is April 8th! Kids will love celebrating this national food holiday this year with Cheeseburger Empanadas. Filled with a ground beef, ketchup and cheese filling, these empanadas are the perfect kid friendly snack! Traced back to Spain these pockets of deliciousness have many versions from places such as Argentina, Chile, Colombia, Italy, India, Venezela and even the Philippines. Defined as a pastry turnover filled with a variety of savory ingredients, our empanadas today have an American flair with our all-American beloved cheeseburger flavors as their filling. Feel free to stir in a little hamburger relish for an extra punch of flavor! Baked Cheeseburger Empanadas are healthier than their deep fried counterpart, and we all love healthier especially when it tastes so fabulous!
Cheeseburger Empanadas
1/2 pound ground beef
1/3 cup ketchup
1 Tbs. packed brown sugar
1 Tbs. hamburger relish, optional
1/4 tsp. kosher salt
1/2 cup shredded cheddar cheese, divided
1 pkg. (11.6 ounces) frozen dough for turnovers pastries, thawed, Goya brand
1 egg, lightly beaten
1.Preheat oven to 425F.
2. Brown beef in a non-stick skillet over medium-high heat; drain any excess fat drippings.
3. Stir in ketchup, brown sugar relish (if desired) and kosher salt. Heat until sugar has dissolved, about 1 minute.
4. Remove from heat and let mixture cool slightly.
5. Stir in 1/4 cup shredded cheddar cheese.
6. Place one piece of dough on lightly floured surface. Arrange about 1 Tablespoon of beef mixture in center of bottom half of dough about 1-inch from edges. Top with 1 teaspoon of shredded cheddar cheese.
7. Brush edges of dough with cold water. Fold top half of dough over filling and seal. Arrange on baking sheet and repeat with remaining dough, filling and cheese.
8. Brush tops and sides of empanadas with lightly beaten egg and bake 20 minutes or until golden.
Makes 12 empanadas.