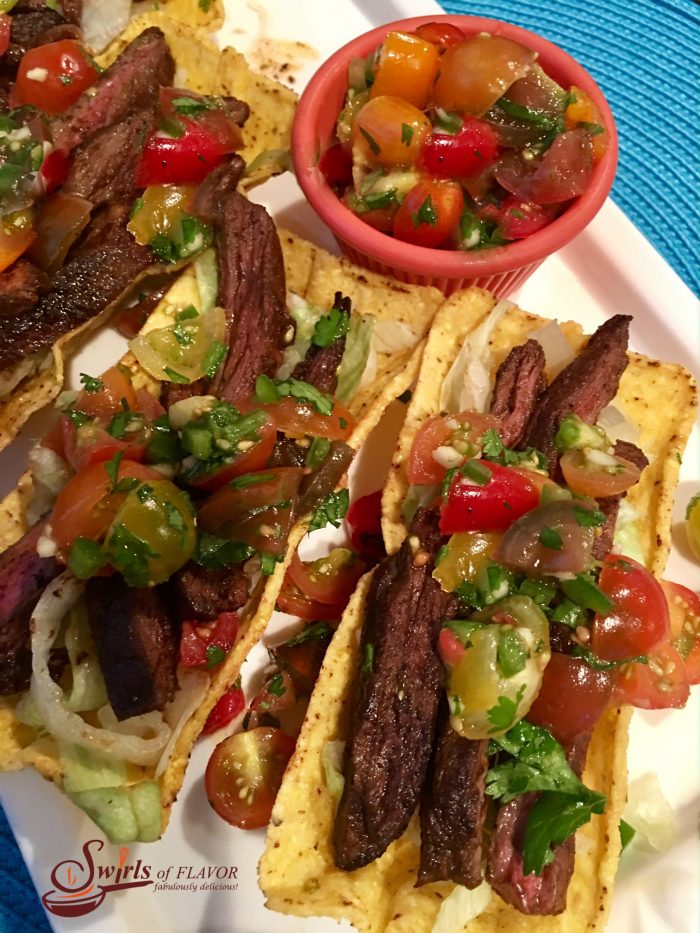 What's your favorite cut of beef? Mine is skirt steak! Have you ever tried it? This long thin flat piece of beef is packed with flavor and has become quite the popular menu item of late. You may be familiar with the skirt steak served up as fajitas on a menu, a common way to prepare this delicious steak, and now Spiced Skirt Steak Tacos will soon become an item on your family's main menu! Seasoned with a few basic spices and grilled to your desired liking, slices of juicy skirt steak are nestled in a crunchy corn shell and then topped with a lime-scented mixture of fresh heirloom tomatoes. Spiced Skirt Steak Tacos are a party in your mouth with a burst of flavor in every bite!
Spiced Skirt Steak Tacos
2 tsp. smoked paprika
1 1/2 tsp. garlic powder
1 1/2 tsp. kosher salt
1 tsp. ground cumin
1 tsp. ancho chile pepper
1 lb. skirt steak
1 recipe Fresh Heirloom Tomato Salsa or your favorite fresh salsa
8 flat bottom corn taco shells
Preheat grill for direct het grilling.
Combine paprika, garlic powder, kosher salt, cumin and ancho chile powder. Rub both sides of steak with spice mixture and let stand 15 minutes.
Meanwhile prepare Fresh Heirloom Tomato Salsa recipe and reserve.
Grill steak to desired doneness (145 degrees for medium-rare) and let stand 5 minutes. Slice.
Arrange sliced steak in taco shells and top with reserved salsa.
Makes 4 servings.