Change up your Taco Tuesday this week with our Spiced Skirt Steak Tacos. Seasoned slices of juicy skirt steak are nestled in a crunchy corn shell and topped with a lime-scented fresh heirloom tomato salsa. Taco Tuesday never tasted so good!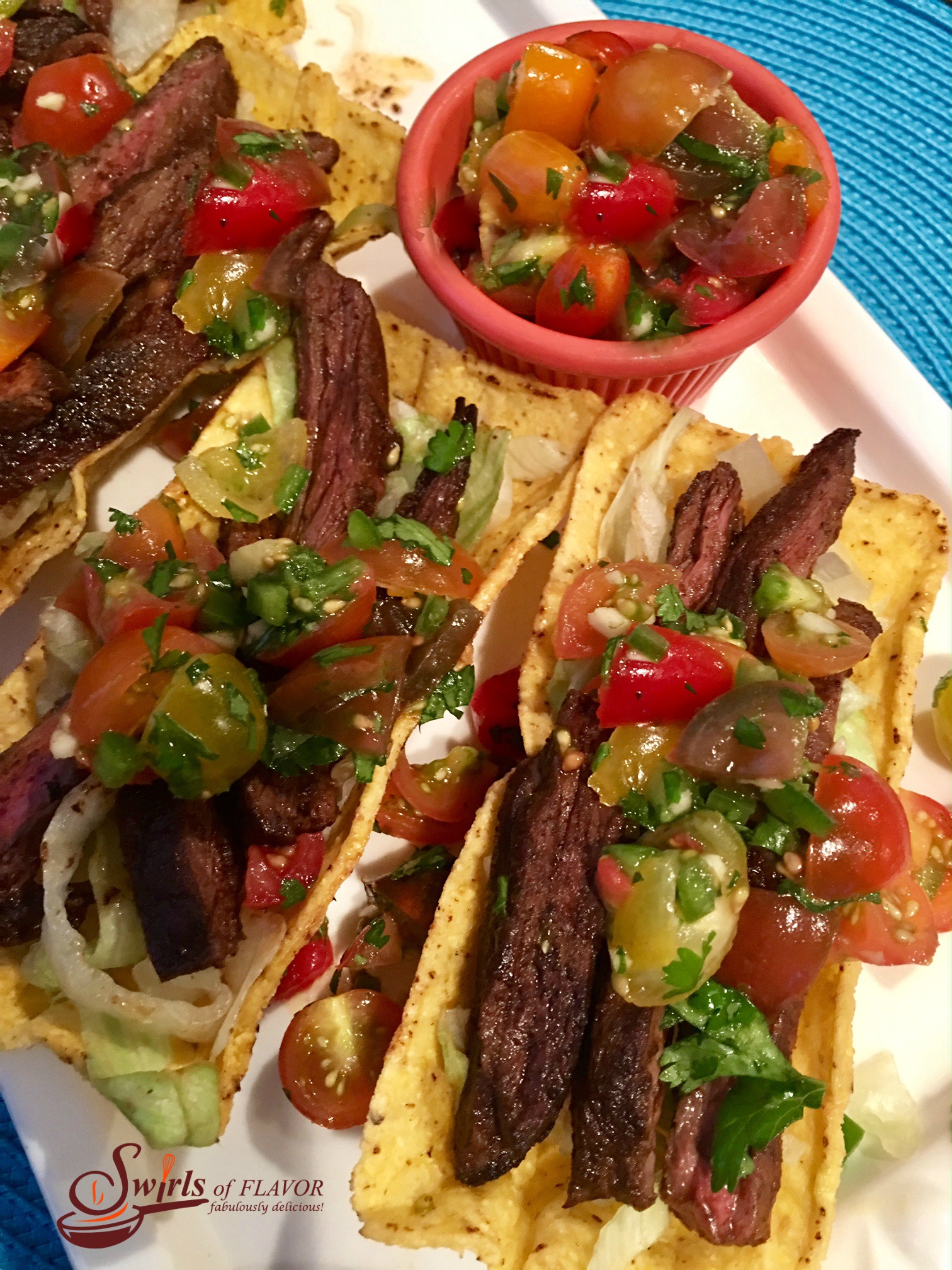 Steak Tacos Recipe
What's your favorite cut of beef? Mine is skirt steak! Have you ever tried it?
This long thin flat piece of beef is packed with flavor and has become quite the popular menu item of late.
You may be familiar with the skirt steak served up as fajitas on a menu, a common way to prepare this delicious steak, and now Spiced Skirt Steak Tacos will soon become an item on your family's main menu!
Steak is seasoned with an easy spice steak rub made with a few basic spices from your pantry and then grilled to your desired liking.
Slices of juicy skirt steak are nestled in a crunchy corn shell. I love the flat bottomed taco shells that don't tip over!
Then top with our homemade fresh heirloom tomatoes for the most incredible beef tacos.
Fresh Heirloom Tomato Salsa is an easy homemade salsa recipe that's bursting with fresh summertime flavors and a hint of jalapeno heat.
Trust me when I tell you that our grilled steak tacos are a party in your mouth with a burst of flavor in every bite! So fire up the grill, it's taco time!
As an Amazon Associate I earn from qualifying purchases.
Be sure to visit the Swirls of Flavor Amazon Storefront for GG's personal kitchen recommendations!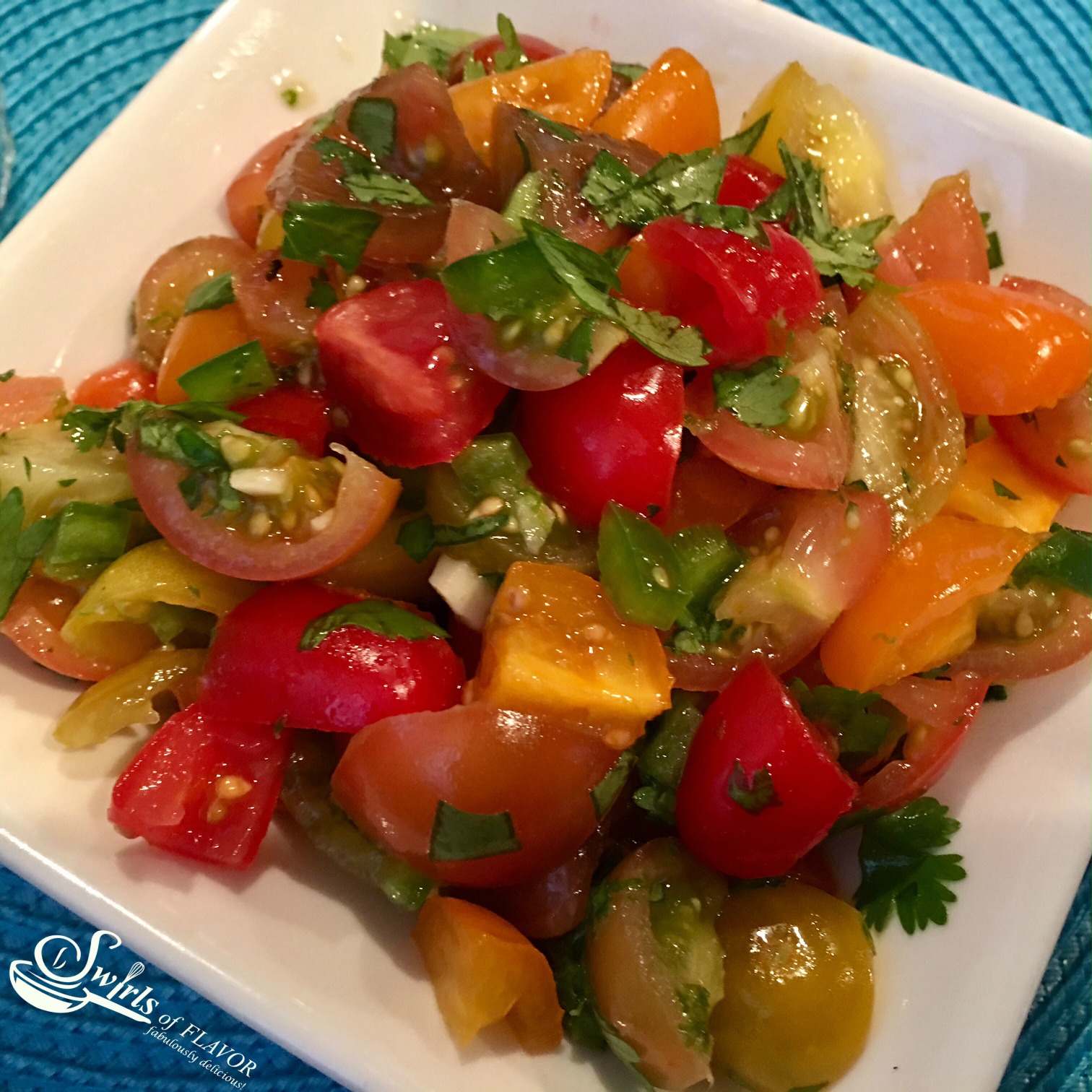 Taco Toppings
Our homemade tomato salsa is all you really need to top off our steak tacos, but if you're looking to pile them high, these steak taco toppings will do the trick and taste mighty fine too:
avocado
cilantro
guacamole
jalapenos (fresh or pickled)
roasted fresh corn
salsa verde
sour cream
scallions
shredded cheese
Substitutes for skirt steak
Skirt steak does tend to be a bit pricey. I personally think it is worth every penny but sometimes even I opt for another cut of beef. And that's perfectly okay.
There are several skirt steak alternatives that will also taste amazing as a skirt steak substitute for tacos.
Sirloin steak tacos are absolutely delicious too and a flank steak will work well in this recipe also.
You might want to give cube steak tacos a try as well as ribeye steak tacos.
Hop on over to the Certified Angus Beef web site where you can learn about the many cuts of beef and the best choices of beef for grilling.
Steak Tacos FAQ's
What cut of beef is best for tacos?
Typically made from skirt steak or flank steak, carne asada is the grilled beef that is thinly sliced and used in making tacos.
What is skirt steak?
Skirt steak is a long flat cut of beef, from the plate or underside of the cow. Skirt steak is known for its rich beefy flavor.
Are skirt steak and flank steak the same?
Skirt steak and flank steak both come from the underside of the cow but differ in flavor and texture. Skirt steak has a more intense beef flavor than flank steak. Skirt steak also contains more tough muscles than flank steak and therefore is best when cooked to medium-rare or rare.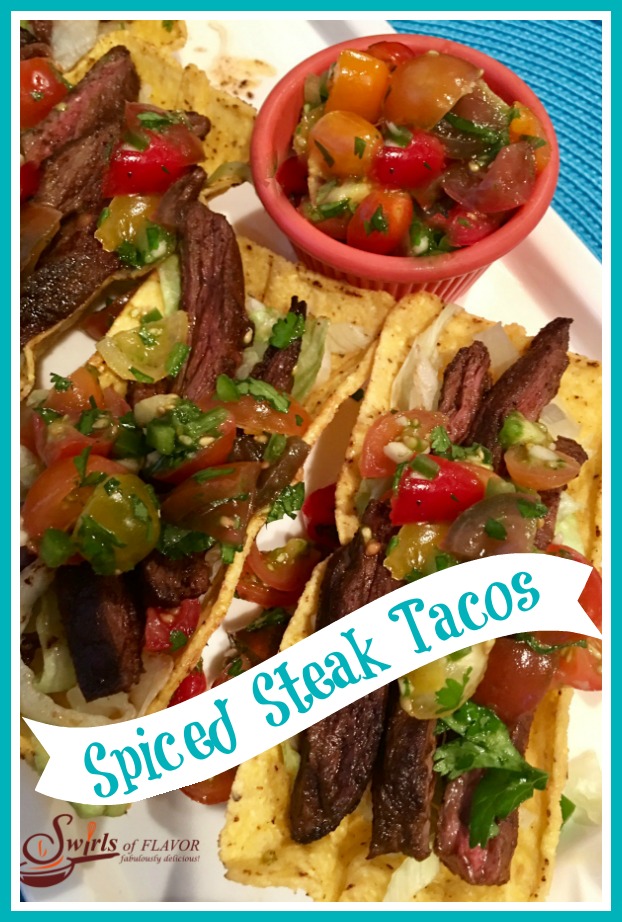 Swirls of Flavor Recipe Tips
Serve your grilled steak tacos with your favorite taco toppings
Wrap up the steak filling in a soft taco shell and make it a taco wrap
Make chimichurri steak tacos with our homemade chimichurri sauce
Substitutions
You can substitute boneless skinless chicken breasts for the skirt steak
You can substitute boneless skinless chicken thighs for the skirt steak
Other cuts of steak, such as flank steak, ribeye steak, cube steak and sirloin steak can be substituted for the skirt steak.
Ingredients for grilled tacos
smoked paprika
garlic powder
kosher salt
ground cumin
ancho chile pepper
skirt steak
Fresh Heirloom Tomato Salsa or your favorite fresh salsa
flat bottom corn taco shells
Decorations for a taco party
Taco time is a good time for a taco party! Tacos are the best party food and always put me in a fiesta state of mind!
If you decide to actually go all out and have a taco party, you definitely must start with hanging this Taco About A Party Banner (this makes me crack up every time!).
Then add a colorful Serepe Plastic Tablecloth, or this set of hand woven serape table runners in festive colors (or both!) and these adorable Fiesta Paper Striped Party Straws with Tacos, Sombreros and more on them.
A taco serving plate with all the sections is an ideal way to serve all your favorite toppings and be sure to don your let's taco about it t-shirt (again, cracking up here!) and let the fiesta begin!
Taco Recipes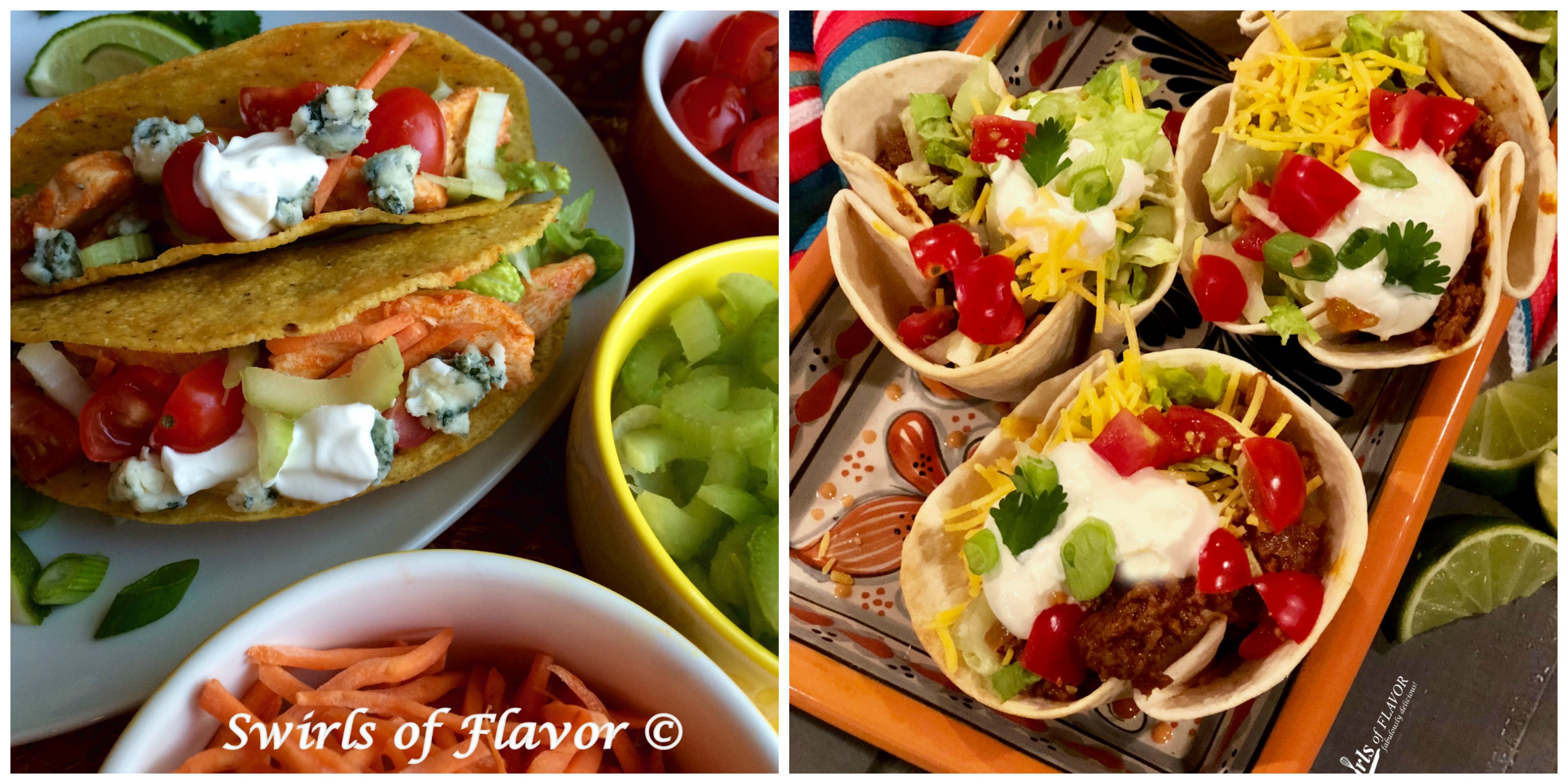 Tacos and buffalo chicken combine to make Buffalo Chicken Tacos! Tortillas are filled with a saucy spicy buffalo chicken topped with celery, carrots, tomatoes and creamy Roquefort blue cheese and combine two favorite foods! An easy recipe for your Taco Tuesday dinner!
Beef Taco Cups is an easy recipe that will soon become your favorite and fun way to celebrate Taco Tuesday! Tortillas bake into cute crunchy cups that are filled with our saucy beef mixture and taco toppings. So much fun for the kids!
Change up Taco Tuesday with Taco Stuffed Potatoes, a twist on the traditional taco. Tender fluffy potatoes are topped with a saucy beef mixture, your favorite taco toppings and a surprise crunch of corn chips! Ready in just 25 minutes, Taco Tuesday just got a facelift!
Oven Roasted Cauliflower Tacos is a vegetarian taco recipe that's easy to make, flavorful and nutritious. Cauliflower slow roasts to delicious goodness and then combines with mushrooms giving a meaty flavor to this meatless taco filling.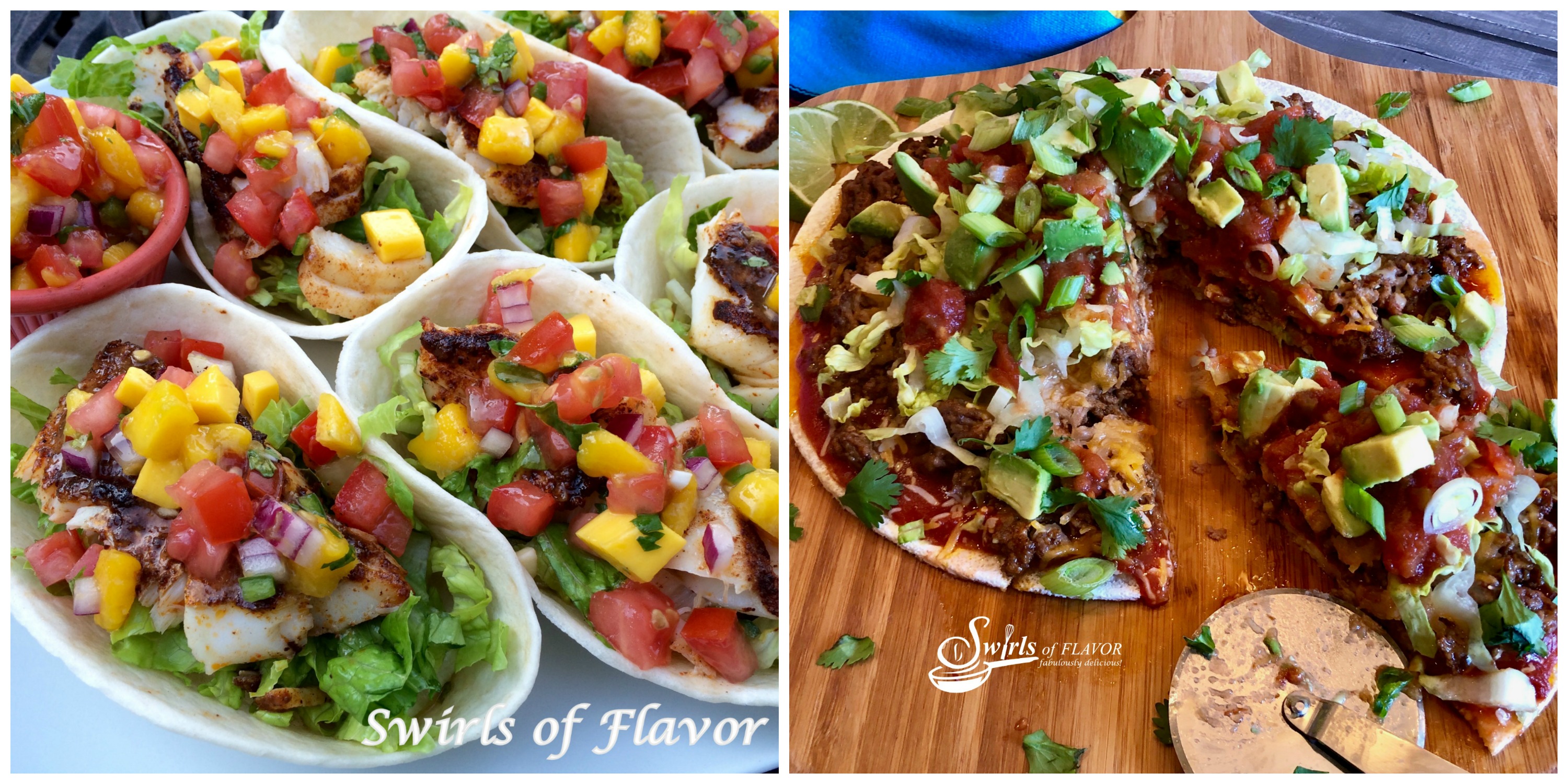 Season and grill your favorite fish (mine is cod!) and top with a fresh Mango Pico De Gallo. Fish Tacos With Mango Pico De Gallo will be bursting with tropical flavors on your Taco Tuesday!
Taco Pizza With Cauliflower Crust puts a delicious twist on Taco Tuesday! Our pizza has all the fillings of a taco on a healthy plant-based cauliflower crust for a fun taco dinner that will quickly become a family favorite.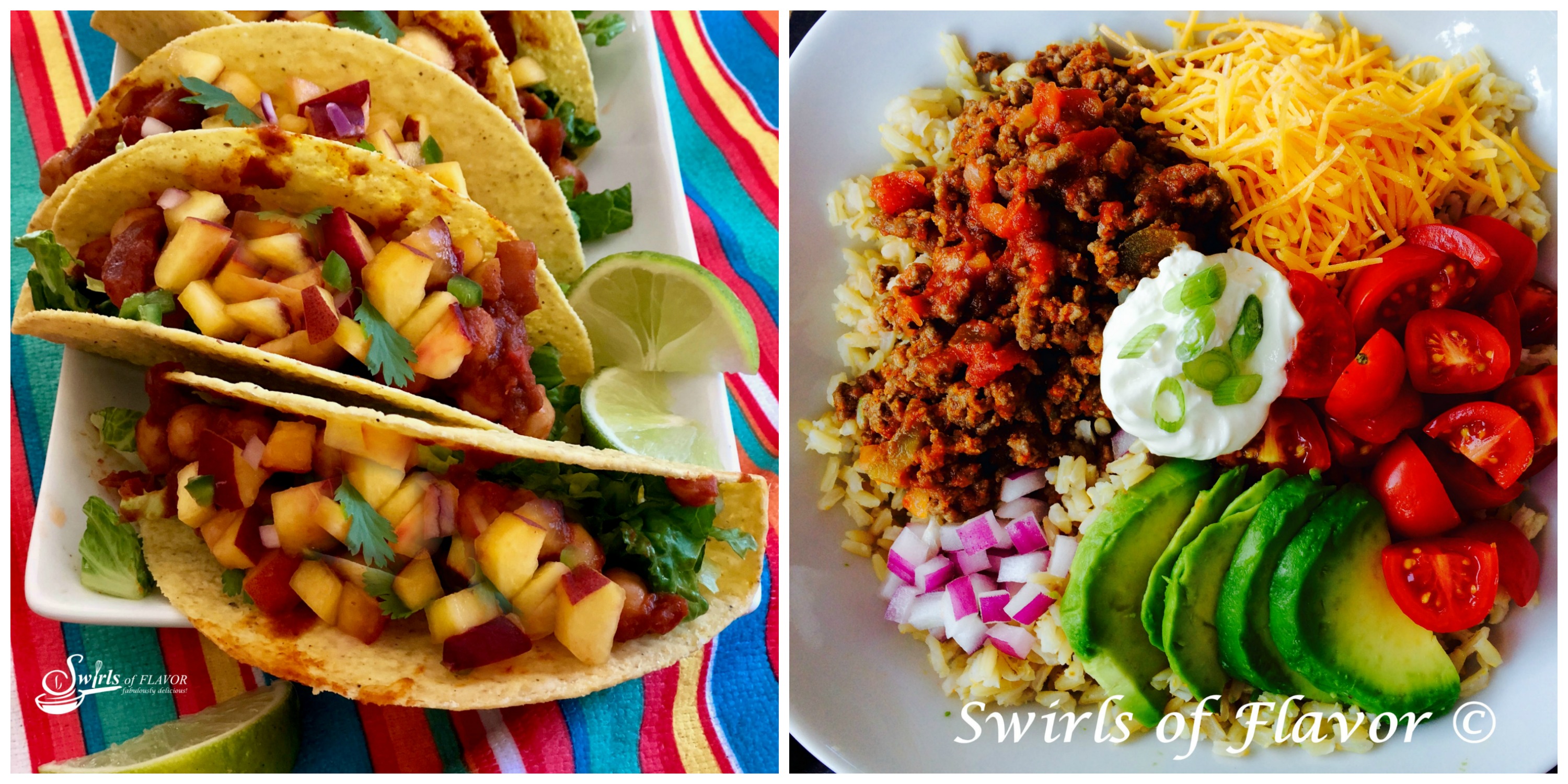 Brown Rice Taco Bowl is filled with all the flavors of a taco in a bowl. Our Taco Bowl is brimming with seasoned beef and salsa, creamy avocado, juicy tomatoes, cheddar cheese and red onion over good-for-you brown rice. And you can make it Whole30 with just three easy substitutions!
What to make it you're eating vegan and it's Taco Tuesday? Vegan Chickpea Tacos With Peach Salsa is an easy vegan recipe that's packed with the protein of chickpeas and topped with a lime-scented fresh peach salsa! Now you can eat a plant based diet and have your tacos too!
Spiced Skirt Steak Tacos
Change up your Taco Tuesday this week with our Spiced Skirt Steak Tacos.
Seasoned slices of juicy skirt steak are nestled in a crunchy corn shell and
topped with a lime-scented fresh heirloom tomato salsa. Taco Tuesday never
tasted so good!
As an Amazon Associate I earn from qualifying purchases.
I earn a commission from Instacart from qualifying purchases.
Instructions
Preheat grill for direct heat grilling.

Combine paprika, garlic powder, kosher salt, cumin and ancho chile powder. Rub both sides of steak with spice mixture and let stand 15 minutes.

Grill steak to desired doneness (145 degrees for medium-rarand let stand 5 minutes. Slice.

Arrange sliced steak in taco shells and top with reserved salsa.
Nutrition
Calories:
309
kcal
|
Carbohydrates:
19
g
|
Protein:
27
g
|
Fat:
14
g
|
Saturated Fat:
5
g
|
Cholesterol:
71
mg
|
Sodium:
857
mg
|
Potassium:
510
mg
|
Fiber:
3
g
|
Sugar:
1
g
|
Vitamin A:
1556
IU
|
Vitamin C:
1
mg
|
Calcium:
47
mg
|
Iron:
4
mg
First Published: July 11, 2017... Last Updated: February 24, 2023 for better readability and user experience