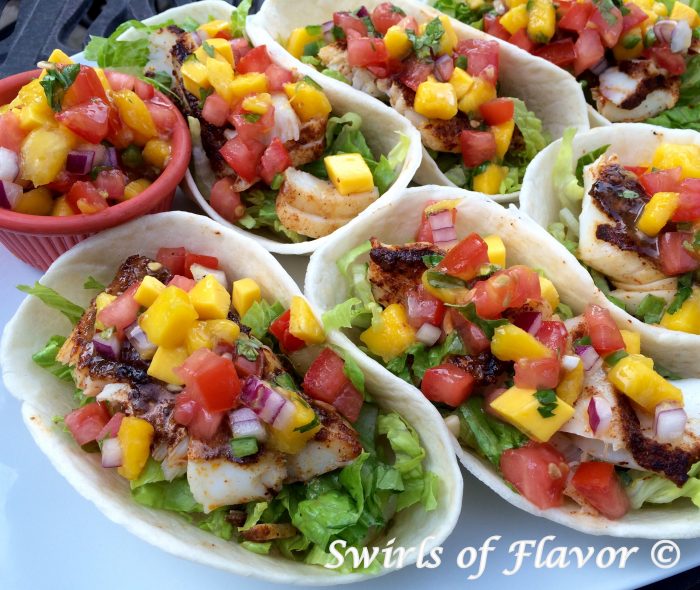 It's Taco Tuesday! Season and grill your favorite fish (mine is cod!) and top with a fresh Mango Pico De Gallo and your Fish Tacos will be bursting with tropical flavors! There are many varieties of mangoes and you will always find at least one available throughout the year. Their flavors can be creamy, sweet, rich, spicy and/or fruity. My friends at the Mango Board describe each variety for you here Choosing Mango Varieties. Learn How to Choose A Mango! Learn How to Cut A Mango! Thank you Mango Board at www.mango.org!
Fish Tacos With Mango Pico De Gallo
Mango Pico De Gallo:
1 cup chopped mango
1 cup chopped tomato
1 jalapeno, seeded and minced
2 Tbs. minced red onion
2 Tbs. chopped cilantro
2 Tbs. lime juice
1 clove garlic, minced
1 tsp. olive oil
1/2 tsp. kosher salt
Fish:
1 lb. cod fillets
1 tsp. chili powder
1/2 tsp. ground cumin
1/2 tsp. garlic powder
1/2 tsp. kosher salt
3 cups shredded lettuce
8 stand'n stuff soft tortillas taco bowls or taco shells
In bowl combine mango, tomato, jalapeno, red onion cilantro, lime juice, garlic olive oil and kosher salt; set aside.
Generously oil grates of grill or use a fish grate or basket.
Preheat grill for direct heat grilling*.
Season top side of fish with chili powder, cumin, garlic powder and kosher salt.
Cook, seasoned side down, 2 minutes. Turn and cook until fish flakes with a fork.
Fill taco boats or shells with shredded lettuce, top with fish and reserved Mango Pico De Gallo.
Makes 4 servings.
*No grill? No problem! Heat 1 Tbs. olive oil in large non-stick skillet over medium-high heat and cook fish, seasoned side down 2 minutes. Turn and cook until fish flakes with a fork.
TIP: Keep it simple or serve with your favorite taco toppings such as sliced avocado, sour cream, taco sauce, shredded cheese and lime wedges!