Our Pineapple Mango Popsicles recipe combines sweet mango with tropical pineapple and citrus lime for a mouthwatering homemade frozen dessert.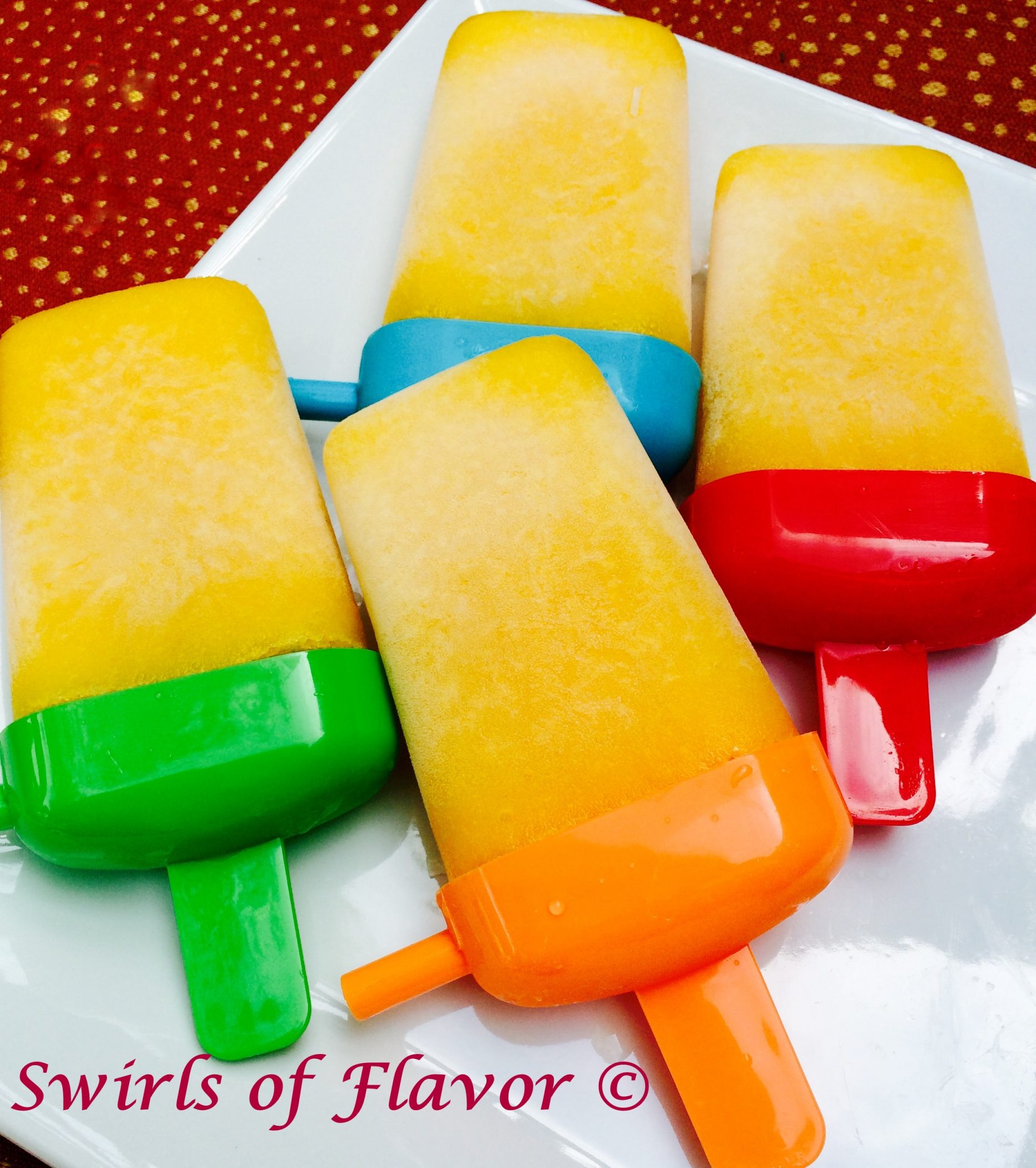 Mango Popsicles
With the northeast, and most of the country too, deep in a heat wave, Pineapple Mango Popsicles are the perfect cool-me-off frozen treat on a hot and humid summer day!
Combine the sweet buttery mango with the tart mouthwatering pineapple and a hint of tangy lime and you can't deny that that's a delicious marriage made in the kitchen!
A serving of mango is fat free, cholesterol free and sodium free. And this tropical juicy fruit contains over twenty vitamins and minerals!
No wonder the mango is known as a super food!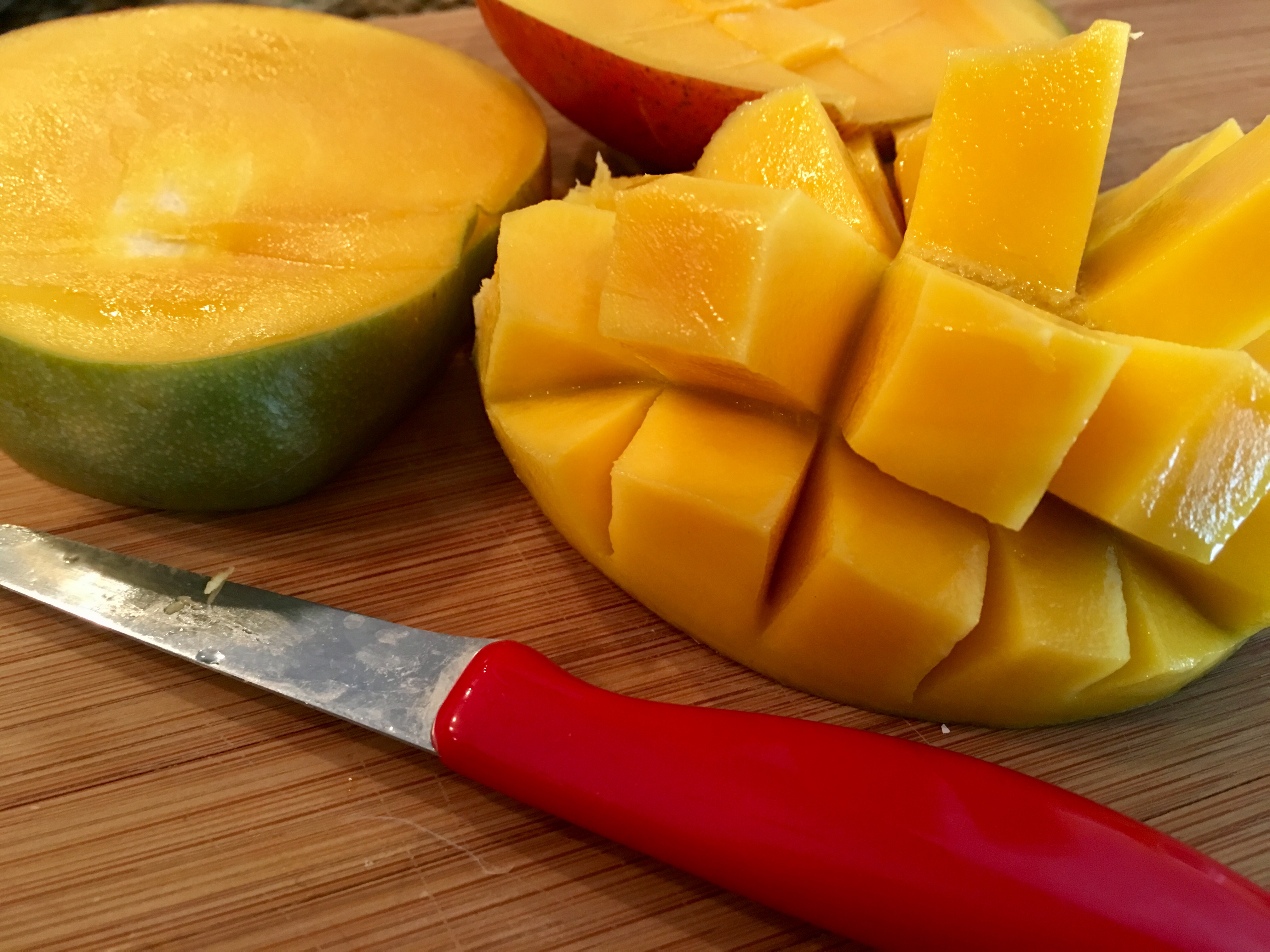 Now don't be intimidated by the mango. It's so easy to prep and cut up. Check this out for how to cut a mango.
A special shout out to the National Mango Board for my shipment of mangoes!
Pineapples are no slouch when it comes to nutrition either. Pineapples contain antioxidants such as vitamin C and beta-carotene.
They are also a good source of Vitamins B1 and B6, copper, zinc, folate and manganese. along with dietary fiber!
I'm all in favor of having myself some fruity ice pops and have to admit that I have difficulty eating just one.
I think it's time some nutritious Pineapple Mango Ice Pops, agree?
What's your favorite flavor ice pop? I bet these mango pops will be one of your new go-to frozen desserts this summer!
I know you need more frozen desserts recipes . It's hot and we all need to keep cool!
I make commissions for purchases made through links in this post.
Check out some of my favorite fun and colorful ice pop molds!

Swirls of Flavor Recipe Tips
Substitute orange juice for the lime juice
Freeze this mixture in an ice cube tray and add to your water or seltzer
After pureeing, add finely chopped mango for added texture
Chop up fresh mint leaves and stir in before freezing
Can I use frozen mango?
Yes, you can use frozen mango but be sure to thaw it first so that it blends up easily when you puree it.
How long does it take for popsicles to freeze?
It will take about 6 hours for homemade popsicles to freeze but, of course, this depends on your freezer.
I usually freeze ice pops overnight before serving them.
How to make homemade mango popsicles
Combine mango, pineapple bits and their juice, lime juice and superfine sugar in a blender.
Puree until the mixture is smooth and blended.
Pour into ice pop molds.
Freeze until solid, at least 6 hours or overnight.
Recipes made with tropical fruit
Are you loving tropical fruits these days? Then you'll definitely want to make these Swirls recipes and satisfy those cravings:
Frozen Dessert Recipes
Ingredients you will need to make this recipe
mango – sweet buttery flavor
pineapple tidbits in 100% pineapple juice – tangy tropical fruit
lime juice – adds citrus notes
super fine sugar – dissolves easily
Print
Pineapple Mango Popsicles
Pineapple Mango Popsicles combine fresh mango, pineapple and lime, the fresh flavors of summer, to create a frozen sweet treat to cool you off on those hot summer days! 
Ingredients
1

mango

, peeled, pitted and chopped, 1 1/2 cups

1

(20 ounces)

can pineapple tidbits in 100% pineapple juice

2

Tbs.

fresh lime juice

2

Tbs.

super fine sugar
Instructions
Combine mango, pineapple bits in their juice, lime juice and superfine sugar inblender.

Puree until the mixture is smooth and blended.

Freeze until solid, at least 6 hours or overnight.
Notes
Swirls of Flavor Recipe Tips
Substitute orange juice for the lime juice
Freeze this mixture in an ice cube tray and add to your water or seltzer
After pureeing, add finely chopped mango for added texture
Nutrition
Calories:
28
kcal
|
Carbohydrates:
7
g
|
Protein:
1
g
|
Fat:
1
g
|
Saturated Fat:
1
g
|
Sodium:
1
mg
|
Potassium:
43
mg
|
Fiber:
1
g
|
Sugar:
7
g
|
Vitamin A:
280
IU
|
Vitamin C:
11
mg
|
Calcium:
3
mg
|
Iron:
1
mg
First Published: August 1, 2015... Last Updated: June 10, 2021 for better readability and user experience