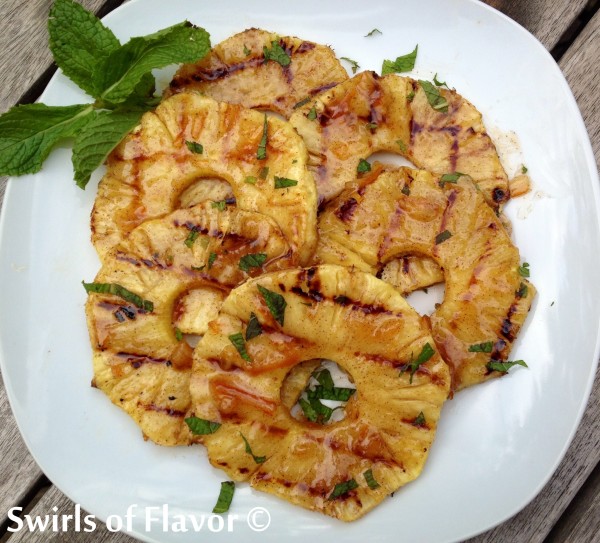 I'm in favor of anything cooked on the grill year round, but especially in the summer! The mouth puckering, yet sweet tasting, fresh pineapple becomes oh-so-good as it warms and caramelizes on the grill. Add the summer flavor of fresh mint and you will have the perfect addition to breakfast, brunch, lunch or dinner......or even on it's own as dessert....or better yet, over ice cream!
Wondering how to select the perfect pineapple? Just look for green fresh-looking leaves at the crown, a plump and heavy fruit with bright "eyes" and a fragrant sweet pineapple aroma at the stem end. The fruit will become juicier and softer if left out at room temperature for two days. To extend the life of the pineapple even further, refrigerate an additional three to five days. Although available year round, peak pineapple season is March through July. Time to select the perfect pineapple and fire up the grill for some Grilled Glazed Pineapple!
Grilled Glazed Pineapple
3 Tbs. orange marmalade
2 Tbs. butter
1/4 tsp. ground cinnamon
6 slices fresh pineapple, about 1 lb.
1 Tbs. chopped fresh mint leaves
1. Preheat the grill for direct heat grilling.
2. In microwave-safe dish, combine marmalade, butter and cinnamon. Microwave, in 30 second intervals, until butter is melted and mixture is heated through, stirring after each interval.
3. Brush one side of pineapple slices with some of the glazing mixture. Grill, glazed side down, until grill marks appear. Brush tops of pineapple slices with more of the glaze, turn, and continue grilling until heated through.
4. Remove from grill. Brush with any remaining glaze and sprinkle with fresh mint.
Makes 6 slices.