Our Grilled Pineapple Rum Chicken Recipe will transport you to a tropical paradise. Chicken breasts and pineapple slices are seasoned then topped with a pineapple preserves and rum glaze and grilled to perfection.
Pineapple Chicken Recipe
Have I told you lately how much I absolutely love the fresh flavors of summer? This season is a foodie's dream come true!
Just thinking about tasting the flavor of a juicy sweet fresh pineapple makes my mouth water!
And that is why my chicken rum recipe with pineapple preserves and fresh pineapple slices is one of my absolute favorites!
Made with boneless chicken breasts this glaze is also delicious on grilled chicken legs and boneless chicken thighs.
Grilling fresh pineapple slices (or canned pineapple slices, the choice is yours) with herbs and spices caramelizes them to perfection and gives them a depth of flavor that cannot be matched!
Add chicken and a pineapple rum sauce and you will definitely have a party of flavors at dinner this evening!
Our pineapple glaze for chicken will also taste absolutely delicious on pork, seafood and even beef! Grilled chicken legs in place of chicken breasts will be delicious too!
Your family will feel like they're in a tropical paradise when rum glazed chicken and fresh pineapple slices are on the menu! 
Our grilled pineapple chicken recipe is guaranteed to be a summertime favorite!
An easy grilled chicken recipe, you'll be firing up the grill over and over again for this recipe!
Love a bit of spice? Try our gilled chicken with chipotle recipe too!
and if you love grilling season as much as I do then you'll also want to add these easy grilling recipes to your summer menu lineup too!
I make commissions for purchases made through links in this post.
Love grilling, smoking, and bbq? Then you'll want to sign up for the Grill Masters Club and get a box of sauces, rubs, marinades, wood chips, new recipes, and grilling accessories delivered right to your door.
A great gift for Dad on Father's Day. Choose from 1 month, 3 months, 6 months or a 1 year subscription.
Be sure to visit the Swirls of Flavor Amazon Storefront for GG's personal kitchen recommendations!

What is the best substitute for rum?
Combining pineapple preserves with rum makes an easy two ingredient flavorful pineapple sauce for chicken.
But if you prefer not to use alcohol just substitute an equal amount of any of these juices for the rum:
pineapple juice
apple juice
orange juice

How to make pineapple chicken
Scroll down for the full recipe directions in the recipe card
Preheat grill
Combine pineapple preserves and spiced rum and microwave until heated through
Combine oregano, ancho and kosher salt and sprinkle ¼ teaspoon on pineapple slices then brush with pineapple glaze. Grill.
Sprinkle remaining spice mixture over chicken, and grill until juices run clear, brushing with remaining pineapple rum glaze
Top chicken with pineapple slices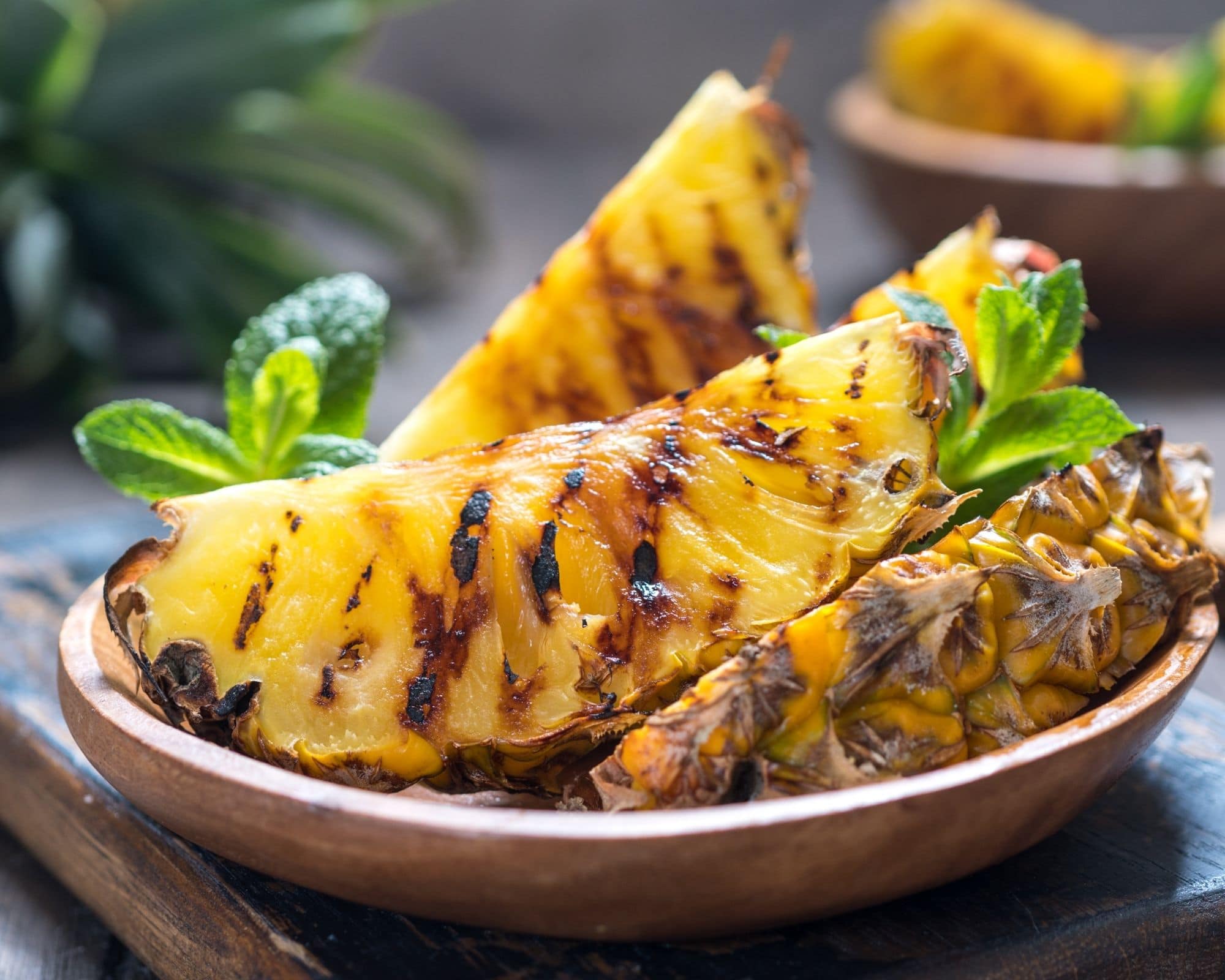 Swirls of Flavor Recipe Tips
Cut fresh pineapple in wedges, season and grill for a differrent look!
Garnish with fresh cilantro leaves
Substitutions
Replace rum with juice
Also delicious when made with boneless skinless chicken thighs
Chicken legs can replace the chicken breasts too
No fresh pineapple? No worries, just use canned pineapple slices
Replace the ancho chile powder with chili powder or a pinch of red pepper flakes
Ingredients you will need to make this recipe
pineapple preserves – forms a caramelized glaze
rum – adds delicious flavor
dried oregano – brings a savory herb note
ancho chile powder – for a hint of heat
kosher salt – makes the flavors pop
fresh pineapple slices – complement the pineapple glaze
boneless skinless chicken breasts – delicious when grilled
Recipes With Pineapple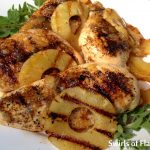 Print
Grilled Pineapple Chicken Recipe
Our Grilled Pineapple Chicken Recipe will transport you to a tropical paradise. Chicken breasts and pineapple slices are seasoned then topped with a pineapple preserves and rum glaze and grilled to perfection. 
Instructions
Preheat grill for direct-heat grilling.

In small microwave-safe bowl combine pineapple preserves and spiced rum. Microwave until heated through, 1-2 minutes, depending on wattage of your microwave; stir and reserve.

In another small bowl combine oregano, ancho and kosher salt.

Season pineapple slices with 1/4 tsp. spice mixture. Brush with 2 Tbs. pineapple rum glaze. Grill until caramelized and heated through, turning once, 2-3 minutes. Reserve.

Season chicken breasts with remaining spice mixture. Grill chicken until juices run clear and meat thermometer reads 165F, turning once, and brushing with remaining pineapple rum glaze during last 5-7 minutes of grilling.

Top chicken with pineapple slices.
Notes
 Swirls of Flavor Recipe Tips
Replace rum with juice
Also delicious when made with boneless skinless chicken thighs
Garnish with fresh cilantro leaves
No fresh pineapple? No worries, just use canned pineapple slices
Replace the ancho chile powder with chili powder or a pinch of red pepper flakes
Nutrition
Calories:
331
kcal
|
Carbohydrates:
47
g
|
Protein:
25
g
|
Fat:
3
g
|
Saturated Fat:
1
g
|
Cholesterol:
72
mg
|
Sodium:
385
mg
|
Potassium:
600
mg
|
Fiber:
3
g
|
Sugar:
33
g
|
Vitamin A:
270
IU
|
Vitamin C:
65
mg
|
Calcium:
40
mg
|
Iron:
1
mg
First Published: June 7, 2019... Last Updated: May 4, 2022 for better readability and reader experience