You don't need an ice cream maker to make our peaches n cream ice cream recipe! Homemade Peach Ice Cream is an easy 4 ingredient recipe for no churn ice cream made with fresh juicy peaches and a hint of vanilla.
Peaches and Cream Ice Cream
I don't know about you but I'll never turn down a bowl of Homemade Peach Ice Cream.
Our no churn ice cream is made with ripe juicy peaches, cream, sweetened condensed milk and a hint of vanilla. Every spoonful is a taste of pure summer!
When there's no ice cream maker involved, you can count me in on making some homemade ice cream because it doesn't get much easier than that to make our ice cream with sweetened condensed milk.
Just whip up heavy cream, fold in the remaining ingredients and freeze. Voila!
The hardest part of this easy ice cream recipe is waiting for the peaches n cream ice cream to freeze. Ice cream may take more than 6 hours to firm up depending on your freezer.
It's so hard to wait for that bowl of creamy deliciousness to be ready.
But, as they say, patience is a virtue. And, good things come to those who wait. Oy, so many sayings. Please just give me my bowl of ice cream with peaches! LOL
Make our no churn peach ice cream recipe and serve it at your next ice cream bar party!
Cool off with more frozen desserts here at Swirls!
And if you love ice cream, like I love ice cream, be sure to check out easy homemade ice cream sandwich cookie recipe!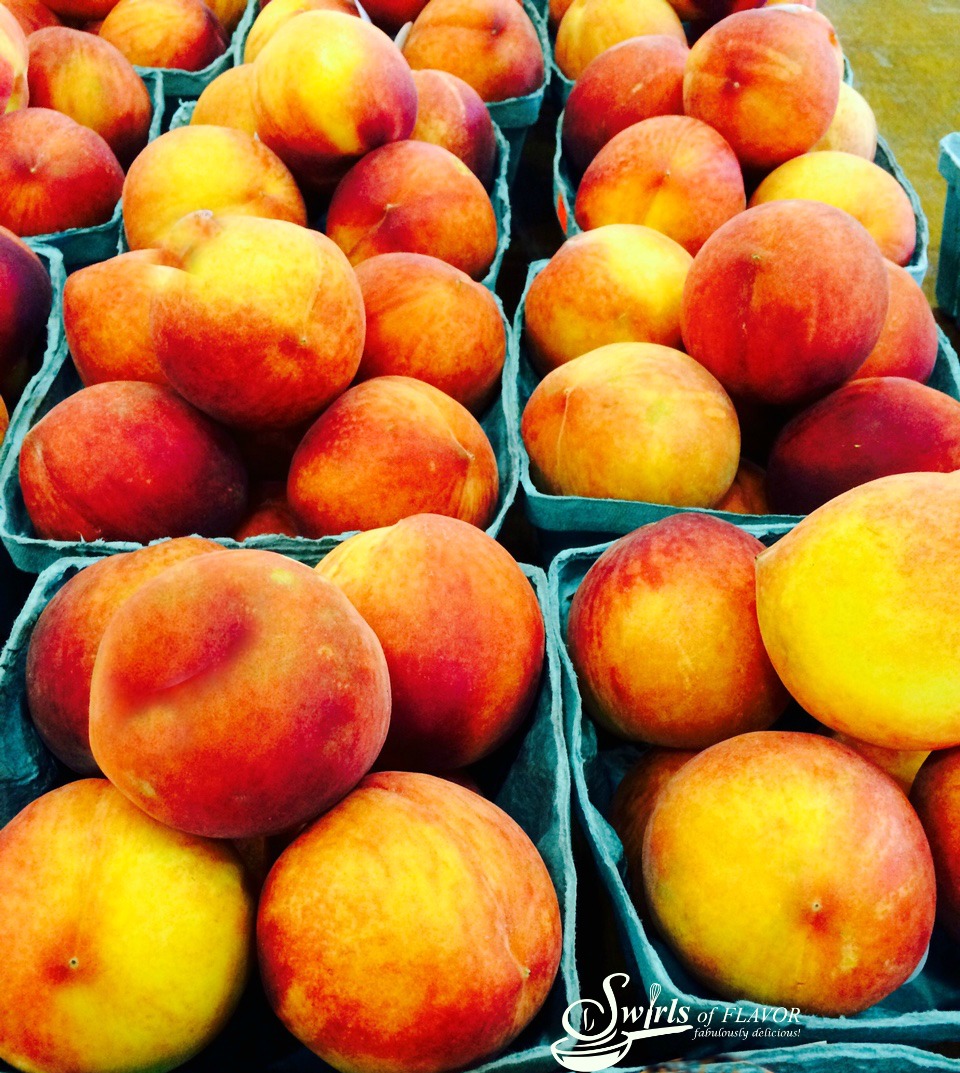 When is National Ice Cream Month?
In 1984, President Reagan signed a proclamation citing July as National Ice Cream Month and the third Sunday of the month as National Ice Cream Day.
What a great guy! He acknowledged that ice cream has a reputation of being the perfect dessert and snack food and is enjoyed by over 90 percent of the nation's population.
In his proclamation  President Reagan called ice cream a nutritious and wholesome food and asked for all people of the United States to observe these events with "appropriate ceremonies and activities."
So I'd say that making a homemade peach ice cream recipe is exactly what you should be doing to celebrate National Ice Cream Month! Agree? And you don't even need an ice cream maker! Bonus!
Here's a fun fact about the peach! The World's Greatest Peach Cobbler is made at The Georgia Peach Festival every year, measuring 11 feet by 5 feet and contains 75 gallons of peaches. Now that's a lot of cobbler!
I make commissions for purchases made through links in this post.
Be sure to visit the Swirls of Flavor Amazon Storefront for GG's personal kitchen recommendations!

How to make homemade peach ice cream
Scroll down for the full recipe instructions and ingredient amounts in the recipe card below
Beat heavy cream until stiff peaks form.
Fold in sweetened condensed milk, peaches and vanilla until blended.
Transfer to a freezer-safe container.
Freeze, covered, until firm.
Swirls of Flavor Recipe Tips
Add nectarines and make it a nectarine and peach ice cream
Substitute nectarines for the peaches
Stir in chopped fresh mint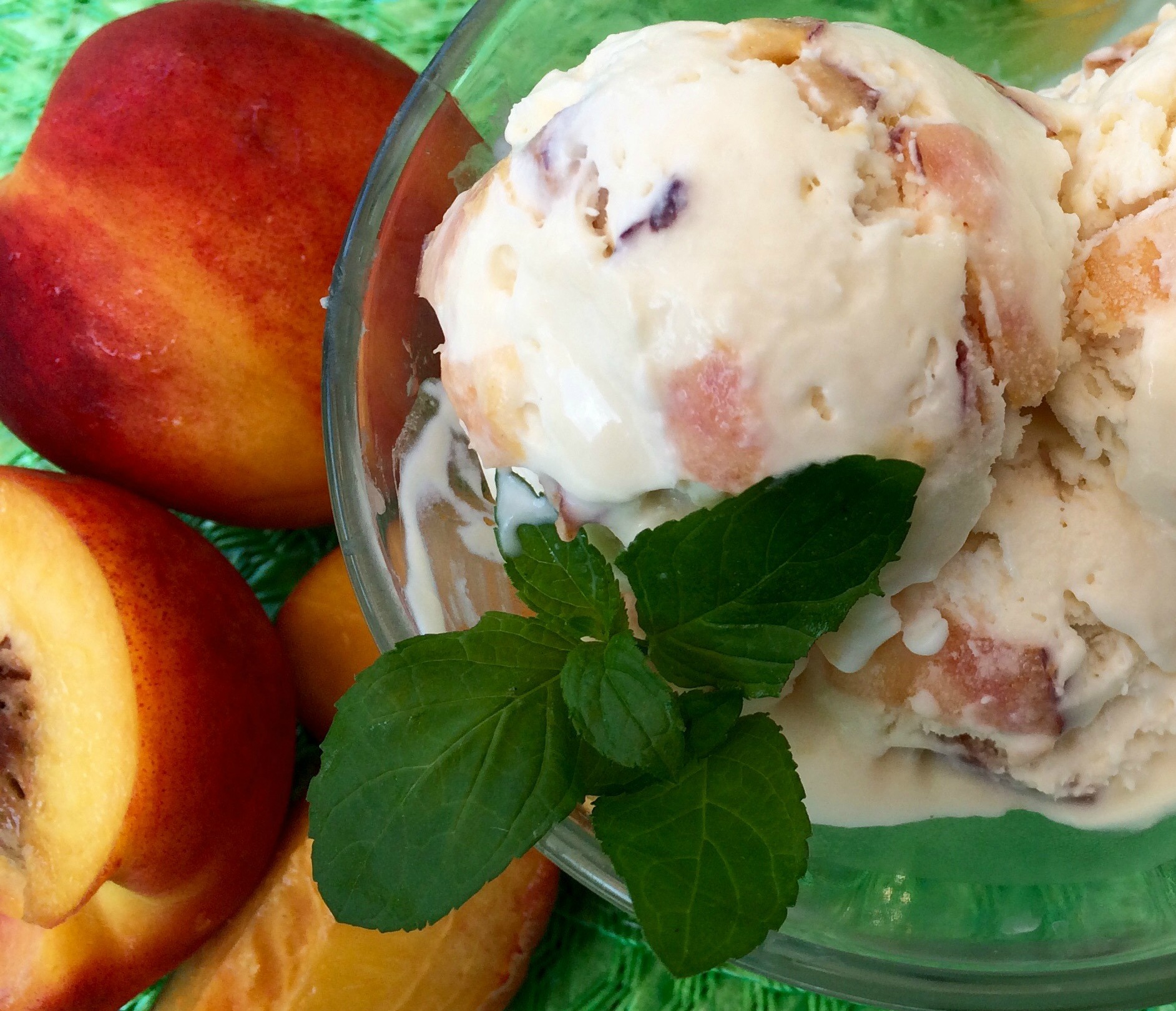 Peach FAQ's
What are the benefits of peaches?
Peaches are low in saturated fat.
Peaches are low in cholesterol.
Peaches are a good source of vitamin A, beta-carotene, vitamin C, vitamin E, vitamin K, vitamin B1, vitamin B2, vitamin B3, vitamin B-6 and folate.
A large peach is only 68 calories.
Peaches contain 2.6 grams of fiber and 1.5 grams of protein.
Peaches offer many minerals including calcium, copper, iron, manganese, magnesium, potassium, phosphorous and zinc.
Peaches are a nutrient-dense food.
Are peaches a healthy fruit?
Peaches can be considered a healthy fruit. They are low in calories and contain no saturated fat. Peaches are also packed with many health promoting vitamins, minerals and compounds.
When is peach season?
Peaches are best from June until the end of August.
Do you have to wash peaches?
Be sure to wash peaches only just before eating or using them. You should refrigerate peaches without washing them. Washing before refrigerating can promote spoilage and bacteria growth.

Ingredients to make no churn peach ice cream
heavy cream – makes a creamy base for your ice cream
sweetened condensed milk – gives sweetness and body to the homemade ice cream
ripe peaches – juicy peaches add summer time flavor
vanilla extract – adds balance and a lovely flavor
Easy Peach Recipes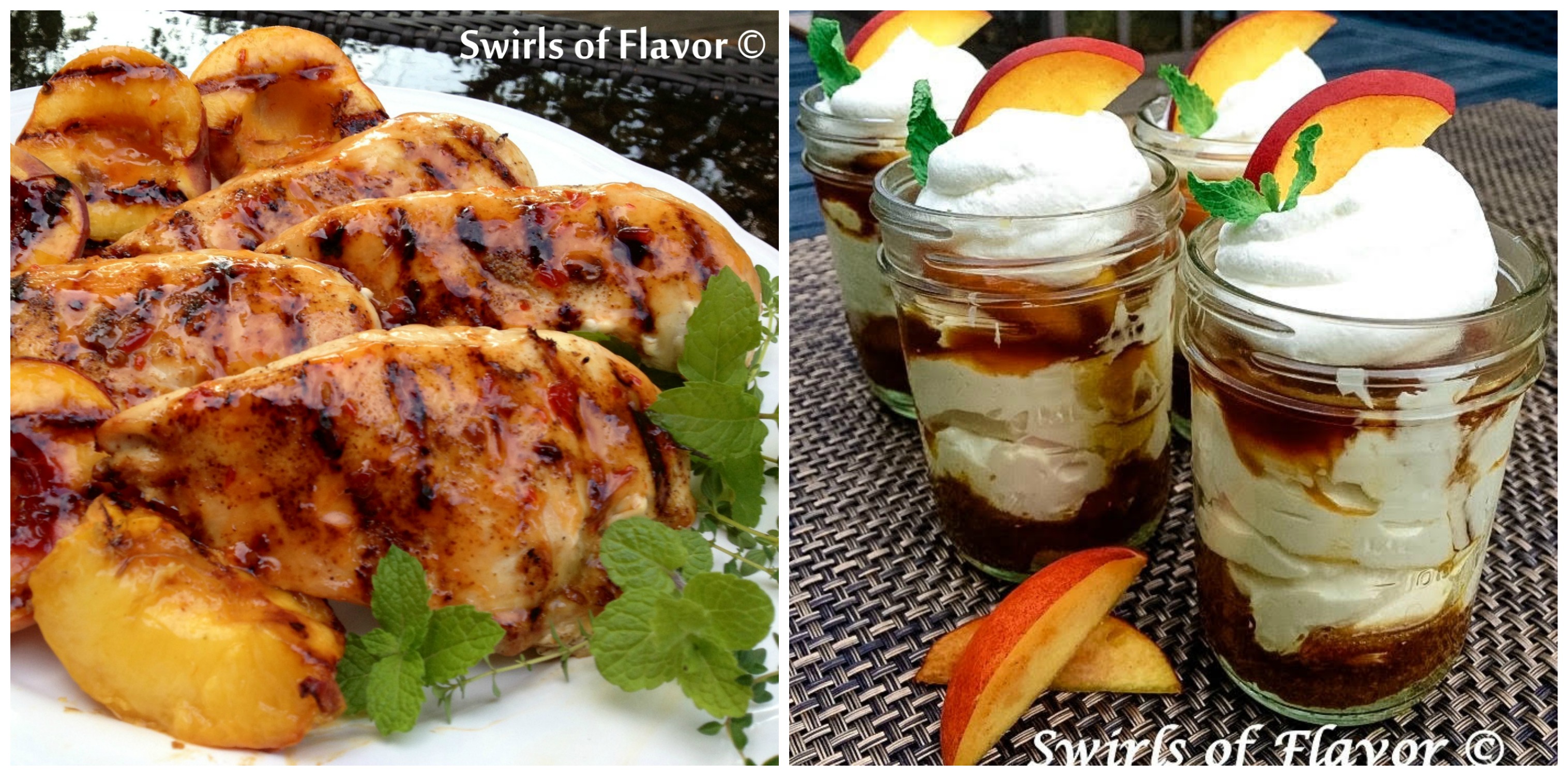 It's time to fire up the grill for Grilled Chipotle Chicken N Peaches. Grilled chicken breasts and peaches are seasoned with a hint of chipotle spice and glazed with sweet chili sauce for a sweet and spicy summer dinner!
My award winning Bourbon Peach Cheesecake Mousse will be a winner on your table too! A pecan graham crust and Bourbon peaches give this no-bake cheesecake mousse recipe it's southern flair!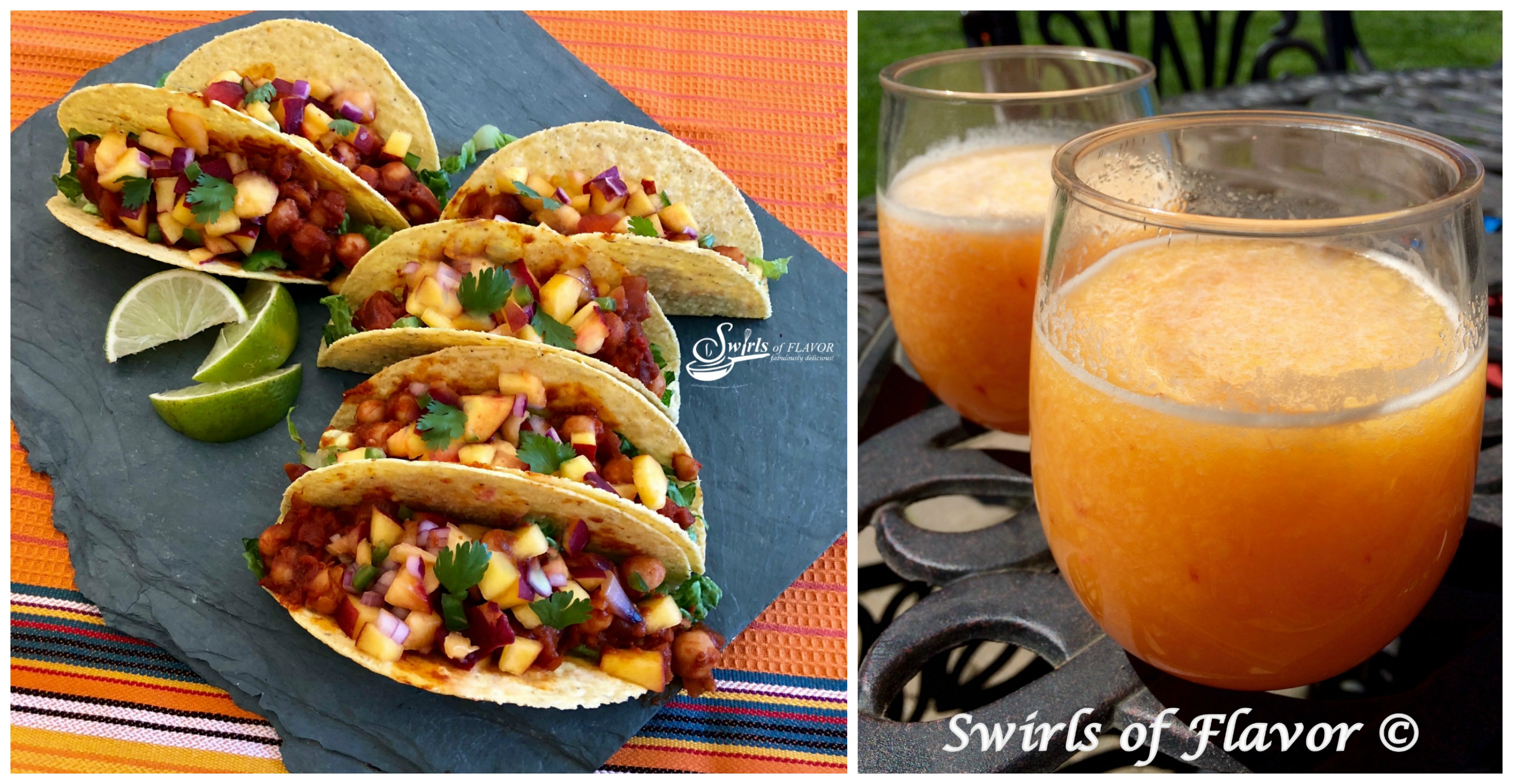 What to make it you're eating vegan and it's Taco Tuesday? Vegan Chickpea Tacos With Peach Salsa is an easy vegan recipe that's packed with the protein of chickpeas and topped with a lime-scented fresh peach salsa! Now you can eat a plant based diet and have your tacos too!
Frozen peaches, Peach Schnapps and Prosecco whirl up into a fabulously delicious Peach Bellini Slushy that you will want to make over and over again this season! Cheers to wine slushy season!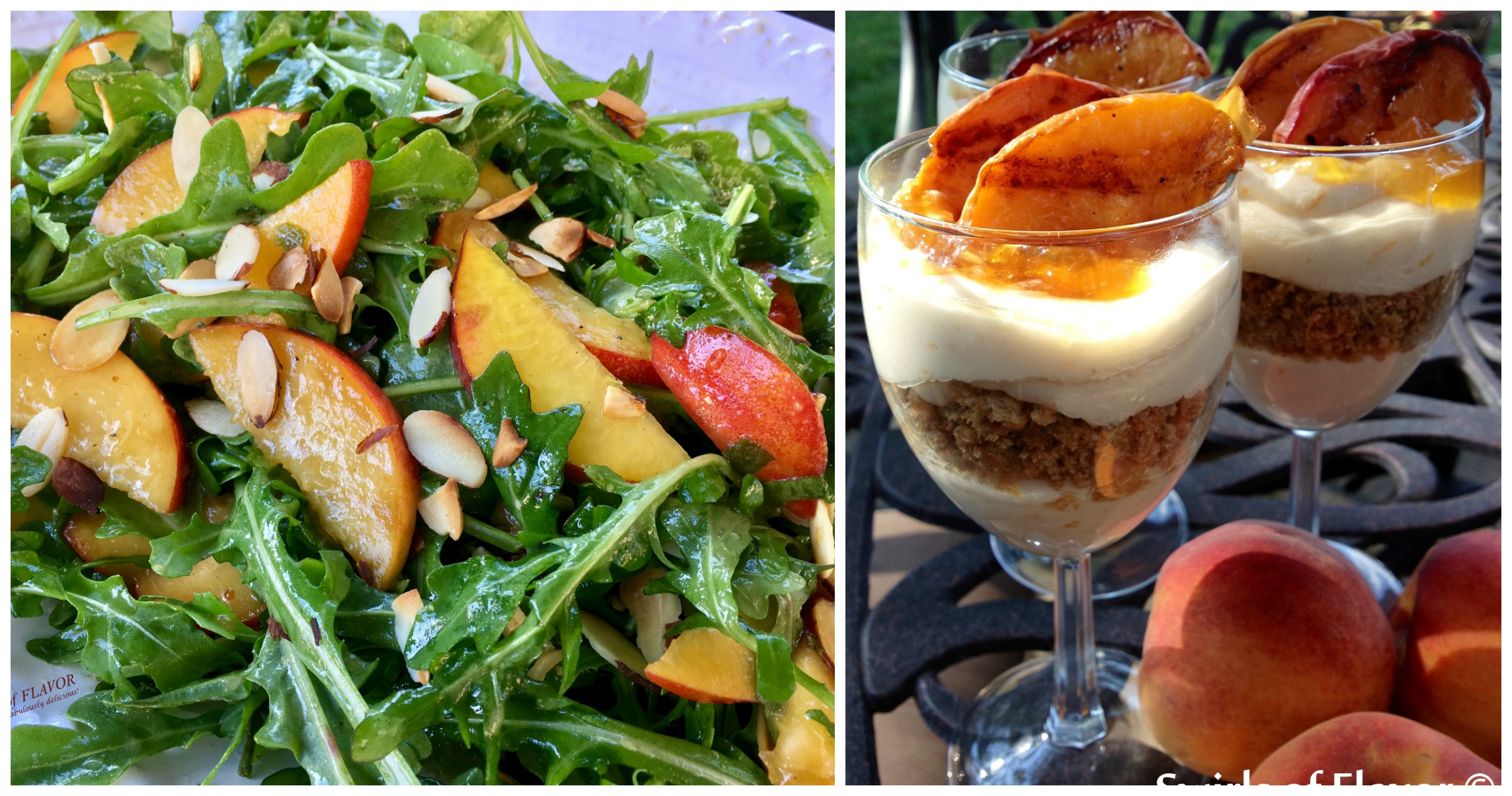 Peach Arugula Salad With Basil Mint Vinaigrette is an easy salad recipe bursting with the flavors of summer all in one bowl! Peppery arugula leaves combine with toasted almonds and sweet juicy peaches tossed in a fresh homemade Basil Mint Vinaigrette for a refreshing summer salad.
When it's too hot to bake your dessert, Grilled Peach Cheesecake Parfaits are the perfect choice. A no-bake cheesecake mousse is topped with grilled fresh peaches from this summer's bounty.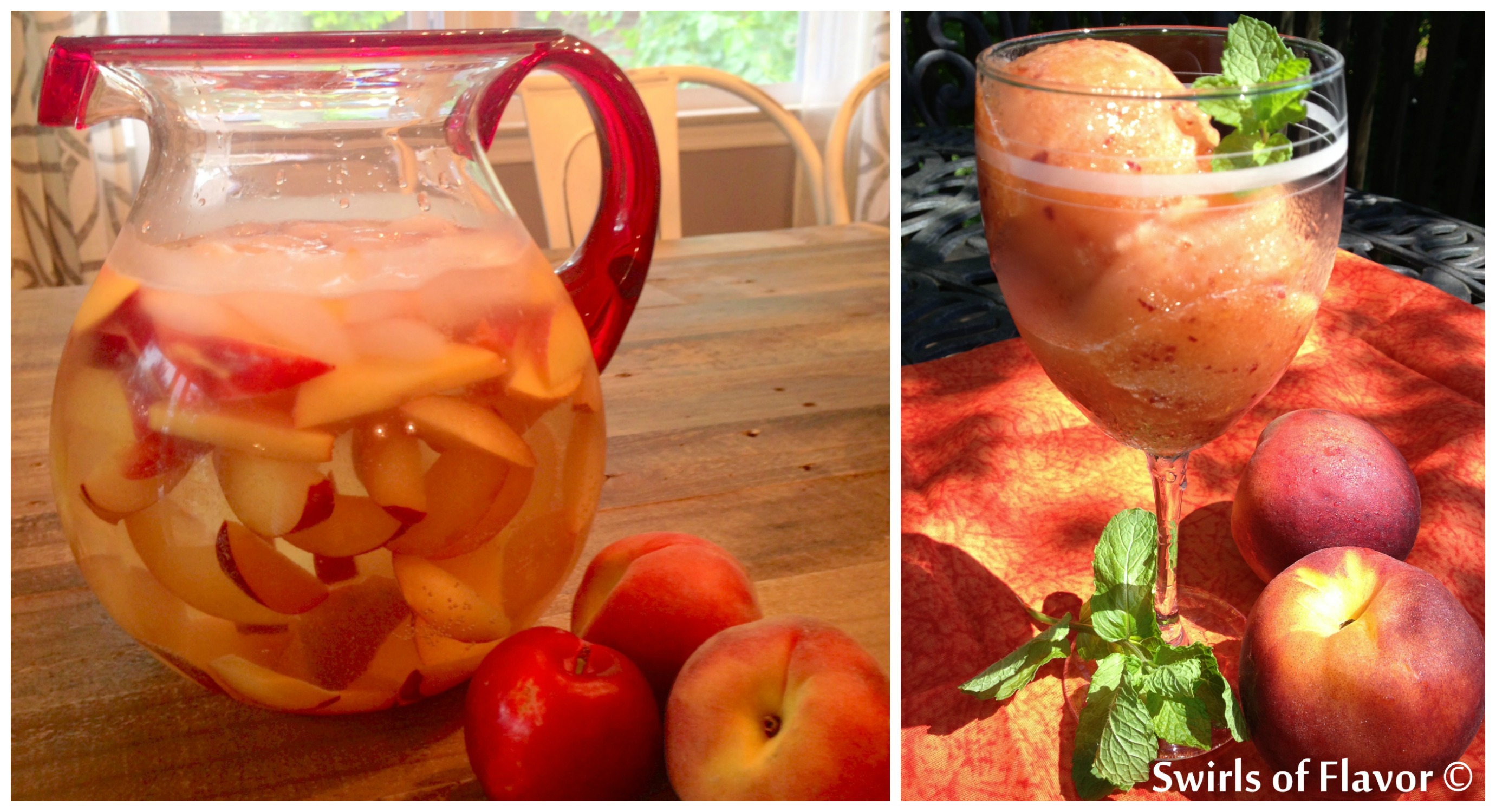 Our Peach Sangria is brimming with fresh fruits, peach wine and peach brandy. Top it off with a bubbling lemon lime soda and enjoy a tall glass of this refreshing summer sangria recipe.
Spiced Rum Peach Lemonade Sorbet, a homemade peach lemonade that's frozen to perfection is the dessert I love when it's time to cool off on a warm summer evening.
Print
Homemade Peach Ice Cream
With just four ingredients, our no-churn Homemade PeachIce Cream will be the most requested frozen treat of the summer!
As an Amazon Associate I earn from qualifying purchases.
I earn a commission from Instacart from qualifying purchases.
Instructions
With mixer on medium-high beat heavy cream until stiff peaks form.

Fold in sweetened condensed milk, peaches and vanilla until combined and blended.

Transfer to a freezer-safe container and freeze, covered, at least 6 hours or until firm.
Notes
Ice cream may take more than 6 hours to firm up depending on your freezer!
Swirls of Flavor Recipe Tips
Add nectarines and make it a nectarine and peach ice cream
Substitute nectarines for the peaches
Stir in chopped fresh mint
Nutrition
Calories:
224
kcal
|
Carbohydrates:
6
g
|
Protein:
2
g
|
Fat:
22
g
|
Saturated Fat:
14
g
|
Cholesterol:
81
mg
|
Sodium:
23
mg
|
Potassium:
116
mg
|
Fiber:
1
g
|
Sugar:
3
g
|
Vitamin A:
992
IU
|
Vitamin C:
3
mg
|
Calcium:
41
mg
|
Iron:
1
mg
 First published July 21, 2016... Last Updated: October 28, 2022 for better readability and user experience