The glorious peach. Sweet. Juicy. Sun-kissed with a heavenly aroma. Peach season is in full swing and my taste buds are jumping for joy!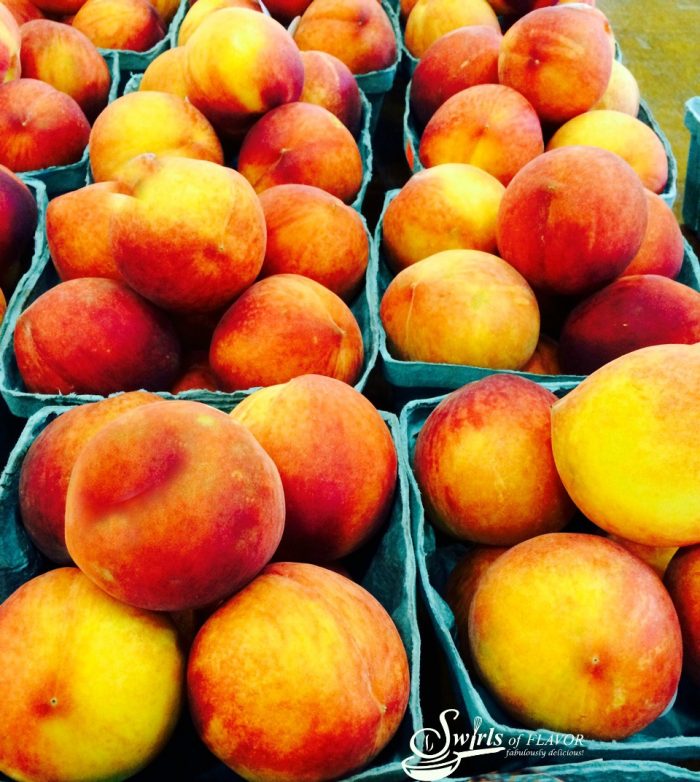 It goes without saying that this luscious summer fruit tastes amazing on its own and it is also the perfect addition to
a sangria
,
a dessert
,
a sorbet
,
homemade no churn ice cream
,
grilled chicken
,
in orzo
and even
grilled in a dessert
!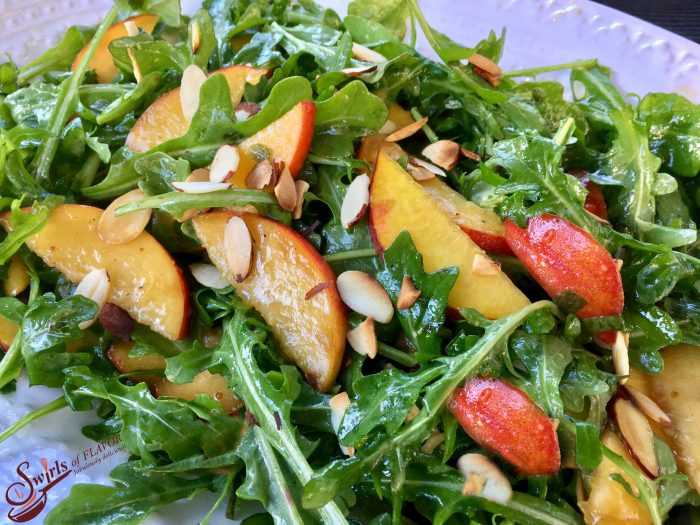 And now enter, Peach Arugula Salad With Basil Mint Vinaigrette bursting with the flavors of summer all in one bowl! Fragrant basil and fresh mint combine for a mouthwatering vinaigrette and toasted almonds add just the right amount of crunch. Fabulous as a side salad that will take center stage on your table or make it a meal topped with grilled shrimp or chicken!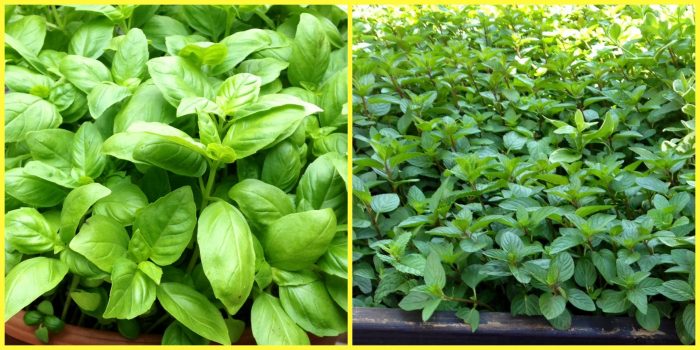 So grab some bunches of fresh mint and basil along with your bushel of peaches at the Farmers Market and let this salad shine on your summer dinner table tonight!
Peach Arugula Salad With Basil Mint Vinaigrette
1/4 cup olive oil
2 Tbs. white balsamic vinegar
1/2 tsp. Dijon mustard
1/4 tsp. kosher salt
1 tsp. honey
1 Tbs. chopped fresh basil leaves
1 Tbs. chopped fresh mint leaves
6 cups arugula
2 large peaches, pitted and sliced, 2 cups sliced
1/4 cup sliced almonds, toasted
1. In serving dish* whisk olive oil, vinegar, honey, Dijon and kosher salt until blended. Stir in chopped basil and chopped mint.
2. Add arugula, peaches and almonds and toss until evenly coated. Serve immediately.
Makes 4 servings (6 heaping cups tossed)
*Vinaigrette can be made ahead in a small bowl and refrigerated until ready to use.