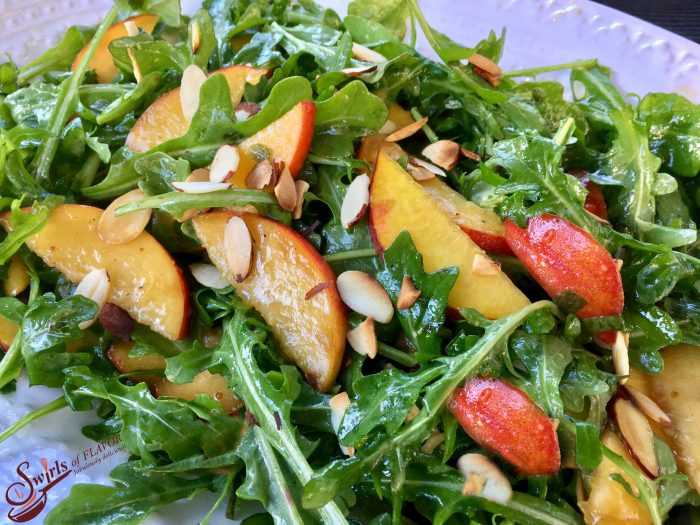 Peach Arugula Salad
The glorious peach. Sweet. Juicy. Sun-kissed with a heavenly aroma. Peach season is in full swing and my taste buds are jumping for joy! It goes without saying that this luscious summer fruit tastes amazing on its own and it is also the perfect addition to so many recipes including
Peachy Plum Sangria
, a white sangria filled with
juicy sweet peaches
and luscious plums and I guarantee you'll savor every sip of this easy summer drink recipe! It's time to fire up the grill for
Chipotle Chicken N Peaches
! Grilled chicken breasts and peaches are seasoned with a hint of chipotle spice and glazed with sweet chili sauce for a sweet and spicy summer dinner! Combine two favorite summer fruits, blueberries and peaches, for a fabulous side dish of
Blueberry Peach Orzo
, a lime-kissed orzo pasta is studded with fresh juicy
peaches
and succulent blueberries. Tender peppery arugula leaves offset the fruity sweetness creating a perfect balance of flavors. Peaches in a dessert is a classic way to enjoy this stone fruit.
Blueberry Peach Pecan Crisp
is bursting with j
uicy fruity sweetness smothered under a buttery sweet cinnamon topping. Spiced Rum Peach Lemonade Sorbet, a homemade peach lemonade that's frozen to perfection is the dessert I love when it's time to cool off on a warm summer evening. But I'll never turn down a bowl of homemade no churn Peach N Cream Ice Cream
made with fresh peaches and a hint of vanilla. My award winning
Bourbon Peach Cheesecake Mousse
will be a winner on your table too! A pecan graham crust and Bourbon peaches give this no-bake cheesecake mousse recipe it's southern flair!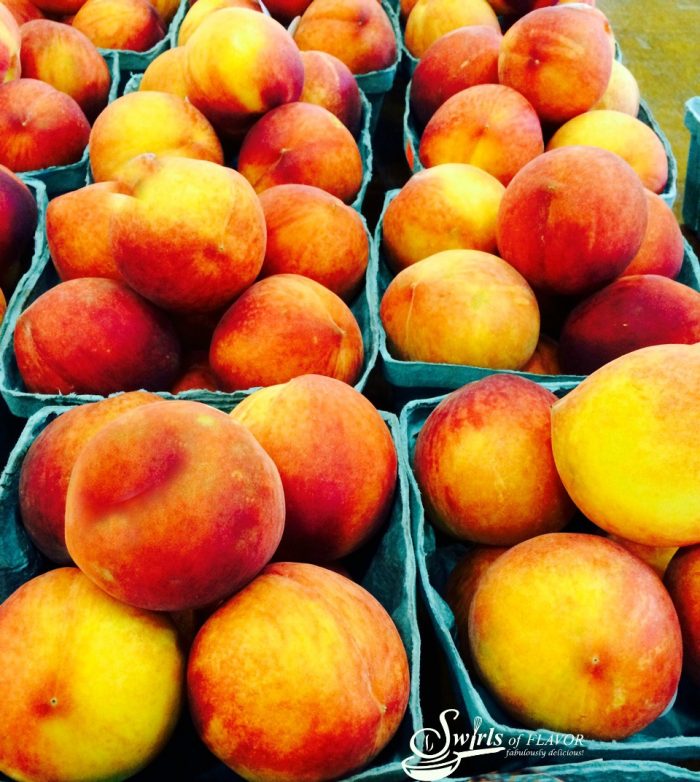 And now enter,
Peach Arugula Salad With Basil Mint Vinaigrette
bursting with the flavors of summer all in one bowl! Fragrant basil and fresh mint combine for a mouthwatering vinaigrette and toasted almonds add just the right amount of crunch. Fabulous as a side salad that will take center stage on your table or make it a meal topped with grilled shrimp or chicken!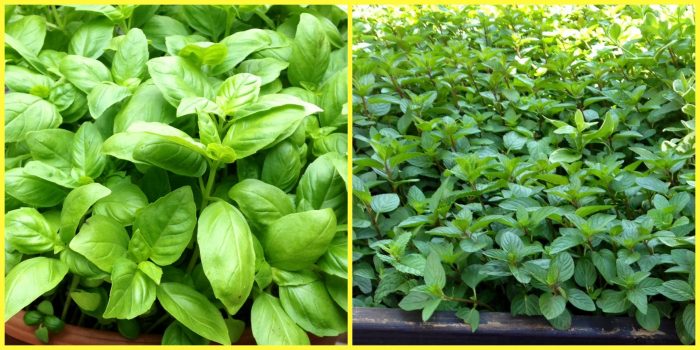 So grab some bunches of fresh mint and basil along with your bushel of peaches at the Farmers Market and let this salad shine on your summer dinner table tonight!
Summer Side Dish Recipes
How about adding some more delicious side dish recipes to your summer menu rotation? Fresh vegetables are tossed together with farro in a lime scented dressing making Zucchini & Corn Farro Salad both refreshing and nutritious. Zucchini Pasta Pomodoro is bursting with the summertime flavors of zucchini noodles, tomatoes and fresh basil. Strawberry Pistachio Quinoa lightly coated in a lemon oregano vinaigrette is a great way to use those fragrant strawberries of summer. The crunch of fresh fennel, the juiciness of mandarin oranges and the crispness of radishes all come together in a lime-kissed vinaigrette to make Fresh Fennel & Mandarin Salad an amazing combination of flavors and textures. Lemon Basil Avocado Quinoa is a light yet satisfying addition to any summer meal. Don't you just love summer? Heirloom Tomato & Cucumber Summer Salad is an easy summer side dish bursting with tomatoes and cucumbers lightly coated in a tangy red wine vinaigrette.
Peach Arugula Salad With Basil Mint Vinaigrette
Peach Arugula Salad With Basil Mint Vinaigrette is bursting with summer flavors of juicy peaches, fragrant basil and fresh mint!
Instructions
In serving dish* whisk olive oil, vinegar, honey, Dijon and kosher salt until blended. Stir in chopped basil and chopped mint.

Add arugula, peaches and almonds and toss until evenly coated. Serve immediately.
Recipe Notes
Makes 4 servings (6 heaping cups tossed)
*Vinaigrette can be made ahead in a small bowl and refrigerated until ready to use.