4th of July Cupcakes
Can't think of a better way to celebrate our country's birthday than with red white and blue striped cupcakes with a cherry on top! With just a few simple ingredients that you're sure to have on hand in your kitchen, these 4th of July Cupcakes will be ready in no time. Simple from-scratch vanilla cupcakes are topped with a homemade creamy frosting that is easily decorated with stripes of patriotic colors and finished with a cherry on top, of course!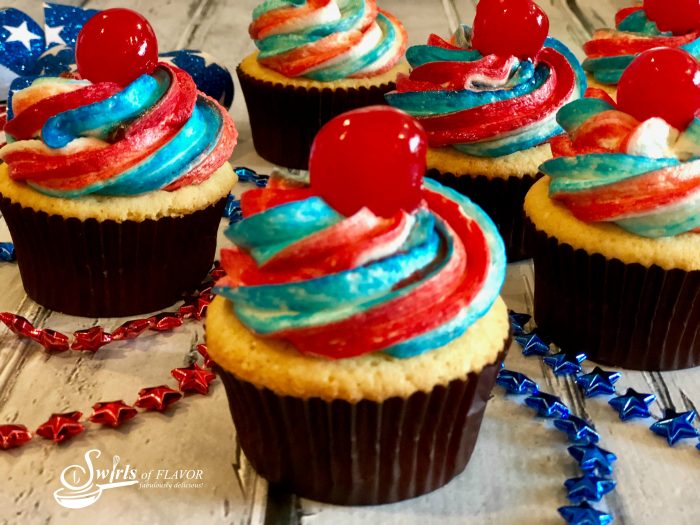 This post contains affiliate links. (Privacy Policy)
When scooping cupcake batter for your 4th of July cupcakes into the liners, be sure to use a #20 ice cream scooper for perfect sized cupcakes every time! I used cake decorating brushes to paint the red and blue stripes in the pastry bag. Basic water color paintbrushes will work fine too! Disposable pastry bags make clean up easy every time but you can certainly opt for these reusable featherweight pastry bags too. I piped the buttercream frosting on these 4th of July Cupcakes with a large Open Star Pastry Tip.
4th of July Desserts
No-Bake Sweet Berry Tartlets….the perfect ending to your holiday celebration! A simple-to-make strawberry filling kissed with a hint of citrus and crowned with fresh blueberries will surely look festive and patriotic on your table. Red White & Blueberry Trifle is an easy no-bake dessert made of pudding, whipped topping, store bought angel food cake and lots of fresh berries! Taste of Home's No-Bake Easy Berry Cheesecake Parfaits are as pretty as they are easy to make, very! Sally over at Sally's Baking Addiction has a recipe along with a video for you on how to make a pie with an American flag crust. Her American Flag Pie is filled with berries and cherries and is a gorgeous way to celebrate our country's birthday!
4th of July Recipes
Let's round out your menu with these July 4th recipes, shall we? Let's begin with a cocktail and my cocktail of choice is a wine slushy with just two ingredients! A bottle of sangria and your favorite frozen berries are all it takes to whirl up a Berry Sangria Slushy, your favorite childhood summertime beverage, with an adult twist of course! and you'll love it's deep intense flavor and the beauty of it's gorgeous color. Everyone loves a dip and Bacon & Caramelized Onion Dip is a guaranteed hit! Fire up the grill for Chili Spiced Chicken topped with a cilantro lime scented gremolata and finished with a drizzle of fresh lime juice. Prefer burgers? Then Bruschetta Burgers With Crispy Prosciutto are the way to go! Crispy prosciutto combines with sundried tomatoes and ground beef to make the most flavorful burgers! And just when you think these burgers can't get any more flavorful we add in a Lemon Basil Aioli and top it all with a Bruschetta Topping bursting with fresh summer flavors! Quinoa Caprese is a versatile side dish of fresh mozzarella, tomatoes and basil tossed with quinoa…..the true flavors of summer! And don't forget the corn on the cob! Just throw Grilled Corn With Tomato Basil Butter on the grill for a caramelized flavor that is lip-smackin' good! , A salad tossed in a light coating of Honey Orange Balsamic Vinaigrette will it's perfect balance of sweetness with the crisp edginess of citrus notes round out your menu.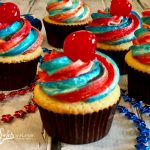 4th of July Cupcakes
Simple from-scratch vanilla cupcakes are topped with a homemade creamy frosting decorated with red and blue stripes and topped with a cherry for your patriotic celebration!
Keyword:
4th of July Cupcakes
Instructions
Cupcakes:
Preheat oven to 350F. Line 16 muffin cups with cupcake liners.

With mixer on medium speed beat butter and sugar until blended, light and fluffy.

Add eggs, one at a time, beating after each addition.

Reduce mixer speed to low and add flour, baking powder and salt. Beat until blended.

Add milk and vanilla until just combined. Increase mixer speed to medium-high and beat 1-2 minutes until batter is smooth.

Divide batter evenly between cupcake liners and bake 25 minutes or until tops are golden and toothpick inserted in centers comes out clean.

Cool 5 minutes in pan. Transfer to wire rack and cool completely.
Frosting:
Beat butter until creamy. Gradually add confectioners sugar and beat until blended.

Add milk and vanilla and beat until light and fluffy, 4-5 minutes. As you beat the frosting it will become lighter in color, creamier and fluffier.

Attach piping tip and pastry bag. Paint red and blue lines inside pastry bag. Carefully fill pastry bag with frosting and pipe onto tops of cupcakes and top with a cherry.
Recipe Notes
Makes 16 cupcakes.
Tip: For mini cupcakes line 48 mini muffin cups with cupcake liners. Prepare batter and divide evenly between mini liners. Bake 20 minutes or until tops are golden.