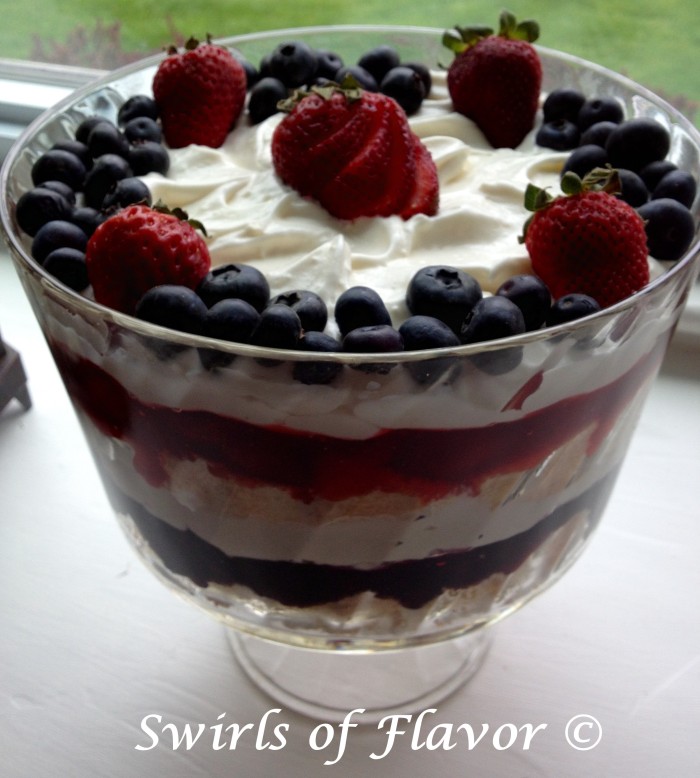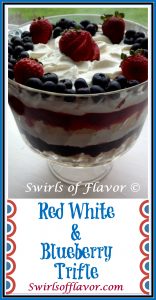 This weekend, as we remember those who have protected our country and fought for our freedom, and those protecting us now, many of us will gather together around the table and break bread together. Planning to grill up burgers? Everyone will love Pesto Provolone Burgers Italiano with Balsamic Ketchup, Tomato Basil Turkey Burgers, and Chicken Parmesan Sliders! Want to add chicken or steak to the menu? Cilantro Lime Grilled Chicken, Grilled Chicken Breasts with Strawberry Salsa and Grilled Sirloin Steaks with Fresh Herb Butter Topping are sure to please! And you can guarantee a sweet finish to your day with Red White & Blueberry Trifle, a mouth-watering no-cook dessert! A very sincere thank you to all who have served our country.
Red White & Blueberry Trifle
2 pkgs. (3.4 oz. each) instant vanilla pudding and pie filling mix
3 cups milk
2 cups frozen nondairy whipped topping, thawed, such as Cool Whip, from 1 container (8 oz.)
1 can (21 oz.) blueberry pie filling
1 can (21 oz.) strawberry pie filling
1 pkg. (10 oz.) store bought baked angel food cake, cut in 1-inch cubes, about 7 cups
1 cup fresh blueberries
5 fresh strawberries
1. In large bowl combine pudding mixes and milk, stirring until blended. Let stand 5 minutes until mixture begins to thicken.
2. Fold in whipped topping until blended.
3. In 12-14 cup trifle dish place half of angel food cake cubes on bottom (about 3 ½ cups).
4. Top with blueberry pie filling and half (about 2 cups) of pudding mixture.
5. Top with remaining angel food cake cubes, strawberry pie filling and remaining pudding mixture.
6. Garnish edges with fresh blueberries and 4 strawberries. Place remaining strawberry, fanned, in center.
Makes about 24 servings.