Spring has finally arrived, I think. Some days I'm not so sure about that, like last week when we got another 9 inches of snow. Thankfully it melted quickly and the birds were chirping the next day. Easter is right around the corner, coming early this year.

No-Bake Raspberry Lemon Thyme Tartlets are a no-fuss quick and easy dessert that will dress up your holiday and springtime table. The flavors of juicy sweet raspberries, mouth puckering lemons and fresh herbs all remind me that spring has sprung!
Just 5 ingredients, and no baking or cooking required, will have these beautiful tartlets on your dessert menu in no time at all. Whether you're in a crunch for time, or just want to concentrate on preparing the rest of the dinner, you will love these fruity bites of sweetness. Toast the holiday with Bunny Peep-tinis and kick off your feast with a Strawberry Springtime Salad. Then Panko Crusted Beef Rib Roast, Golden Potatoes Au Gratin, Lemon Roasted Springtime Asparagus and Tri-Colored Tarragon Carrots will be a delicious prelude to your No-Bake Raspberry Lemon Thyme Tartlets! Now that's quite a springtime celebration!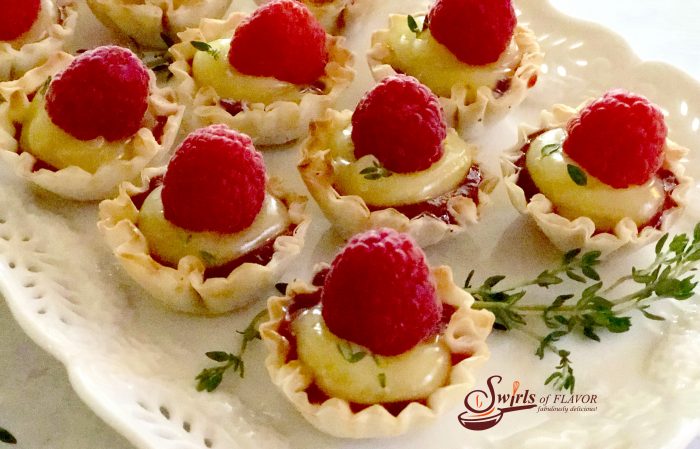 No-Bake Raspberry Lemon Thyme Tastlets
2018-03-28 20:03:21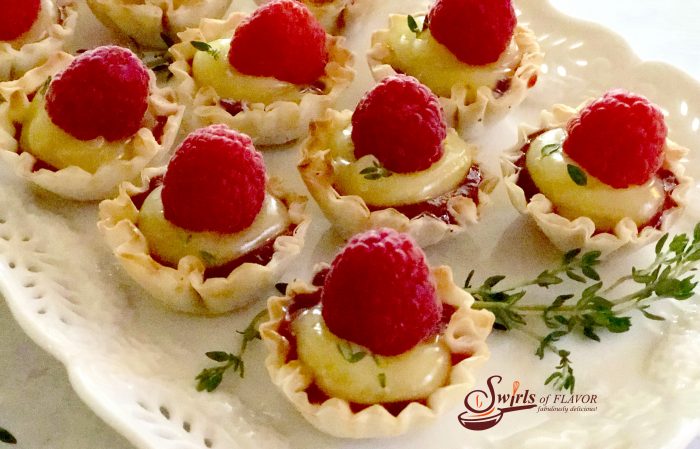 No-Bake Raspberry Lemon Thyme Tartlets are a 5 ingredient quick and easy dessert that's bursting with spring flavors and fruity sweetness!
Nutrition Facts
Amount Per Serving
* Percent Daily Values are based on a 2,000 calorie diet. Your Daily Values may be higher or lower depending on your calorie needs.
Ingredients
3 Tbs. seedless raspberry jam
1/4 tsp. minced fresh thyme leaves
1 pkg. (1.9 ounces) mini fillo shells
1/2 cup lemon pie filling or lemon curd
15 fresh raspberries
additional fresh thyme leaves for garnish
Instructions
In small bowl combine raspberry jam and minced thyme leaves.
Arrange mini fillo shells on serving dish.
Divide raspberry jam evenly between shells.
Top with lemon pie filling and a raspberry.
Garnish with additional fresh thyme leaves.
Refrigerate until ready to serve.
Swirls of Flavor https://swirlsofflavor.com/