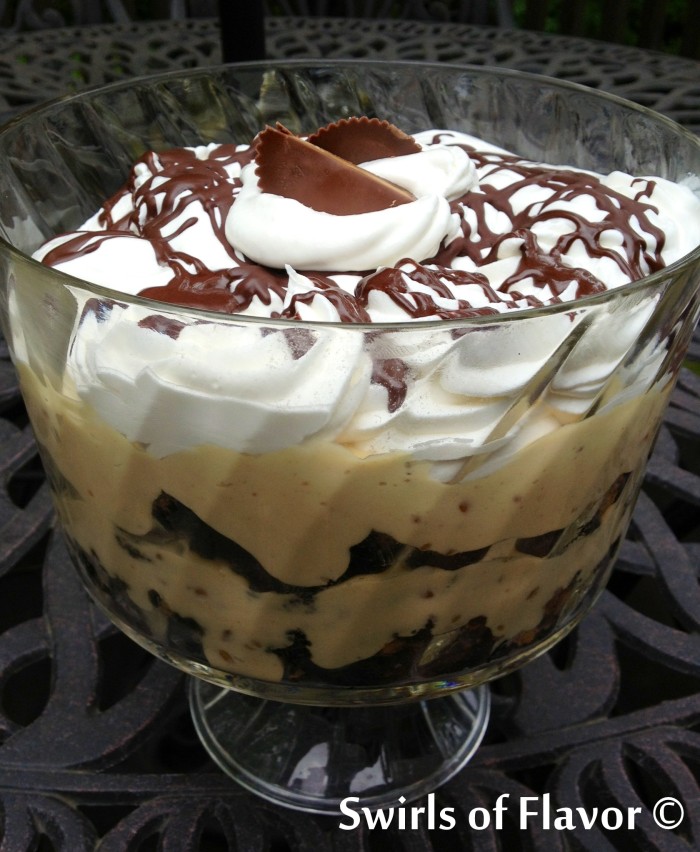 Who doesn't love peanut butter cups and brownies? Put them together along with a peanut butter mousse and whipped topping and you will love every single bite! And it doesn't get much easier than preparing a brownie mix, sprinkling with peanut butter cups and baking. The peanut butter mousse is an instant pudding mix with peanut butter whisked in and whipped topping.....my mouth is watering just writing about it! Dad will love this dessert and so will you! Peanut Butter Cup Brownie Trifle, the sweetest way to celebrate Dad's special day!
Peanut Butter Cup Brownie Trifle
1 box (19.5 oz.) dark chocolate brownie mix, Pillsbury
2 eggs
1/2 cup oil
1/4 cup water
14 peanut butter cup miniatures, unwrapped, quartered, about 1 cup
1 box (5.1 oz.) instant vanilla pudding & pie filling
2 cups milk
3/4 cup creamy peanut butter
4 cups thawed non-dairy whipped topping, divided
2 Tbs. fudge sauce
1 peanut butter cup, halved
1. Preheat oven to 350F. Line 13" x 9" baking pan with foil leaving 2-inch overhang. Coat with nonstick cooking spray.
2. Prepare brownie mix according to package directions using eggs, oil and water. spread evenly in prepared pan.
3. Top with quartered peanut butter miniatures.
4. Bake 25-30 minutes or until toothpick inserted in center comes out with moist crumbs.
5. Cool 15 minutes in pan. Using foil overhang, lift brownies out of pan. Cool completely on wire rack.
6. Meanwhile, in bowl combine pudding mix and milk until blended. Let stand 5 minutes until just beginning to thicken.
7. Whisk in peanut butter until blended.
8. Fold in 1 cup whipped topping.
9. To assemble: Cut brownies in 1-inch pieces. Arrange half of brownies, about 3 cups, on bottom of 10-12 cup trifle dish. top with half of peanut butter mousse, about 2 cups. Repeat with remaining brownies and mousse.
10. Top with remaining 3 cups whipped topping and drizzle with fudge sauce.
11. Garnish with peanut butter cup halves and enjoy!
Makes 12 servings.