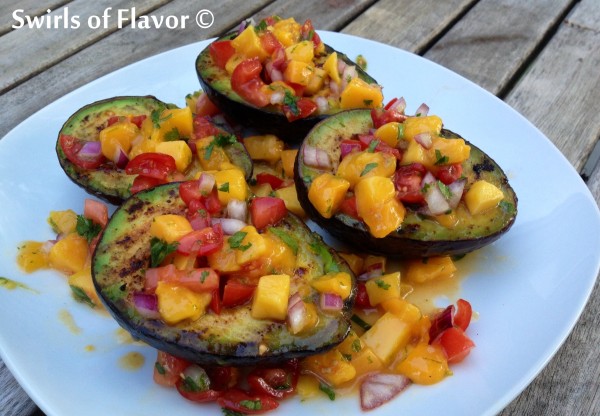 Do you love alligator pears? I bet you do! With it's shape similar to a pear and it's leather-like skin, the avocado is also referred to as an alligator pear.  This super food grows on tall evergreen trees that can grow up to 65 feet in height. Avocados can vary in weight from 8 ounces to 3 pounds depending upon the variety. Although 85% of its calories come from fat, the fat in avocados is unusual because research has documented that it provides health benefits. The avocado has anti-inflammatory benefits, promotes blood sugar regulation, supports cardiovascular health, has cancer preventing properties and in addition to all of that it is  low carb, low sugar and high fiber! It's not just a super food, the avocado is a super duper food! The rich and creamy Haas avocado is primarily grown in California and it's peak availability is spring and summer. So let's start grilling up some avocados and topping them with a fabulously delicious Mango Salsa!
Grilled Avocado with Mango Salsa
1 cup chopped fresh or frozen mango
1/2 cup chopped tomatoes (grape, cherry or plum tomatoes)
2 Tbs. minced red onion
1 Tbs. chopped cilantro
4 tsp. olive oil, divided
2 tsp. lime zest
1 tsp. lime juice
1/2 tsp. kosher salt, divided
2 avocados, halved lengthwise and pitted
1/4 tsp. garlic powder
1/4 tsp. chili powder
1. In bowl combine mango, tomatoes, red onion, cilantro, 1 tsp. olive oil, lime zest, lime juice and 1/4 tsp. kosher salt; reserve.
2. Preheat grill for direct heat grilling.
3. Brush insides of avocados with remaining 3 tsp. olive oil. Sprinkle with remaining 1/4 tsp. kosher salt, garlic powder and chili powder. Grill until just heated and grill marks appear, 4-5 minutes.
4. Arrange avocado halves on serving dish. Top with reserved mango salsa.
Makes 4 servings.
Check out these links from Haas avocados and you'll be an avocado expert in no time at all!
http://www.avocadocentral.com/how-to/how-to-pick-how-to-buy-avocados
http://www.avocadocentral.com/how-to/how-to-cut-how-to-peel-prepare-avocados
http://www.avocadocentral.com/how-to/how-to-store-how-to-ripen-avocados
Become a fan of the Hass Avocado Facebook page and you'll always be "in the know"!https://www.facebook.com/hassavocados