Grilled Avocado With Mango Salsa
Avocados taste amazing just as they are eaten right out of their skin but have you thought about grilling your avocado? Grilled Avocado With Mango Salsa take this super food to the next level. Lightly seasoned with kosher salt, garlic powder and chili powder and slightly grilled, your avocado will taste heavenly. Top it with a simple homemade tropical fruit salsa of mango, tomatoes and red onion kissed with a hint of lime and you'll never go back to eating a naked avocado again! Fire up the grill and serve Grilled Avocado With Mango Salsa as an appetizer or side dish at your next al fresco get together!
All About Avocados
Let's see if you know all about avocados! Do you love alligator pears? I bet you do! With it's shape similar to a pear and it's leather-like skin, the avocado is also referred to as an alligator pear. This super food grows on tall evergreen trees that can grow up to 65 feet in height. Avocados can vary in weight from 8 ounces to 3 pounds depending upon the variety. Although 85% of its calories come from fat, the fat in avocados is unusual because research has documented that it provides health benefits. The avocado has anti-inflammatory benefits, promotes blood sugar regulation, supports cardiovascular health, has cancer preventing properties and in addition to all of that it is low carb, low sugar and high fiber! It's not just a super food, the avocado is a super duper food! The rich and creamy Haas avocado is primarily grown in California and it's peak availability is spring and summer. So let's start grilling up some avocados and topping them with a fabulously delicious Mango Salsa!
Check out these links from Haas avocados and you'll be an avocado expert in no time at all!
http://www.avocadocentral.com/how-to/how-to-pick-how-to-buy-avocados
http://www.avocadocentral.com/how-to/how-to-cut-how-to-peel-prepare-avocados
http://www.avocadocentral.com/how-to/how-to-store-how-to-ripen-vocados
Become a fan of the Hass Avocado Facebook page and you'll always be "in the know"!https://www.facebook.com/hassavocados
Avocado Recipes
Thinking you need to get more avocados in your life? Me too! You can start your morning with a Baked Egg In Avocado, a breakfast that cooks itself in the oven while you're busy getting ready for your day. Then add Lemon Basil Avocado Quinoa to your next meal for a punch of nutrition along with deliciousness. Make a Brown Rice Taco Bowl , with seasoned beef and salsa, creamy avocado, juicy tomatoes, cheddar cheese and red onion over good-for-you brown rice. All the flavors of a taco in a bowl for your next Meatless Monday. Spring Roll Bowls have all the flavors and textures of a spring roll including avocado, carrot, cucumber and red cabbage, with half the fuss, all in a bowl! The fresh clean flavors of garlic, fresh ginger and lime and the buttery creaminess of chunks of avocados come together to create Avocado Lime Chicken Soup, a new comfort soup favorite! And don't forget the guac! Sweet 'N Spicy Tropical Guacamole is studded with bits of fresh sweet mango, tangy fresh pineapple and spicy jalapeno and will transport you to the tropics with every bite!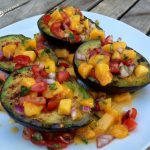 Grilled Avocado with Mango Salsa
Enjoy Grilled Avocados With Mango Salsa when you're dining al fresco, lightly seasoned avocados are grilled to perfection and topped with a homemade lime-kissed mango salsa.
Course:
Appetizer, Side Dish
Ingredients
1

cup

chopped fresh or frozen mango

1/2

cup

chopped tomatoes,

grape, cherry or plum tomatoes

2

Tbs.

minced red onion

1

Tbs.

chopped cilantro

4

tsp.

olive oil,

divided

2

tsp.

lime zest

1

tsp.

lime juice

1/2

tsp.

kosher salt,

divided

2

avocados,

halved lengthwise and pitted

1/4

tsp.

garlic powder

1/4

tsp.

chili powder
Instructions
In bowl combine mango, tomatoes, red onion, cilantro, 1 tsp. olive oil, lime zest, lime juice and 1/4 tsp. kosher salt; reserve.

Preheat grill for direct heat grilling.

Brush insides of avocados with remaining 3 tsp. olive oil. Sprinkle with remaining 1/4 tsp. kosher salt, garlic powder and chili powder. Grill until just heated and grill marks appear, 4-5 minutes.

Arrange avocado halves on serving dish. Top with reserved mango salsa.
Recipe Notes
Makes 4 servings.