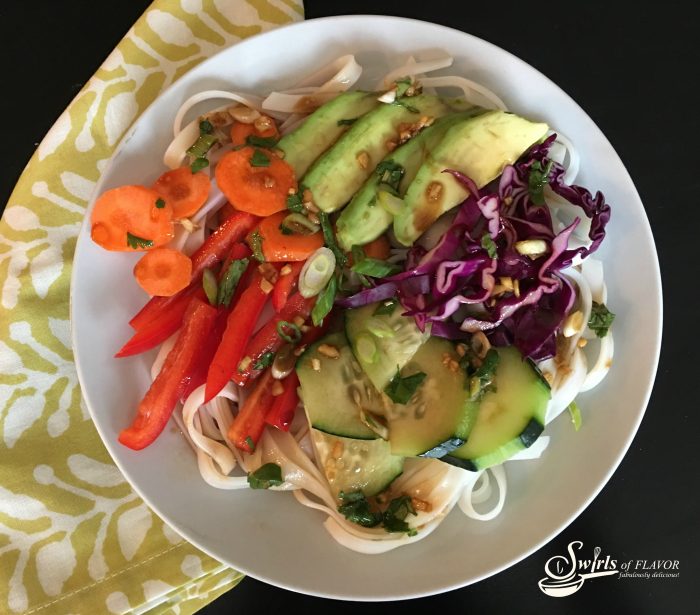 Have you ever made your own spring rolls? After doing the chopping, dicing and slicing then you have to do the dipping, tucking and rolling. By the time you're done you've forgotten how hungry you were! Spring Roll Bowls have all the flavors and textures of a spring roll, with half the fuss, all in a bowl!

Rice noodles replace the typical rice wrappers in a spring roll. Fresh and crunchy vegetables, the filling in a spring roll, now become the toppings. Drizzle with a sesame ginger sauce and every bite will be a party in your mouth! I could eat Spring Roll Bowls every day of the week especially on Meatless Mondays! Give them a try, you're going to love them too!

Spring Roll Bowls
8 ounces rice noodles
1 avocado, pitted and sliced
1 cup thinly sliced cucumber
1 cup shredded red cabbage
1 cup sliced carrots
3 Tbs. soy sauce
3 Tbs. lime juice
4 tsps. finely minced fresh ginger
1 1/2 tsp toasted sesame oil
1 1/2 tsps. sugar
1 clove garlic, minced
2 Tbs. sliced scallions
2 Tbs. chopped cilantro
1. Place noodles in a heat proof bowl. Pour boiling water over noodles to cover and let stand until noodles are tender, about 20 minutes. Drain and run under cold water to cool; pat dry.
2. Divide noodles evenly between four serving bowls.
3. Top with avocado, cucumber, red cabbage and carrots.
4. Whisk soy sauce, lime juice, ginger, sesame oil, sugar, garlic, scallions an cilantro until blended. Drizzle over bowls and enjoy!
Makes 4 servings.
TIP: Serve as a tossed Spring Roll Salad! Break rice noodles into thirds and prepare as in Step 1. Toss noodles, vegetables and dressing until evenly coated. Makes about 8 cups.