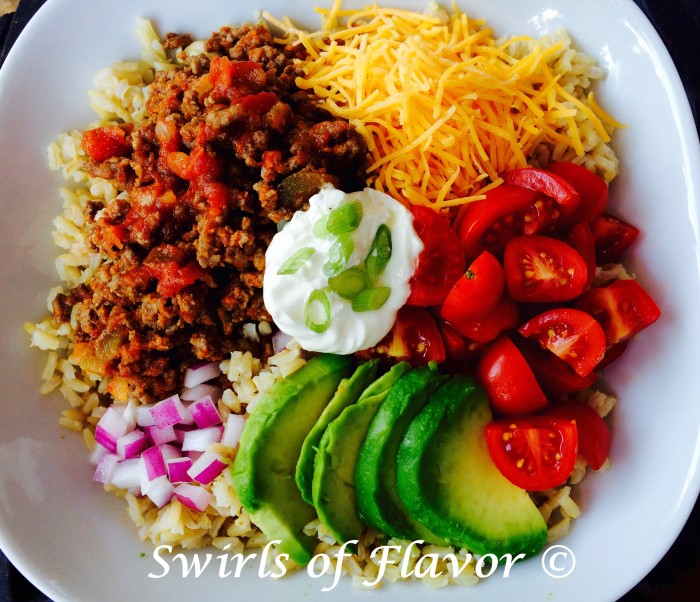 "Bowls" are all the rage now, so much so that this new food trend is known as "bowling"! You can go "bowling" all day long, starting off your day with a Berry Smoothie Bowl or a Cinnamon Honey Smoothie Bowl. Dine on a Quinoa Lentil Broth Bowl for lunch, my copycat version of Panera's popular menu item, and finish off your day with a Brown Rice Taco Bowl. Your Taco Bowl is filled with a seasoned ground beef and salsa mixture, creamy avocado, juicy tomatoes, cheddar cheese and red onion all on top of hearty good-for-you brown rice. And don't forget the dollop of sour cream and sprinkle of sliced scallions! You'll be able to say you've gone "bowling" today!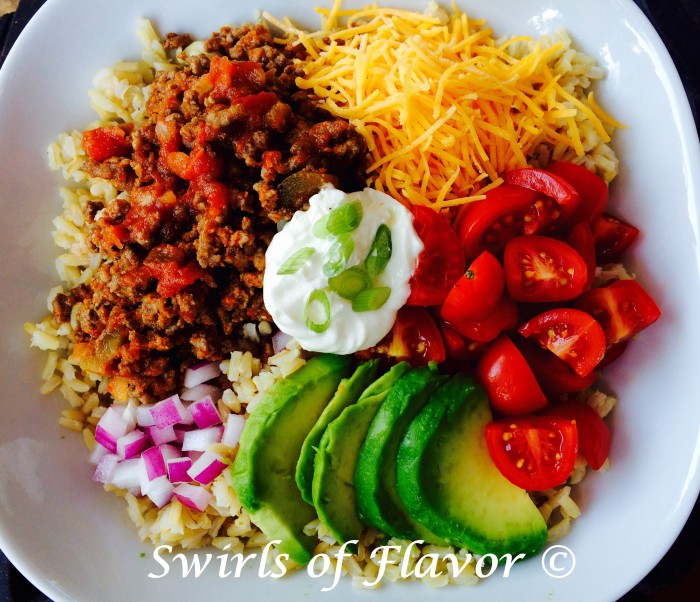 Brown Rice Taco Bowl
2015-08-01 16:40:37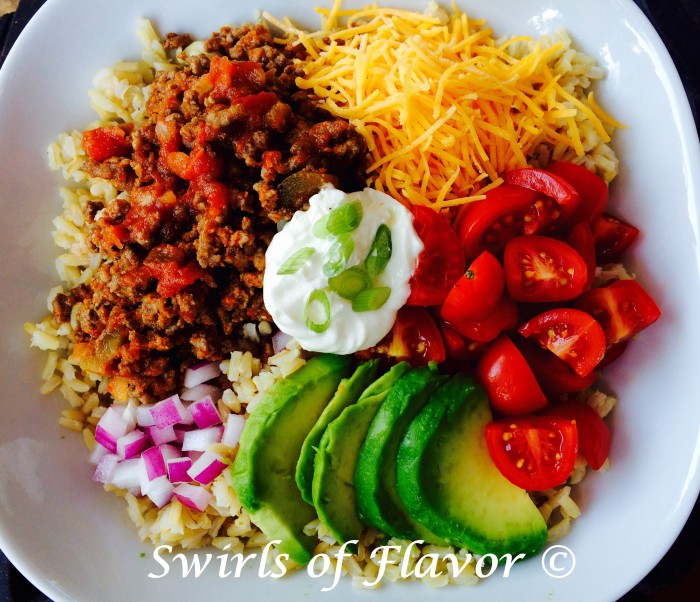 Serves 4
Nutrition Facts
Amount Per Serving
* Percent Daily Values are based on a 2,000 calorie diet. Your Daily Values may be higher or lower depending on your calorie needs.
Ingredients
1 cup uncooked brown rice OR 3 cups hot cooked brown rice
1 lb. ground beef
1 Tbs. chili powder
1 tsp. ground cumin
1 tsp. kosher salt
1/2 tsp. garlic powder
1 cup salsa
2 avocados, pitted, peeled and sliced
1 cup chopped tomatoes
1 cup shredded cheddar cheese
2 Tbs. chopped red onion
4 Tbs. sour cream
1 scallion, sliced on diagonal
Instructions
Cook brown rice according to package directions.
Meanwhile, in large non-stick skillet cook ground beef, chili powder, cumin, kosher salt and garlic powder over medium-high heat until beef is cooked through. Stir in salsa and cook until mixture is heated through,1-2 minutes.
To assemble, divide ingredients evenly between four bowls beginning with brown rice. Top rice with ground beef mixture, avocado, tomatoes, cheddar cheese and red onion. Garnish with sour cream and sliced scallions. Serve with additional salsa, if desired.
Swirls of Flavor https://swirlsofflavor.com/