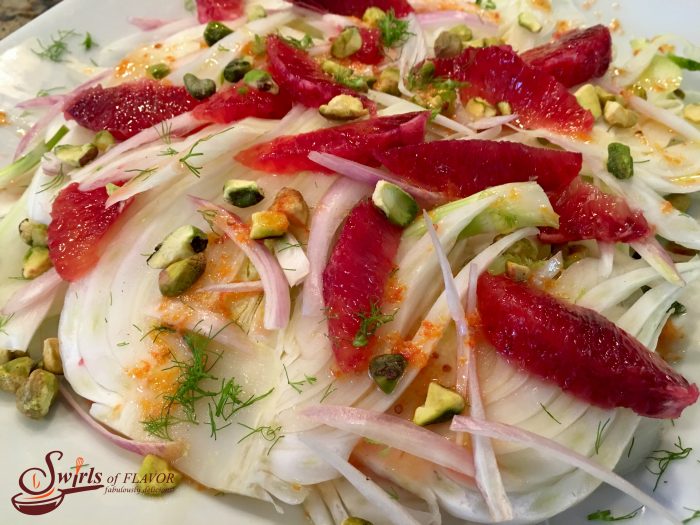 Crisp slices of fresh fennel with a hint of licorice flavor combine with the raspberry-citrus notes of blood oranges making Pistachio Blood Orange & Fennel Salad a refreshing addition to any meal. Add in the crunch of pistachios and a homemade citrus vinaigrette and you'll want to make this salad every night of the week!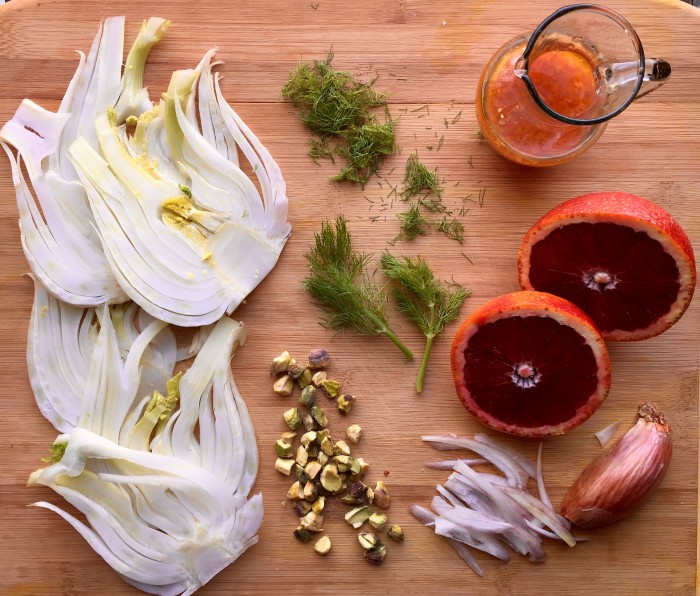 Prefer a chopped salad? Check out the directions in the "Tip" below the recipe! Blood orange season is still in full swing until the end of the month but once it's over you can substitute your favorite available citrus….navel orange, clementine or tangerine….because you'll want to keep making Pistachio Blood Orange & Fennel Salad long after the season has ended!
Pistachio Blood Orange & Fennel Salad
1 Tbs. olive oil
1 Tbs. apple cider vinegar
1/2 tsp. honey
1/2 tsp. Dijon mustard
1/2 tsp. kosher salt
1/4 tsp. ground black pepper
1 tsp. blood orange zest (zest one of the oranges for the salad before cutting it into segments)
1 lb. fennel bulb
1 small shallot, thinly sliced, about 1/4 cup
2 blood oranges, peeled and cut into segments, 1 cup
1/4 cup shelled pistachios
1. In small bowl combine olive oil, apple cider vinegar, honey, Dijon mustard, kosher salt and pepper until blended. Stir in blood orange zest and reserve.
2. Trim fennel bulb, reserving 1 Tablespoon chopped fennel fronds. Thinly slice remaining fennel bulb and arrange on serving platter.
3. Top with orange segments, shallots and pistachios.
4. Drizzle with reserved dressing and sprinkle with reserved chopped fennel fronds.
Makes 4 servings.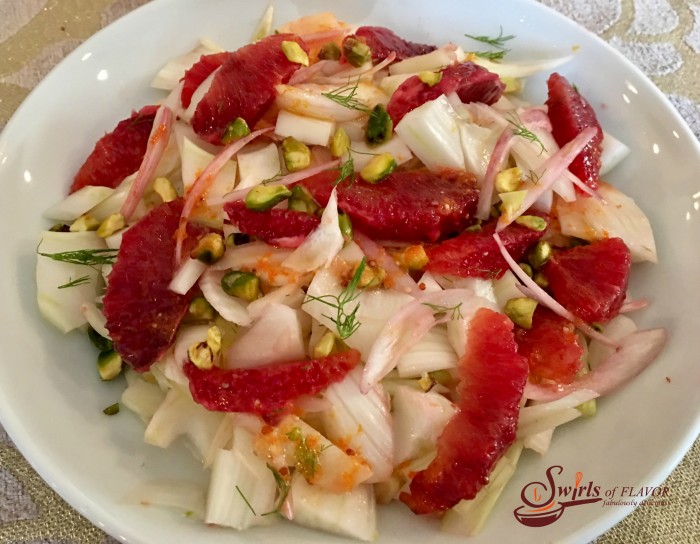 TIP: Prefer a chopped salad? Just chop the trimmed fennel bulb, add shallot, orange segments and pistachios. Toss with dressing until evenly coated and sprinkle with the chopped fennel fronds.