Taco Tuesday just keeps showing up week after week and sometimes you need to keep things spicy and change up your tacos! Make them meatless and I guarantee you'll never miss the meat when you make Oven Roasted Cauliflower Tacos. Baby bella mushrooms team up with oven roasted cauliflower rice as a fabulous flavorful substitute for ground beef. Add in seasonings and tomato paste and you'll be craving these vegetarian tacos on Meatless Monday and again on Taco Tuesday!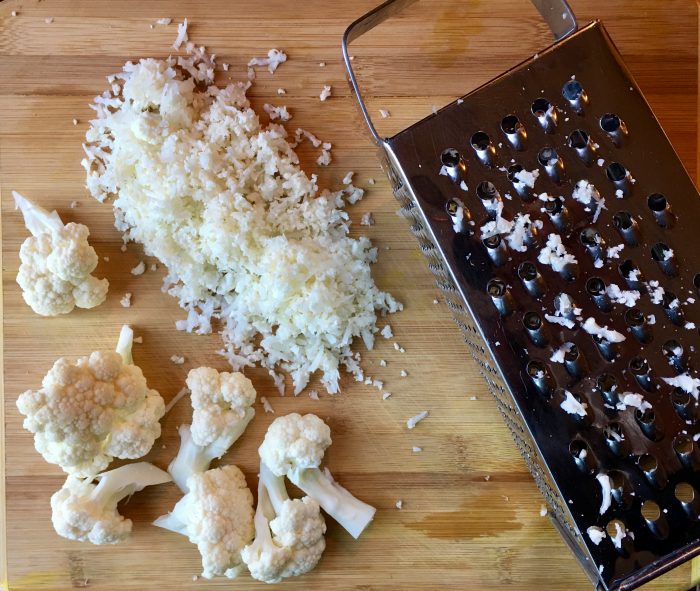 Anti-inflammatory, anti-oxidant rich cauliflower also provides impressive amounts of with impressive amounts of beta-carotene, vitamin C, vitamin K and even supports healthy digestion and detoxification. So many great reasons to increase your cauliflower intake. Oh, and did I mention cauliflower is low in calories too? Add in baby bella mushrooms for that meaty flavor, also low in calories and a low fat source of dietary fiber along with B vitamins and potassium, and Oven Roasted Cauliflower Tacos provide a punch of nutrition! Looks like you just got a new taco recipe to add into your Taco Tuesday (or Meatless Monday!) recipe rotation!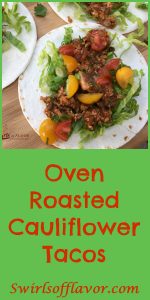 Oven Roasted Cauliflower Tacos
3 cups packed cauliflower rice, about 12 ounces
3 Tbs. olive oil, divided
1 pkg. (10 ounces) baby bella mushrooms, finely chopped, 3 cups
1/2 cup chopped onion
2 Tbs. Taco seasoning
1 cup water
1/4 cup tomato paste
1/2 tsp. kosher salt
12 soft taco size flour tortillas, warmed
4 cups shredded lettuce
1 recipe Fresh Heirloom Tomato Salsa or your favorite store bought salsa
lime wedges, serving suggestion
1. Preheat oven to 425F. Toss cauliflower rice and 2 Tbs. olive oil until evenly coated. Arrange in an even layer on a large baking sheet. Roast 25 minutes or until lightly browned.
2. Meanwhile, heat remaining 1 Tbs. oil in large non-stick skillet over medium-high heat. Cook chopped mushrooms, onion and taco seasoning until mushrooms have released their liquid and it is cooked off and mixture is tender, stirring occasionally.
3. Stir in roasted cauliflower, water, tomato paste and kosher salt and cook until heated through.
4. Serve on tortillas with lettuce and salsa.
Makes 3 cups taco filling/6 servings.