Buttered Ranch Cauliflower Casserole is an easy recipe for a vegetable side dish. Cauliflower is tossed in a buttery mixture seasoned with the popular flavor of ranch dressing, topped with the slight crunch of panko breadcrumbs and then baked to tender perfection.

Cauliflower Casserole Recipe
Cauliflower, the new "it" vegetable, is trending like crazy! Have you noticed that cauliflower is popping up everywhere? Cauliflower pizza crusts, cauliflower mashed potatoes, cauliflower nuggets!
First Published: March 7, 2015... Last Updated: February 27, 2020
And now this cruciferous vegetable will be trending in your kitchen too with our fabulous vegetable casserole recipe. When you bake your cauliflower in a tangy ranch buttery coating with a crunchy panko topping, our cauliflower casserole recipe will hands-down be your new "it" side dish! Everyone will be saying pass the cauliflower please!
Buttered Ranch Cauliflower is bursting with buttery goodness and flavor! Just four ingredients will get you a delicious side dish that will quickly become a go-to recipe!
Cauliflower FAQ's
There are many reasons why this cousin to cabbage, kale, broccoli and collards is the favorite new kid on the nutrition block.
What does cauliflower taste like?
Cauliflower has a milky sweet, almost nutty flavor.
Is cauliflower good for you?
Yes, cauliflower is good for you because it provides:
9 grams of fiber in every 100 calories
anti-inflammatory benefits
antioxidant benefits
cardiovascular benefits
manganese
omega-3
vitamin C
vitamin K
How to select a cauliflower
When buying a cauliflower look for heads that:
Are a clean creamy color
Feel heavy for their size
Are surrounded by fresh looking ribbed green leaves
As an Amazon Associate I earn from qualifying purchases.
Ingredients you will need to make this recipe
Easy Cauliflower Recipes
Want more cauliflower in your life? Me too! That's why these cauliflower recipes are in my recipe rotation. Time to add them to yours!
Oven Roasted Cauliflower Tacos is a vegetarian recipe for Taco Tuesday that's easy to make, flavorful and nutritious. Oven roasted cauliflower combines with sauteed mushrooms creating a meaty flavorful vegetarian taco filling! Ideal for Taco Tuesday or Meatless Monday, these Cauliflower Tacos are a meatless alternative to traditional ground beef tacos and will quickly become a family favorite recipe.
Loaded Baked Cauliflower Casserole is a low carb and low fat alternative to the classic loaded baked potato. Cauliflower is cooked to perfection with cheesy goodness that melts into all the nooks and crannies. Our loaded cauliflower casserole will be a favorite side dish recipe in no time!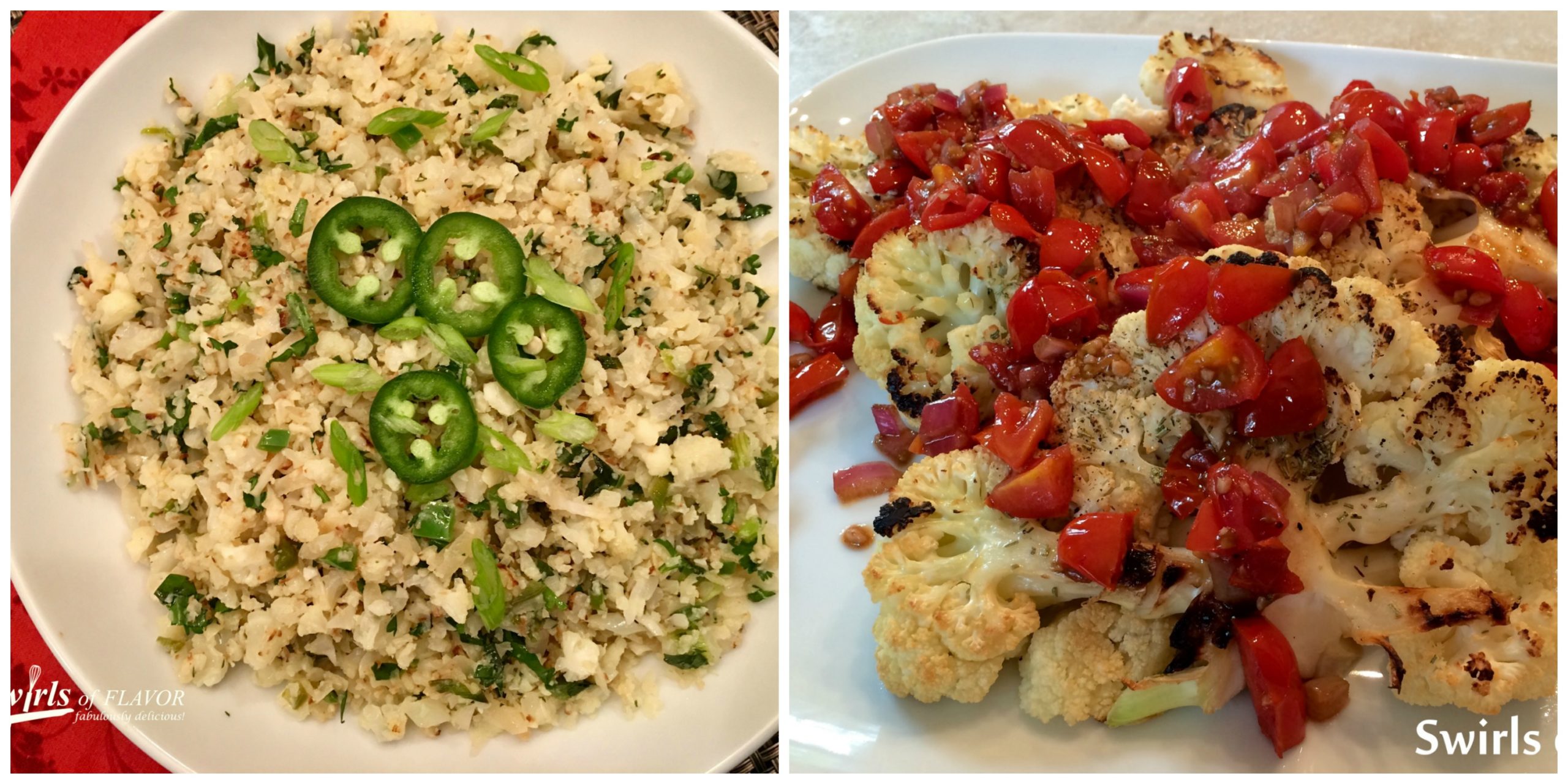 Jalapeno Lime Cauliflower Rice is a healthy side dish recipe bursting with the flavors of spicy jalapeno balanced with the freshness of chopped cilantro and lime juice! Make it Whole30 with just one substitution of ghee or clarified butter for butter, so easy!
Serve as a plant-based dinner or a side dish! Rosemary Balsamic Cauliflower Steaks is an easy vegetable recipe that's perfect for both a plant-based lifestyle and meatless Monday. Balsamic cauliflower steaks are seasoned with rosemary, oven roasted until tender and topped with a sautéed tomato, garlic and onion mixture and finished off with balsamic vinegar. A meatless vegan recipe!
Buttered Ranch Cauliflower Casserole
Buttered Ranch Cauliflower Casserole is bursting with buttery goodness and flavor! Just four ingredients will get you a delicious side dish that will quickly become a go-to recipe! 
Instructions
Preheat oven to 425F.

Combine 5 Tbs. butter and ranch mix in 2-quart baking dish. Add cauliflower and toss until evenly coated.

Combine panko breadcrumbs and remaining 1 Tbs. melted butter and sprinkle over top of cauliflower.

Bake 30 minutes or until golden and cauliflower is tender.
Notes
*When buying this sweet nutty-flavored vegetable, look for clean creamy white colored heads that feel heavy for their size and are surrounded by fresh looking ribbed green leaves.
Nutrition
Calories:
146
kcal
|
Carbohydrates:
9
g
|
Protein:
3
g
|
Fat:
12
g
|
Saturated Fat:
7
g
|
Cholesterol:
30
mg
|
Sodium:
179
mg
|
Potassium:
309
mg
|
Fiber:
2
g
|
Sugar:
2
g
|
Vitamin A:
350
IU
|
Vitamin C:
48
mg
|
Calcium:
35
mg
|
Iron:
1
mg